Take away the trouble, take away the pain
We are going to a sunny side, no one stays the same
Go away to Broadway
Dance with Gay Divorce
We don't care where we're coming from, all we know there's more
We could go go go to a place under water
Come come come to a place in the sun
You could be Kelly, I could be Fred
We're on the border
We're under water
The books that you were reading
Put them back on the shelf
The magazines on your table top are not of any help
We will be a mystery, let's go down in history
There are still some places to see that are saved for me
Take away the trouble, take away the pain
We will find a sunny place, we won't stay the same
We could go go go to a place under water
Come come come to a place in the sun
You could be Kelly, I could be Fred
We're on the border
We're under water
Contributed by Alexander O. Suggest a correction in the comments below.
To comment on specific lyrics,
highlight them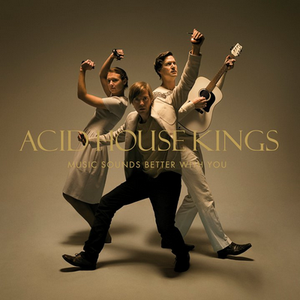 Acid House Kings, formed in Stockholm, Sweden, 1991 by two brothers Niklas Angergård, Johan Angergård and their friend Joakim Ödlund. With immaculate taste in music stemming from a childhood of Elvis Presley, an almost complete set of Sarah singles and a 100% complete set of The Smiths singles, the band set out to define pop music.

Between 1992 and 2002, inspired by the 10 albums in 10 years from Felt, Acid House Kings released a trilogy of albums with one album released every fifth year.
Read Full Bio
Acid House Kings, formed in Stockholm, Sweden, 1991 by two brothers Niklas Angergård, Johan Angergård and their friend Joakim Ödlund. With immaculate taste in music stemming from a childhood of Elvis Presley, an almost complete set of Sarah singles and a 100% complete set of The Smiths singles, the band set out to define pop music.

Between 1992 and 2002, inspired by the 10 albums in 10 years from Felt, Acid House Kings released a trilogy of albums with one album released every fifth year. The first, Pop, look & listen! (1992) is maybe best left unmentioned. The band rate it 2.4 out of 5. On the second, Advantage Acid House Kings (1997), the aim was to make a The Smiths-for-very-sunny-days sort of album. This sort of succeeded, and the band rate it 3.8 out of 5.

In 2001, the band built their own, now famous, Summersound Studios. Here, Acid House Kings could
spend endless amounts of time to create the more sophisticated third album Mondays are like Tuesdays and Tuesdays are like Wednesdays (2002). Former guest
vocalist and present sister-in-law Julia Lannerheim was introduced as a full time member while Joakim Ödlund never showed up for recordings (his house was too far away from the studio). It's an easy, breezy, beautiful album and the band rate 4.2 out of 5.

Spurred by the quality of "Mondays…", Acid House Kings set out to break their own five years between albums record, while still yet again refining the meaning of pop music. The fourth album, Sing along with Acid House Kings (2005), is to date the crown jewel in the Acid House Kings catalogue and a should-have-been-in-the-Guinness-World-Records-book since it included a karaoke-DVD (yes, a karaoke-DVD) with the first 2000 copies. The press release stated untrendy is the new trend, while the music showed an unusual combination of sophistication and catchiness. The band rate the album 4.4 out of 5.

The newly-trimmed down trio of the Angergård brothers and Lannerheim released their latest effort Music Sounds Better With You in March 2011.

Site: Twitter
Genre not found
Artist not found
Album not found
Search results not found
Song not found