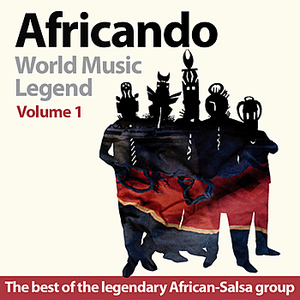 Africando is a musical project formed in 1990 to unite New York-based salsa musicians with Senegalese vocalists. Subsequently, under the name Africando All Stars, musicians from other African countries were included.

Salsa has been a hugely popular style in Central and West Africa since the 1940s-1950s, and the goal of Africando was to merge salsa rhythms from both sides of the Atlantic, mainly based on the African salsa tradition.

Africando was initiated by West African producer Ibrahim Sylla
Read Full Bio
Africando is a musical project formed in 1990 to unite New York-based salsa musicians with Senegalese vocalists. Subsequently, under the name Africando All Stars, musicians from other African countries were included.

Salsa has been a hugely popular style in Central and West Africa since the 1940s-1950s, and the goal of Africando was to merge salsa rhythms from both sides of the Atlantic, mainly based on the African salsa tradition.

Africando was initiated by West African producer Ibrahim Sylla, Malian arranger Boncana Maiga (of Fania All Stars) and legenday charanga singer Ronnie Baro. Some of the musicians initially involved were: Pape Seck (ex member of Star Band), Nicholas Menheim (associate of Youssou N'Dour), and Medoune Diallo (formerly with Orchestre Baobab).

The first two albums were a big success both in Africa and in the rest of the world. Singer Pape Seck died in 1995, and was replaced by Gnonnas Pedro from Benin (who died August 2005) and Ronnie Baro of Orquestra Broadway.

For the latest albums, well known African musicians, such as Tabu Ley Rochereau, Koffi Olomide, Salif Keita, Sekouba Bambino, Amadou Balake; and Thionne Seck were invited. This new constellation led to the new name Africando All Stars. Whilst in the beginning, the songs were Latin classics sung in wolof language or a mix of wolof and spanish, newer songs were African classics, redone with latin rhythms and instrumentation. With both approaches, Africando has been equally successful.
Genre not found
Artist not found
Album not found
Search results not found
Song not found
Gouye Gui
Africando Lyrics


We have lyrics for these tracks by Africando:



Aicha Comme si j'n'existais pas Elle est passee a cote de moi Sans…
Ayo Nene Ayo ayo Ayo Nene, mane dou ma dioye nene yalla…
Colombia Mi Corazon Como te amo Colombia y como te esmero verdoso campo, jardín…
Miye Na We Miye na we, mpaka milele Miye na we, mpaka milele Miye na…
Ntoman Mis noches no tienen luna Son oscuras y amargas En esta hi…
Sama Rew Anang nuan irau Anang nuan nangi Aku aku tu sulu Aku ke paga…
Sama Thiel Eso Moliendo mi cafe, quando les tardes C'est moliendo mi ca…
Sey bo takké sa jieg amak mom ay tom boko weuthié sa…
Te Voy a Matar... Con Amor Hace mucho tiempo Me enamoré de ti Todo era distinto Cuando …
Te Voy a Matar...Con Amor Hace mucho tiempo Me enamoré de ti Todo era distinto Cuando …
Te voy a matar… Con amor Hace mucho tiempo Me enamoré de ti Todo era distinto Cuando …
Yay Boy YAY, SUBA YAY BOY - BAY, SUBA BAY BOY (x…
Yaye Boy Yay suba yay boy bay suba bay boy Mamba mam…

The lyrics can frequently be found in the comments below, by filtering for lyric videos or browsing the comments in the different videos below.

Help us build the world's largest lyrics collection by contributing lyrics in the comments below.