I would love to come away with you
but I just can't see the signs
that you really want me too
Cause I've been here for a very long time
I wish that you could see
What I've been doing
to get you a little, little bit close to me
but you just stand there
like you wouldn't care
and I just wait here
secretly shed a tear
Cause the roses are red and the violets are blue
Would you check to your back?
Cause I'm right behind you
The roses are red, the violets are blue
oh please, don't be mad
that I've been stalking you
Contributed by Leo C. Suggest a correction in the comments below.
To comment on specific lyrics,
highlight them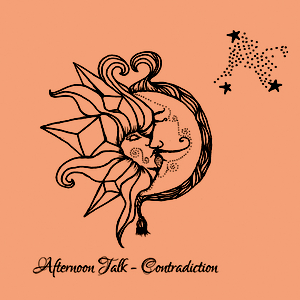 Afternoon Talk is a band with simple-sweet-short-acoustic songs who was formed early 2011 in Bandar Lampung, Indonesia by Sofia Sekar Arum (vocal), Harsa Wahyu (guitalele, bass) and Ridwan Ayubi (guitar, drums). Afternoon Talk give an honest and innocent charm acoustic sound with wide dimensions without leaving the concept of simplicity.

In January 2017, Afternoon Talk revealed their newest single called "Beautiful Day" digitally through their Soundcloud account and Bandcamp site.
Read Full Bio
Afternoon Talk is a band with simple-sweet-short-acoustic songs who was formed early 2011 in Bandar Lampung, Indonesia by Sofia Sekar Arum (vocal), Harsa Wahyu (guitalele, bass) and Ridwan Ayubi (guitar, drums). Afternoon Talk give an honest and innocent charm acoustic sound with wide dimensions without leaving the concept of simplicity.

In January 2017, Afternoon Talk revealed their newest single called "Beautiful Day" digitally through their Soundcloud account and Bandcamp site. The release marks Afternoon Talk's comeback after their last effort in producing mini album "Contradiction", in 2013 and "Self-titled" mini album in 2012 released by Japan net label, Totokoko.

Contact :
afternoontalk@hotmail.com | +62 85789562759
Bandcamp
Soundcloud
Instagram
Tumblr
Twitter
Facebook
Genre not found
Artist not found
Album not found
Search results not found
Song not found