How can you not find everything you need
In all of this?
Potatoes, rice, and bread,
We'll burn it as we take it in.
Sing your heart out,
Sing it like you mean it,
You're gonna sing everything you're thinking, and you're gonna sing it until they're listening.
'Cause if it really brings us all together,
I'd say that settles all arguments of difference,
Surviving just by questioning,
Can you imagine if we all started demanding?
I can play along to every record,
Front and back every song,
And every word means as much to me
As every word means to you.
They can make an industry selling people the things they want to hear,
If this is worth anything,
We will sell it for humility,
It will take us farther than the posture you're fronting.
Lyrics © O/B/O APRA/AMCOS

Lyrics Licensed & Provided by LyricFind
To comment on specific lyrics,
highlight them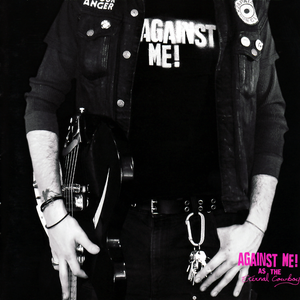 Against Me! is an American punk rock band formed in 1997 in Gainesville, Florida, by singer and guitarist Laura Jane Grace. Since 2001, the band's lineup has also included guitarist James Bowman. After releasing three studio albums through independent record labels (Reinventing Axl Rose on No Idea records, and As The Eternal Cowboy and Searching for a Former Clarity on Fat Wreck Chords), Against Me! moved to Warner/Sire Records for 2007's New Wave, which reached no.
Read Full Bio
Against Me! is an American punk rock band formed in 1997 in Gainesville, Florida, by singer and guitarist Laura Jane Grace. Since 2001, the band's lineup has also included guitarist James Bowman. After releasing three studio albums through independent record labels (Reinventing Axl Rose on No Idea records, and As The Eternal Cowboy and Searching for a Former Clarity on Fat Wreck Chords), Against Me! moved to Warner/Sire Records for 2007's New Wave, which reached no. 57 on the Billboard 200. White Crosses followed on Warner/Sire in 2010. In 2011, the band launched their own record label, Total Treble, to independently release future recordings.

In 2012, Grace publicly came out as transgender. After a long period of line-up changes and uncertainty surrounding the band's future, their sixth studio album, Transgender Dysphoria Blues, was released independently in January 2014 to critical acclaim. The band's seventh album, Shape Shift with Me, was released in 2016. In addition, the band have four well known EPs: Crime as Forgiven by Against Me!, The Acoustic EP, The Disco Before the Breakdown, and New Wave B-Sides. They have released numerous singles, two live albums, and demo versions of the three of their studio albums.

Band members:
Laura Jane Grace – vocals, guitar
James Bowman – lead guitar
Andrew Seward – bass
Atom Willard – drums

Former members:
Kevin Mahon – drums (1998–2001)
Dustin Fridkin – bass (2000–2002)
Warren Oakes – drums (2001–2009)
George Rebelo – drums (2009–2010)
Jay Weinberg – drums (2010–2012)
Inge Johansson – bass (2013–2018)

Discography:
• Reinventing Axl Rose (2002)
• As the Eternal Cowboy (2003)
• Searching for a Former Clarity (2005)
• New Wave (2007)
• White Crosses (2010)
• Transgender Dysphoria Blues (2014)
• Shape Shift with Me (2016)
Genre not found
Artist not found
Album not found
Search results not found
Song not found