The tree stands along
Hidden, but still strong
Carrying all the leafs
For us to pick, for them to leave
Then, wind comes and blows
The leafs fall and go
But there's one that's gonna stick
That's the one I'm gonna pick
I'm gonna carry this one forever
Loose it? No, never!
But I guess it's just an utopy
Based on my insecurity
Still I'll try to pick
The true leaf that won't trick
The one without a mask
But which one, if I may ask?
Then, wind comes and blows
The leafs fall and go
But there's one that's gonna stick
That's the one, I'm gonna pick
Contributed by Isabelle Y. Suggest a correction in the comments below.
To comment on specific lyrics,
highlight them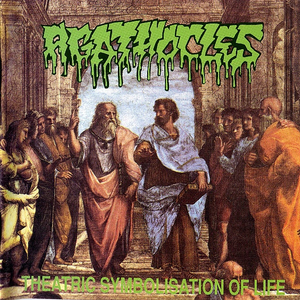 Agathocles is a legendary grindcore band from Belgium, who describe their music as "mincecore". The band started in 1985, and has gone through many line-up changes - with Jan Frederickx being the only original member - but is still going strong today. Agathocles have gained an underground cult following through their frequent releases - which mostly include countless 7" EPs, Split 7" EPs, full-length CDs / LPs, and compilations - adding up throughout the years to become one of the largest discographies of any grindcore band.
Read Full Bio
Agathocles is a legendary grindcore band from Belgium, who describe their music as "mincecore". The band started in 1985, and has gone through many line-up changes - with Jan Frederickx being the only original member - but is still going strong today. Agathocles have gained an underground cult following through their frequent releases - which mostly include countless 7" EPs, Split 7" EPs, full-length CDs / LPs, and compilations - adding up throughout the years to become one of the largest discographies of any grindcore band.

Official Website: http://www.agathocles.com/
Genre not found
Artist not found
Album not found
Search results not found
Song not found