Adrift
Akai Lyrics
I've lost all faith in your once friendly smile
now that we've been away for a while
I've heard rumors of your independent thoughts
Though we've never fought, my mind's spinning
Your face turns red every time that you said
that you'd really love to see me
My heart always pounds 'til I hear that phone sound
and you tell me that you're busy
The flames are all but lost in your eyes
I wish you'd stop telling lies
because you're drifting even further
I haven't thrown in the towel 'cause I thought we would mend
I used to call you my friend
All those years that we spent spitting off of the stage
seem to dim like the lights as we age
And as the crowd clears out I fear this is it
Are you sure you've got nothing to say?
Call me sentimental but I still think of yesterday
The flames are all but lost in your eyes
I wish you'd stop telling lies
because you're drifting even further
(Now I'm dressed in white)
Contributed by Natalie G. Suggest a correction in the comments below.
To comment on specific lyrics,
highlight them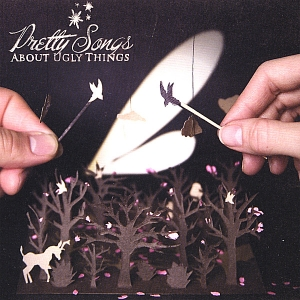 Drawing from the common failures of many relationships, Saint Paul based Robbie and Hiromi Matsumoto began writing tongue-in-cheek pop songs soon after they started dating in 2000 and decided to name their efforts after their shared favorite color red, or in Japanese, "Akai". Though most of their raw material was composed on two guitars, in early 2005 producer Eric Elvendahl began to arrange and record their songs with full instrumentation, which by 2006 grew into their first full-length album entitled "Pretty Songs About Ugly Things".
Read Full Bio
Drawing from the common failures of many relationships, Saint Paul based Robbie and Hiromi Matsumoto began writing tongue-in-cheek pop songs soon after they started dating in 2000 and decided to name their efforts after their shared favorite color red, or in Japanese, "Akai". Though most of their raw material was composed on two guitars, in early 2005 producer Eric Elvendahl began to arrange and record their songs with full instrumentation, which by 2006 grew into their first full-length album entitled "Pretty Songs About Ugly Things". 2010 marked the release of their sophomore release, "The Coldest Hour (Is Just Before The Dawn)", a dynamic journey through the metaphoric hours between dusk and dawn. Today Akai draws on the talents of up to 10 musicians for live support, playing mandolin, glockenspiel, flute, classical guitar, accordion and banjo. (www.theakai.com)
Genre not found
Artist not found
Album not found
Search results not found
Song not found