Ban mwen yon ti moman
Yon ti moman souplé
Fok mwen konn kouman w ye
Fok mwen konn kote w ye
Mwen konnen mwen koupab
M konnen minpadonab
Chéri mwen dézolé
Pou tout tray ke mwen fe w pase
Wooooyee
Please baby.an an han han
Pa kite m darling an an han han
I' m sorry baby.an an han han
Pa kite m darling an an han han
M senti m an dépaman
Dépi lo n séparé
Doulè mare fyel mwen
M nan la penn tout la sinte jounen *2
San ou mwen pa sociab
Mwen vinn intolerab
Ke mwen pran nan w chimen jennen
M realisé sé ou m renmen... Oooh ya!
Bam yon denye chans pou n pale
M poko pare pou mwen blye lanmou sila baby
Ban you denye chans pou n pale
Chooup choup choubidou
You can't leave me now boo
I have plans for you
like buying a crib, having kids
everything I did revolved around you
my Haitian queen so I crowned you
thank GOD I found you
now nothing but love surrounds you
doves around you
so all the hard times emanced - that
feel me as I' m pouring my heart on the ZIN track
we went from holding hands to can't understand
why I called you my girl
I ain't even your man.Nah.come on mamie
Playing games like I ain't nothing
Like them five years didn't amount to something
Now come on mamie
Keep it real stop fronting
You hugging and loving
Come on mamie
Know the deal stop fronting
Or I'm gonna chill and let Alan
spit a little something like...
Woyy.mamie, pa sa kitem la
Woyyy.mamie, pa sa kitem la
Anything you say I'll do, pa sa kitem la
Eske w vle m mete ajenou, pa sa kitem la
Contributed by Maya A. Suggest a correction in the comments below.
To comment on specific lyrics,
highlight them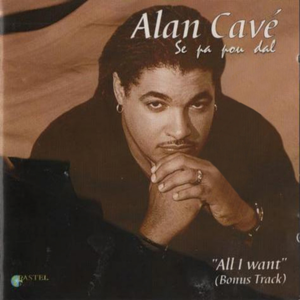 Georges Alan Cavé is a Haitian Kompa and Zouk singer and the lead of the group Zin. He was born on February 27, 1966 in New York City but spent most of his adolescent years in Haiti. He toured with his father, Syto Cavé, all over the French Antilles, France and Canada. In 1987, he met with Alex Abellard and Eddy Saint-Vil to audition for the group Zin. Alex thought that he could not have that voice against him, so he quickly signed him. They released their first album, O Pa, in 1988 and are still going strong after 20 years.
Read Full Bio
Georges Alan Cavé is a Haitian Kompa and Zouk singer and the lead of the group Zin. He was born on February 27, 1966 in New York City but spent most of his adolescent years in Haiti. He toured with his father, Syto Cavé, all over the French Antilles, France and Canada. In 1987, he met with Alex Abellard and Eddy Saint-Vil to audition for the group Zin. Alex thought that he could not have that voice against him, so he quickly signed him. They released their first album, O Pa, in 1988 and are still going strong after 20 years. Cavé has also had a very successful solo career and released 3 solo albums
Genre not found
Artist not found
Album not found
Search results not found
Song not found