Tou kareman ou enstale ou nan vi'm
Cheri, ou fè m' mache sou men mwen
Fè m' we lanmou sou tout chimen
Fè m' dekouvri sa m' pat konnen
Lè m' kwè tout pòt te fin femen
Ou fè soley la retounen, fè m' rejwenn
Yon kè k' vle chante lavi
Avek bel pwezi
Tou kareman wo wo wo wo wo
Ou enstale ou nan vi mwen
Men toubonman wo wo wo wo wo
Ou pran plas anndan kè mwen
Cheri, kenbe mwen san rete
Di m' kilè kòk la pral chante
Ki kote lalin lan kache
Kondyui mwen nan yon peyi k' sanble w'
Kote san ap sispann koule
Kote k' gen bel amoni
Lavi rekomanse fleri
Tou kareman...
M'pap janm sispann di w mesi
Pou bèl dezi ke ou ban mwen
This love is so crazy
Cheri, chak jou ou fè m' souri,
Ou fe m' sourri
Cheri, ou ban m' bèl plezi,
Fè tout kò m' tout tan ap fremi
Cheri, san manti, lanmou w pa gen pri
Cheri ou fè m' depale
WO! Gade yon lanmou Wo
Ki vin pou mwen ki refize lage m'
WO! Gade yon lanmou WO
Ki vin pou mwen ki deside touye m'
Ou enstale ou nan vi mwen
Ou chita nan ke mwen
Ou met fè sa ou pipito
Ou se pi bèl kado Bondye
Te kan ban mwen
Ou enstale ou nan vi mwen,
Ou chita nan kè mwen
Ou fè mwen anvi rele,
Ou fè mwen anvi kriye
Menmsi mwen pè,
Mwen kwè nan bònè
Chak jou on ban mwen,
Chak jou ou pote
Bèl fanm O, nan vi mwen
Se ave ou m'ap rete,
Ou mèt enstale ou
Pa bezwen enkyete ou
Ou la pou tout tan
Bèl fanm o, nan vi mwen
Writer(s): Cave Georges Alan, Ade Reginald

Contributed by Joseph L. Suggest a correction in the comments below.
To comment on specific lyrics,
highlight them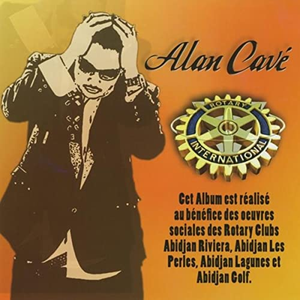 Georges Alan Cavé is a Haitian Kompa and Zouk singer and the lead of the group Zin. He was born on February 27, 1966 in New York City but spent most of his adolescent years in Haiti. He toured with his father, Syto Cavé, all over the French Antilles, France and Canada. In 1987, he met with Alex Abellard and Eddy Saint-Vil to audition for the group Zin. Alex thought that he could not have that voice against him, so he quickly signed him. They released their first album, O Pa, in 1988 and are still going strong after 20 years.
Read Full Bio
Georges Alan Cavé is a Haitian Kompa and Zouk singer and the lead of the group Zin. He was born on February 27, 1966 in New York City but spent most of his adolescent years in Haiti. He toured with his father, Syto Cavé, all over the French Antilles, France and Canada. In 1987, he met with Alex Abellard and Eddy Saint-Vil to audition for the group Zin. Alex thought that he could not have that voice against him, so he quickly signed him. They released their first album, O Pa, in 1988 and are still going strong after 20 years. Cavé has also had a very successful solo career and released 3 solo albums
Genre not found
Artist not found
Album not found
Search results not found
Song not found