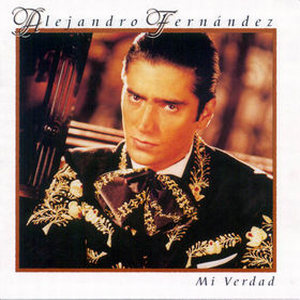 Artista mexicano, hijo de Vicente Fernández. Excelente interprete de rancheras y musica melódica latina.
Comenzó interpretando temas con mariachi y música tradicional mexicana. Últimamente canta también música pop.

Alejandro Fernández (born April 24, 1971) is a popular Latin Grammy-winning Mexican singer nicknamed as "El Potrillo" ("The Little Colt") by the media and his fans. ] Alejandro originally specialized in traditional, earthy forms of Mexican folk and country music, such as mariachi and ranchera.
Read Full Bio
Artista mexicano, hijo de Vicente Fernández. Excelente interprete de rancheras y musica melódica latina.
Comenzó interpretando temas con mariachi y música tradicional mexicana. Últimamente canta también música pop.

Alejandro Fernández (born April 24, 1971) is a popular Latin Grammy-winning Mexican singer nicknamed as "El Potrillo" ("The Little Colt") by the media and his fans. ] Alejandro originally specialized in traditional, earthy forms of Mexican folk and country music, such as mariachi and ranchera. However, his more recent work has focused on mainstream pop music. He is the son of Vicente Fernández, also a popular Mexican country singer. His nickname "El Potrillo" (The Little Colt) was given to him by the media and his fans because of his being the son of Vicente, who is considered the most popular charro in Mexico.


Career

Born in Guadalajara, Jalisco, Mexico, he trained as an architect but turned to singing in 1991, encouraged by his father. A year later, he released his first album, titled Alejandro Fernandez. Since then, he has recorded 18 albums and sold a reported 15 million records, working with producers such as Emilio Estefan, Jr. and Kike Santander. His first public appearance was in 1976, when his father presented him on one of his shows, he was meant to perform the song "Alejandra". In the middle of the song he forgot the lyrics, started crying and suffered a panic attack, but then, his father got on stage and helped him singing along the song, making it a very touching moment between Alejandro and his father.

In 1992, Alejandro Fernández released his debut, self-titled album, launching one of the most prolific, successful and memorable careers in Latin music. Since then, the son of legendary ranchera singer Vicente Fernández has done what few progeny of famous parents have ever been able to achieve: He's followed in his father's footsteps, but at the same time, he's carved out his own, separate path, thanks to his skilled vocals and an unparalleled stage presence. Fernández also has portrayed the lead role in zapata: El sueño del héroe, a 2004 movie about the Mexican revolutionary hero Emiliano Zapata by filmmaker Alfonso Arau, which proved to be one of the greatest disappointments in the Nuevo Cine Mexicano era, spending 7 million dollars in production and publicity but faring poorly at the box office.

While most Latin acts talk about crossovers from Spanish to English, Alejandro is one of only a handful of artists that have managed to become a superstar by crossing over from the world of traditional ranchera music to the world of pop. That duality began in 1997 with Me Estoy Enamorando, a collaboration with producer Emilio Estefan that sold 3 million copies worldwide and established Alejandro as an international star. In 1998, Alejandro performed along with the operatic tenor Placido Domingo and the French singer Patricia Kaas in Christmas in Vienna VI.

In 2004, A Corazón Abierto reunites Alejandro with Grammy-winning producer and songwriter Kike Santander, who penned his greatest hits from "Me Estoy Enamorando". But it also finds him singing the songs of a bold new generation of songwriters, including Gian Marco, Leonel García (one half of pop duo Sin Bandera), Reyli Barba (former member of pop band Elefante) and Mexican group Tres De Copas.

"A Corazón Abierto" is about love, but it's hardly a staid album. Quite the opposite. Under the guidance of producers Kike Santander and Aureo Baqueiro, the sound of this record is taken beyond the traditional and is an album rich in instrumentation—rippling guitars, flowing strings and mariachi lines—that treads on folk, rock and ranchera elements with organic ease and conviction. The superb emotional and musical interpretations are the clincher. At times exuberant, "A Corazón Abierto" can also be an album of subtle understatement, unafraid to bare the singer in every sense of the word.

"Romanticism is something that will never die", says Alejandro Fernández, explaining his choice of songs on "A Corazón Abierto", his breakthrough recording about lost love, love that is never forgotten and the capacity to always love again. "I'm super, ultra passionate. We're releasing an album that's an x-ray of myself. That's why it's titled "A Corazón Abierto". It was something very honest. Not naked, but something deeper than that".

In 2005, Alejandro launches México - Madrid: En Directo Y Sin Escalas (in English: Mexico - Madrid: Nonstop). Featuring 13 tracks including one new song, this album is Fernández at his best - live and in concert! "Produced by Aureo Baquiero and filmed in front of a live audience at Spain's Palacio de Congresos IFEMA, the production features Fernández performing some of his biggest hits accompanied by a 28-piece orchestra and some of Spain's most important voices on three of the songs: Amaia from La Oreja de Van Gogh joins him on "Me dediqué a perderte"; Malú duets with him on "Contigo aprendí", and with flamenco star Diego El Cigala perform a moving version of "Como quien pierde una estrella", accompanied on cajon by famed Flamenco guitarist Niño Josele. That same year, Alejandro was chosen to sing along with the tenors Jose Carreras and Placido Domingo in a special concerto celebrating the opening of the "Forum Internacional de las Culturas" in Monterrey. Alejandro's performance was praised by the audience. He also recorded a duet song with the tenor Mario Frangoulis called "Hay Más" from the album Follow Your Heart.

In 2007, launches Viento A Favor features tunes written by Leonel García and Noel Schajris (better known as emotive Latin-pop duo Sin Bandera) and Mexican singer Reyli Barba. They're all taken to wuthering heights by Fernandez's stellar vocal range, which goes from hushed whispers to booming intensity. First single "Te Voy A Perder" is an epic romance, and "Amor Gitano", a duet with performer Beyoncé Knowles. Closing tune "Cuando Estamos Juntos" is another surprise, an acoustic-flavored ode to simple joy.

He has five children, (Alejandro, Jr. and the twins, América and Camila) with his ex-wife, Mexican América Guinart, and two (Emiliano and Valentina) with his now ex-girlfriend, Colombian model Ximena Díaz.

Discography

1992: Alejandro Fernandez
1993: Piel De Niña
1994: Grandes Exitos A La Manera De Alejandro Fernandez
1995: Que Seas Muy Feliz
1996: Muy Dentro de Mi Corazón
1997: Me Estoy Enamorando
1999: Mi Verdad
1999: Christmas in Vienna VI (Plácido Domingo, Patricia Kaas and Alejandro Fernández)
2000: entre tus brazos
2001: Orígenes
2002: Un Canto De México
2003: Niña Amada Mía
2003: En Vivo: Juntos Por Ultima Vez
2004: zapata: El sueño del héroe (Soundtrack)
2004: A Corazón Abierto
2005: México - Madrid: En Directo Y Sin Escalas
2007: Viento A Favor
2007: 15 Años De Éxitos

Website :www.alejandrofernandez.com
Genre not found
Artist not found
Album not found
Search results not found
Song not found
Esta Noche
Alejandro Fernández Lyrics
Ya no pienso seguir soportando esta vida tan triste
De noches tan frías, me están matando
No es posible que siga soñando si tu me mentiste
Ya no tiene caso estar esperando
Esta noche me tiro al olvido, estoy convencido
Que es tiempo perdido vivir llorando.

Por lo que una vez fue tan mío
Y que hoy me ha dejado vacío, solo y suspirando
Esta noche digo adiós a mis sufrimientos
Buscaré que mi corazón se enamore y sus penas
Las tire al viento.

No hay reproches ni siquiera resentimiento
No mereces ni mi rencor pues no tiene sentido perder el tiempo

Ya no pienso seguir soportando esta vida tan triste
De noches tan frías, me están matando
No es posible que siga soñando si tu me mentiste
Ya no tiene caso estar esperando
Esta noche me tiro al olvido, estoy convencido
Que es tiempo perdido vivir llorando.

Por lo que una vez fue tan mío
Y que hoy me ha dejado vacío, solo y suspirando
Esta noche digo adiós a mis sufrimientos
Buscaré que mi corazón se enamore y sus penas
Las tire al viento.

Lyrics © Sony/ATV Music Publishing LLC, Universal Music Publishing Group
Written by: OMAR ALFANNO, EDGAR BARRERA, ANDRES CASTRO

Lyrics Licensed & Provided by LyricFind
To comment on specific lyrics,
highlight them