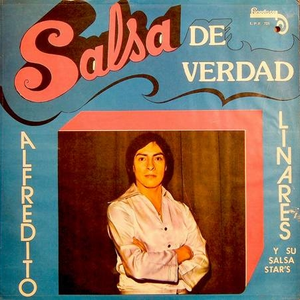 Alfredo "Sabor" Linares. Born in Lima, Peru. Recorded afro latin jazz on the MAG label in the late 60s - completing two solo LPs and guest piano and arrangement work for both Coco Lagos and El Combo de Pepe.
In the early 70s he moved to Cali in Colombia and became involved in the Salsa scene, also recording salsa albums.
Having always been something of a cult figure in South America, come 2007 Linares' profile is given a boost outside of Latin America following guest piano appearances on Quantic Soul Orchestra
Read Full Bio
Alfredo "Sabor" Linares. Born in Lima, Peru. Recorded afro latin jazz on the MAG label in the late 60s - completing two solo LPs and guest piano and arrangement work for both Coco Lagos and El Combo de Pepe.
In the early 70s he moved to Cali in Colombia and became involved in the Salsa scene, also recording salsa albums.
Having always been something of a cult figure in South America, come 2007 Linares' profile is given a boost outside of Latin America following guest piano appearances on Quantic Soul Orchestra, The recordings and his show-stopping performances in their accompanying live shows.
Genre not found
Artist not found
Album not found
Search results not found
Song not found
We have lyrics for 'Apriétala' by these artists:



Los Titanes BUENO MUEVE TÚ PAREJA Y ARRANCA A BAILAR ... Y RIKI RIKI…
Rvfv Pablo Más on the drums Mami, tú estas loca, yo también…



We have lyrics for these tracks by Alfredo Linares:



Mambo Rock Baile mi mambo mi mambo rock Baile mi mambo (bis) Para que…
MamboRock Baile mi mambo mi mambo rock Baile mi mambo (bis) Para que…
Tiahuanaco y por que noo quitarnos esa duda de una vez porque no…

The lyrics can frequently be found in the comments below or by filtering for lyric videos.