Does it really matter that nothing will live?
Truth and lie now you're in their minds
Creeping ahead in this narrow tube
Violence encloses me against the whole system
Can't have a reason to believe them
Dismount away my life deed
How did my mother fly over me
A chain tears apart her head
Creating shock with overload
In forces to escape this sanity
Abstaining from their oppression of pleasure
This is all done in a minute
Fading faster to the immaterial
Happy occasion at the modern time
Using this gone unconscious to save
The manners of your memory
All goes through obeying and bowing
This organization's core is done
Contributed by Jack F. Suggest a correction in the comments below.
To comment on specific lyrics,
highlight them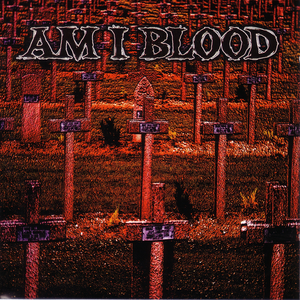 Thrash-Metal band from Helsinki (Finland) formed in 1992 and formerly known as St. Mucus.
They released a record as St. Mucus in 1995, which is called "Natural Mutation". With their actual name, Am I Blood has released 4 records and an EP so far, including: "Am I Blood" (1997), "Agitation" (1998), "Gone With You (EP)" (2000), "The Truth Inside the Dying Sun" (2001), "The Truth Inside The Dying Sun" re-edition (2005) and "Existence of Trauma" (2011).
Read Full Bio
Thrash-Metal band from Helsinki (Finland) formed in 1992 and formerly known as St. Mucus.
They released a record as St. Mucus in 1995, which is called "Natural Mutation". With their actual name, Am I Blood has released 4 records and an EP so far, including: "Am I Blood" (1997), "Agitation" (1998), "Gone With You (EP)" (2000), "The Truth Inside the Dying Sun" (2001), "The Truth Inside The Dying Sun" re-edition (2005) and "Existence of Trauma" (2011).
The "The Truth Inside The Dying Sun" record was ready to be released a couple of years before 2005, but the band decided to wait due to some trouble with an American label. Eventually the album was released with the Finnish label Scandinavian A1 Music.

Jenne Kerminan sounds like James Hetfield especially in "Gone With You" (MetallicA).

Line-up:

Janne Kerminen - Vocals, Lead Guitars
Tomi Luoma - Guitars
Ilves - Guitars (R.I.P. 2013)
Toni Grönroos - Bass Guitars
Mika Tanttu - Drums
Genre not found
Artist not found
Album not found
Search results not found
Song not found