Screaming Is Serious Business
Amarionette Lyrics
This isn't just a walk in the dark, we can't stay silent just the way we are.
Expecting the best we choose the best to be.
X2 Why would you even bother, to bother with him I know you don't believe the things, that he would tell you.
I know can't expect true belief, from the things he said to you.
It comes right out of my body, more you were the only love I would die for, and save say, scream.
You would love me, you would. you would.
Can't we take a moment, shhh
To honor from where we came, and who we are
Can't we take a moment... shhhhh!!
To make out what we had, n our mishaps??
You were the best and showed me your worst...
Contributed by Kennedy B. Suggest a correction in the comments below.
To comment on specific lyrics,
highlight them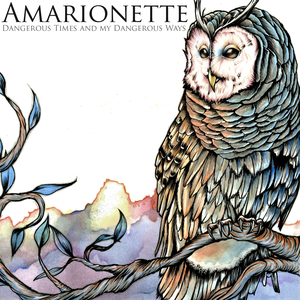 Screaming Is Serious Business
There are currently two bands using the name Amarionette.

1. Progressive Post-Hardcore band from Las Vegas, Nevada.
2. Experimental band from Lisbon, Portugal

1.
Members:
Quin White
Nick Raya
Brandon Jones
Ron Wells
Justin Brooklyn

New EP "Dangerous Times and My Dangerous Ways" available now.

http://amarionette.com
http://twitter.com/amaribandlv
http://reverbnation.com/amarionette
http://myspace.com/amarionettemusic

2.
Membros
joana vieira - voz,baixo
Read Full Bio
There are currently two bands using the name Amarionette.

1. Progressive Post-Hardcore band from Las Vegas, Nevada.
2. Experimental band from Lisbon, Portugal

1.
Members:
Quin White
Nick Raya
Brandon Jones
Ron Wells
Justin Brooklyn

New EP "Dangerous Times and My Dangerous Ways" available now.

http://amarionette.com
http://twitter.com/amaribandlv
http://reverbnation.com/amarionette
http://myspace.com/amarionettemusic

2.
Membros
joana vieira - voz,baixo
joão pereira - guitarra
joão galrito - guitarra
miguel loureiro - bateria

Naturalidade
Lisboa

Biografia
No meio de marés de suspiros, manchas de uma qualquer danação no nosso Ser e chuvas remendadas de um Fevereiro, surgiu a vontade de algo novo cantado na lingua mãe. Juntaram-se quatro amigos numa cave cinzenta e começaram a compor. Um corvo voou, uma onda rebentou, um flash disparou, assim como nós... Do amor nasceu a marionete, Amarionette.

Sites
http://www.facebook.com/amarionetterock
http://amarionetterock.bandcamp.com/
http://www.myspace.com/amarionette
http://twitter.com/amarionette_
http://www.vimeo.com/amarionette
http://www.youtube.com/amarionettePT

Agente de marcações
[email protected]
Genre not found
Artist not found
Album not found
Search results not found
Song not found