This magic winter night I see a light
Again I hear that tune, some sort of croon
Oh no, no, no, oh, my brain.
I see them gypsy waggons left in the snow
Oh, I must see that lady, I have to know
Gypsy woman, let me inside
They say you know the secret, secret of time
So gaze into your crystal and tell me
All you see
Gypsy woman, let me know
"Oh, my son, you were never gone
You're the Devil's child and so am I"
Gypsy now I know you're not my mother
You're a part of my soul,
It's dear for all to see
Oh no, no, no, I am you
Gypsy you're inside of me
Contributed by Kaylee C. Suggest a correction in the comments below.
To comment on specific lyrics,
highlight them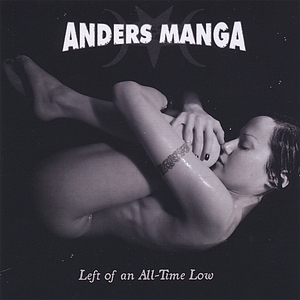 Anders Manga is an artist, songwriter, and producer hailing from Charlotte, United States, who has released and self produced 5 albums since 2005.

His music has been described as a blend of gothic rock, industrial, metal, EBM and 80's influences into a modern, melodic electro-rock sound. Some reviewers have described it as "Gothtronica" while Anders simply refers to it as "Electronic Rock".

Regardless of the genre you wish to classify his music, the listeners continue to grow worldwide on a daily basis.
Read Full Bio
Anders Manga is an artist, songwriter, and producer hailing from Charlotte, United States, who has released and self produced 5 albums since 2005.

His music has been described as a blend of gothic rock, industrial, metal, EBM and 80's influences into a modern, melodic electro-rock sound. Some reviewers have described it as "Gothtronica" while Anders simply refers to it as "Electronic Rock".

Regardless of the genre you wish to classify his music, the listeners continue to grow worldwide on a daily basis. In 2007 Anders was nominated for "Band of the Year" by Gothic Beauty Magazine readers alongside Lacuna Coil, Skinny Puppy, and an artist he lists as one of his earliest influences, Gary Numan.

Over the last few years, his fan base has crossed over into the horror film genre, where he has contributed music to over 12 films. The Horror network, FearNet.com referred to Anders' work as "wickedly inventive" while Pseudopod.org, the world's premier horror fiction podcast has used Anders' "Bloodletting On the Kiss" as their show opening for the past 4 years.

Anders has performed at many festivals and dark music events such as Convergence, The Ann Rice Halloween Ball, Black Sun Festival, Goth Stock, Eccentric Festival, Cirque Macabre, Bar Sinister and multiple performances at the infamous "Dracula's Ball" event in Philadelphia.

In 2008, Anders' single, "There Will Be Blood" climbed to the top 20 of the German Alternative Music (or DAC) Charts, which prompted him to pursue more opportunities outside the USA. In 2009, he signed with Danse Macabre Records in Europe. His first official worldwide release "Infinite Gaze to the Sun" is expected to be released in January of 2010.

on BC now - http://andersmanga.bandcamp.com/album/old-haunts
Genre not found
Artist not found
Album not found
Search results not found
Song not found