This night, this static night
The moon gives shelter from the rain
It's not the only night
It's not no final ending
See your majesty
Is falling from his shining grace
You're just coming home
This life, this holy life
We take our beatings from the rainbow, the rainbow
And god's not cutting back
She still can shield us from the pain
Feel that you've gone astray
The righteous on a one way trail
One that leads you here
Feel like I want to stay
And make you understand me
Oh, 'cause fear doesn't live around here
I'm disappearing, could we dream much longer?
Fear doesn't live 'round here
Fear doesn't live
Fear, fear
Fear doesn't live 'round here
I'm disappearing
Fear
Lyrics © Sony/ATV Music Publishing LLC, Peermusic Publishing, PIGFACTORY USA LLC
Written by: NATHAN LARSON, ANGELA MCCLUSKEY

Lyrics Licensed & Provided by LyricFind
To comment on specific lyrics,
highlight them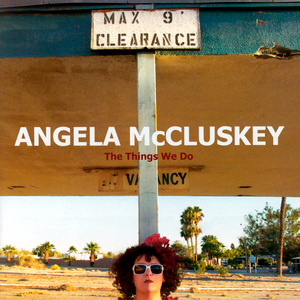 Scottish-born chanteuse and force of nature Angela McCluskey returns with her first solo album in years, You Could Start a Fight in an Empty House, her much-anticipated follow-up to her acclaimed solo debut, The Things We Do. The album's first single, "Handle with Grace," reunites McCluskey with her colleagues from French electropop trio Telepopmusik with incredible results; a video for the track is currently in production with directors Alex Takacs and Joe Nankin of Young Replicant (M83's "We Own the Sky" video).
Read Full Bio
Scottish-born chanteuse and force of nature Angela McCluskey returns with her first solo album in years, You Could Start a Fight in an Empty House, her much-anticipated follow-up to her acclaimed solo debut, The Things We Do. The album's first single, "Handle with Grace," reunites McCluskey with her colleagues from French electropop trio Telepopmusik with incredible results; a video for the track is currently in production with directors Alex Takacs and Joe Nankin of Young Replicant (M83's "We Own the Sky" video).

Available now through iTunes, the album will be available as a physical release on June 8, 2010 through Bernadette Records.
Known first for her work with the LA-based group Wild Colonials, it was McCluskey' s Grammy-nominated dance hit, "Breathe," recorded with Telepopmusik and picked up by Mitsubishi for use in a popular TV campaign that introduced millions to her earthy, unique voice. Along the way, McCluskey has also supported R.E.M. on tour and performed with everyone from Little Richard to Glasvegas to – most recently – New York City cabaret stars The Citizen's Band.

Tastemaker radio station KCRW has already featured "So Good," the album's opening track, as a "Today's Top Tune" download. McCluskey's February 19, 2010 performance on KCRW's "Morning Becomes Eclectic" was so popular it will be available as an iTunes podcast starting March 5 and running for two weeks.

The album is a collaborative effort that includes the eclectic songstress's many and various friends: Joseph Arthur, Kraig Jarret Johnson (Golden Smog), Scott McCloud (Girls against Boys), Bardi Johannsson (Bang Gang), Duke B (Gaea), Stephane Haeri (Telepopmusik), Paul Cantelon, Craig Wedren (Shudder to Think), Seth Rothschild, Wild Colonials and Richard Fortus (Guns n' Roses).

So far, the positive reviews have been undeniable, with one reviewer saying: "In many ways Angela's voice is not hers; it's yours." Once you hear this amazing album, you'll have to agree. Stay tuned for performance dates.

"McCluskey …is the anti-diva, the anti-Leona Lewis, the anti-manufactured pop star. And her voice works live just as it does on record, an incredible juxtaposition of the greats: Beth Gibbons, Billie Holiday and Nina Simone. McCluskey eases emotion and soul out of her most personal obsessional ballads with an effortless cool."
– Alan McGee, Guardian UK (music legend and founder of Creation Records)

Check www.angelamccluskey.com
Genre not found
Artist not found
Album not found
Search results not found
Song not found