Jest cicho tak
Że u kresu dnia
Znajduje w piasku kształt zagubionych słów
Zmęczony wiatr usypia na rękach drzew
W końcu wieje tu od zawsze
Nim zawołasz mnie
Prawie czuje się szczęśliwa
Lyrics © O/B/O APRA AMCOS

Lyrics Licensed & Provided by LyricFind
To comment on specific lyrics,
highlight them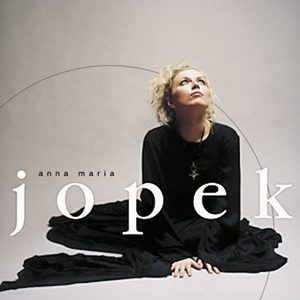 Facebook: www.facebook.com/amjopek
Official site: www.anna-maria-jopek.com

Anna Maria Jopek (born 14 December 1970 in Warsaw) is a Polish musician and singer.
Anna has been known for some of the most influential and groundbreaking projects in popular Polish music. She is a classically trained pianist who graduated from Chopin's Academy of Music in Warsaw, Poland who broadened her scope of musical influences after studying briefly at the Manhattan School of Music's Jazz Department.
Read Full Bio
Facebook: www.facebook.com/amjopek
Official site: www.anna-maria-jopek.com

Anna Maria Jopek (born 14 December 1970 in Warsaw) is a Polish musician and singer.
Anna has been known for some of the most influential and groundbreaking projects in popular Polish music. She is a classically trained pianist who graduated from Chopin's Academy of Music in Warsaw, Poland who broadened her scope of musical influences after studying briefly at the Manhattan School of Music's Jazz Department.

Anna now embraces a number of musical influences from classical to jazz and from pop to folk. With 14 albums of her own, she has performed and recorded with many important Polish artists including numerous concerts and recordings with ECM-based artists - trumpeter Tomasz Stanko and saxophone player Tomasz Szukalski. During the Jazz Jamboree International Festival 40th Anniversary Gala she performed with one of the greatest jazz saxophonists of our times: Joe Lovano. In 2008 she performed with yet another all time hero of hers, Bobby Mc Ferrin. Cameo appearances live with Chris Botti soon followed.

In 2003 Anna was invited by the First Family to the Presidential Palace in Warsaw. A small recital was held in the Palace featuring a duet with Anna and the pop icon, former King Crimson front man, Gordon Haskell. Although she plays open air gigs for thousands of fans, Anna prefers an intimate setting to a huge concert hall and performs about 100 concerts each year, from Toronto to Vienna, London to Berlin.

The Universal recording artist is a classically trained pianist and graduated from Chopin's Academy of Music in Warsaw, Poland. After briefly studying in Manhattan School of Music's Jazz Department Anna decided not to play Mozart concertos anymore and trade her beloved Ravel for Keith Jarrett. Philharmonic Hall for a small, smoky clubs and theatres.

"Please do not file my music under jazz" - Anna Maria Jopek says, though. "Nor under pop, folk...whatever. I embrace a lot of influences. Jazz is by far the most important in its freedom, its harmony and its sense of time, but I was brought up with the old Polish folk songs. So I'm kind of rooted here in all these Slavic landscapes and sounds".

With 10 albums of her own Anna Maria Jopek performed and recorded with all the important artists in Poland including numerous concerts and recordings with ECM-based artists - trumpeter Tomasz Stańko and saxophone player Tomasz Szukalski. During the Jazz Jamboree International Festival 40th Anniversary Gala in 1998 she performed with the one of the greatest jazz musicians of our time: Joe Lovano. In 2003 at the Presidential Palace in Warsaw, invited by the First Family Anna gave a small recital broadcasted live and dueted with the pop icon, former King Crimson frontman, Gordon Haskell.

Although she plays open air gigs for 5,000 fans, as happened in Warsaw in June 2001 and 8,000 in Augustów in July 2003, Anna prefers an intimate setting to a huge concert hall and performs about 100 concerts each year, from Toronto to Vienna, London to Berlin. Yet her Carnegie Hall appearance on January 4, 2004, remains one of the most cherished and memorable thrills of her professional life.

Yes, she has been given awards, including Michel Legrand's Personal Award in Witebsk in 1994, not to mention literally all of the Polish prestigious awards and Gold and Platinum records. Nevertheless Anna Maria Jopek is known for saying: "Music itself is the highest award for me. And the greatest challenge. With so many questions remaining to be answered".

Let's leave the last word to Pat Metheny: "Anna is original, unique, different. She?s brave, she's modest, she's open. She's a great musician. What she's been doing all her life is just trying to play the best notes. Trying to sound good. In that particular sense she's a lot like me and that's why I decided to work with her. Because she just cares for the music".

"I couldn't think of anything more inspiring, motivating and ear opening than working with Pat. He's been my first and most important mentor for years, but to actually make music with him was the most thrilling experience in my life..." - Anna Maria Jopek commented on their project.

"Anna Maria Jopek and Friends with Pat Metheny: Upojenie" - the unique, one of the kind tribute to the master composer, guitarist, 15 time Grammy Award Winner became an instant classic, selling over 80,000 copies in thirty days.

"UPOJENIE"
PAT METHENY & ANNA MARIA JOPEK
Nonesuch Records; released 2008 (re-edition on US market)

"ID"
ANNA MARIA JOPEK MUSIC / EMARCY; released 2008


"NIEBO"
UNIVERSAL MUSIC; released 2005 & 2006 (reedition)


"SECRET"
EMARCY; released 2005


"FARAT"
UNIVERSAL MUSIC; released 2003


"UPOJENIE"
WARNER MUSIC; released 2002
Polish release


"NIENASYCENIE"
UNIVERSAL MUSIC; released 2002


"BAREFOOT"
UNIVERSAL MUSIC; released 2002


"BOSA"
UNIVERSAL MUSIC; released 2000


"DZISIAJ Z BETLEYEM"
UNIVERSAL MUSIC; released 1999


"JASNOSŁYSZENIE"
UNIVERSAL MUSIC; released 1999


"SZEPTEM"
UNIVERSAL MUSIC; released 1998


"ALE JESTEM"
UNIVERSAL MUSIC; released 1997



Special editions:

Z pamięci (special edition of Farat) (2003)
"Niebo" Special edition (2006)
Spoza (special edition of ID and Jo & Co) (2008)

Singles
"Przed rozstaniem" (1998)
"Na dłoni" (2002)
"A gdybyśmy nigdy się nie spotkali" (2006)
"Teraz i tu" (2007)
"Zrób, co możesz" (2007)
"Skłamałabym" (2007)
Genre not found
Artist not found
Album not found
Search results not found
Song not found