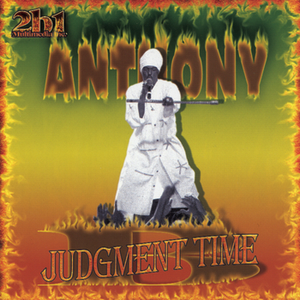 Anthony B is the stage name of Keith Blair (born March 31, 1976), a Jamaican mus…
Read Full Bio ↴
Anthony B is the stage name of Keith Blair (born March 31, 1976), a Jamaican musician.

Blair grew up in rural Clarks Town in the northwestern parish of Trelawny. His deeply religious family life (his mother was a Seventh-day Adventist and his grandmother a Revivalist) imbued him with a profound spirituality. During his youth, his favorite singers were reggae legends Bob Marley, Peter Tosh, and Bunny Wailer, musicians who strongly influenced his own style. Peter Tosh's influence can definitely be heard in Anthony B's vocal delivery and revolutionary stance.

Anthony B adopted Rastafarian beliefs as a teenager, a decision which was not well-received by his family. The stubborn and determined Anthony B refused to give up his new religion and his dreadlocks and moved to the home of his aunt and uncle in the Kingston suburb, Portmore.

While attending high school, Anthony B debuted as a deejay for the local sound system, Shaggy Hi-Power. In 1988, he befriended reggae artists such as Determine, Mega Banton, Ricky General and Terror Fabulous.

At this point in the reggae industry, singing "slack" songs about women was the popular thing to do. Anthony B did not believe in degrading women and chose to pen politically-slanted songs rather than so-called "gyal chunes." He hooked up with Little Devon the Half Pint sound-a-like singer he made his debut single "The Living is Hard" on the Wizard label in 1993. Anthony B tried many different producers but found that none of them fit his style of music. Finally, Anthony B teamed up with Richard "Bello" Bell, creating hits such as Fire Pon Rome, Raid Di Barn, Rumour, and Repentance Time. Anthony B's 1996 debut album Real Revolutionary was highly acclaimed in the reggae community. In late 1997, Anthony B released Universal Struggle which showed that Anthony B had a consistent, high-calibre talent. Anthony B has released a large number of albums since that time including 1999's Seven Seals and 2004's Untouchable which featured collaborations with artists including Wyclef Jean.

Anthony B tours extensively in Europe and North America and is known for his fiery, high-energy performances.

Anthony B is a member of the Bobo Ashanti branch of the Rastafarian movement. "Bobo Dreads", as they are known, are recognizable by their long robes and turbans. The strong Afrocentric pride and the other Rastafarian beliefs (or "overstandings" as Rastafarians prefer to call them) which Anthony B holds are reflected in his songs.

Discography

* Predator & Prey (1996, Alpha Enterprises)
* Real Revolutionary / So Many Things (1996, Greensleeves)
* Universal Struggle (1997, VP Records)
* Seven Seals (1999, VP Records)
* That's Life (2001, VP Records)
* More Love (2001, AO ! Records)
* Live On The Battlefield (2002, Jahmin' Records)
* Reggae Max (2002, Jet Star)
* Street Knowledge (2003, Nocturne)
* Judgment Time (2003, 2B1 Records)
* Smoke Free (2003, Bogalusa Records)
* Voice Of Jamaica vol. 2 (2003, Nocturne)
* Wise Man Chant (2004, Black Scorpio)
* Justice Fight (2004, Nocturne)
* Untouchable (2004, Togetherness Records)
* Power Of Creation (2004, Nocturne)
* Black Star (2005, Greensleeves)
* My Hope (2005, AL.TA.FA.AN. / Minor 7 Flat 5)
Love Triangle
Anthony B Lyrics
Jump to: Overall Meaning ↴ Interesting Facts ↴ Line by Line Meaning ↴
Right here di cookie crumble
Uhh uhh uhh uhh uhh
Where you cah add mi true yuh play dem right
Yuh see weh mi a sah
Keep yuh relationship lock tight
Because mi go so
One right one left
Catch mi inna love triangle
Too hard fi hangle yoo
One right one left
Love get outta control too
Hot to hold yoo
One right one left
Catch mi inna love triangle
Too hard fi hangle yoo
One right one left
Love get outta control too
Hot to hold yoo
Catch up inna two love same time
Think yuh would a feel like King and divine
Instead, it becomes a confusion of the mind
Go inna yuh self and go seek and find
Analyze before yuh get entwine
Socialize before yuh go combine
Compromise open yuh eyes nuh be blind
Search fi do qualities look out fi di sign
One mi warn di lovers in this time
Hell memba keep yuh ears incline
Yoo one right one left
catch inna catch inna yooo
One right one left
Catch mi inna love triangle
Too hard fi hangle yoo
Go so one right one left
Love get outta control too
Hot to hold yoo
One right one left
Catch mi inna love triangle
Too hard fi hangle yoo
One right one left
Love get outta control too
Hot to hold yoo
Man sah him haffi prove sumn to himself
Fi run di place and dun di place
nuh good fi yuh health
Woman sah she haffi prove sumn to she self
Fi run di place and dun di place nuh good fi yuh health
Love is more than material and wealth
One mi wah self yuh buckle up yuh love belt
Moving too fast cut dung some a di heat yah
Calm dung pon yuh love speed a meter
Cah mi go so
One right one left
Catch mi inna love triangle
Too hard fi hangle yoo
One right one left
Love get outta control too
Hot to hold yoo
One right one left
Catch mi inna love triangle
Too hard fi hangle yoo
One right one left
Hey yoo and mi go so
Hi Woman sah she cah trust man no more
Man nuh trust woman a same thing
Queen mi a tell yuh stick to yuh king
Listen to di song Anthony B a sing
Good love good joy good vibes weh mi bring
Some man go run di place
And AIDS dem win hey
Memba fight too high mi haffi clip dem wing
Nuh live yuh life like nuh rubbish bin
One right one left
Cah mi inna love triangle
Too hard fi hangle yoo
One right one left
Love get outta control too
Hot to hold yoo
One right one left
Cah mi inna love triangle
Too hard fi hangle yoo
One right one left
Love get outta control too
Hot to hold yoo
Catch up inna two love same time
Think yuh would a feel like King and divine
Instead it becomes a confusion of the mind
Go inna yuh self and go seek and fine
Search fi di quality
Overall Meaning
In Anthony B's song Love Triangle, he warns against being caught in a love triangle where one is involved with two people at the same time, leading to confusion and difficulty managing the situation. He advises that one must keep their relationship locked tight and analyze before getting entwined. He warns that love can become out of control and too hot to hold when caught up in two loves at the same time. He also advises both men and women to prove something to themselves rather than trying to prove something to others, as it is not good for their health.
The lyrics of Love Triangle convey a message that is relevant today as it was when the song was released. It is a warning against the dangers of trying to handle too much and the consequences it can have on one's mental and emotional well-being. Anthony B's use of Jamaican patois adds depth and nuance to the lyrics, making it more relatable to his Jamaican audience. The use of the phrase "one right one left" throughout the song adds a rhythm and repetition that makes it catchy and memorable.
Interesting facts:
Interesting Facts
Note: This section uses generative AI, which can be inaccurate.


Line by Line Meaning
Right here di cookie crumble
Intro to the song, no deeper meaning.
Where you cah add mi true yuh play dem right
If you want to add me to your relationship, you have to play it right.
Yuh see weh mi a sah
You see what I'm saying?
Keep yuh relationship lock tight
Keep your relationship secure and strong.
Because mi go so
Because I said so.
One right one left
Being torn between two choices, two people.
Catch mi inna love triangle
Feeling stuck in a situation where love is shared between three people.
Too hard fi hangle yoo
It's too difficult to handle.
Love get outta control too
Love can become uncontrollable sometimes.
Hot to hold yoo
The intensity of the love is too much.
Catch up inna two love same time
Being caught up in two different loves at the same time.
Think yuh would a feel like King and divine
Thinking that having multiple loves would make you feel like royalty.
Instead, it becomes a confusion of the mind
Instead, it becomes a mental overwhelm.
Go inna yuh self and go seek and find
Reflect on yourself and find what you truly want.
Analyze before yuh get entwine
Think carefully before getting involved in anything serious.
Socialize before yuh go combine
Get to know the person well before committing to anything serious.
Compromise open yuh eyes nuh be blind
Be open to compromise and don't be blinded by love.
Search fi do qualities look out fi di sign
Search for qualities and signs before jumping into anything serious.
One mi warn di lovers in this time
I am warning lovers in this current time period.
Hell memba keep yuh ears incline
Remember to listen carefully.
Yoo one right one left
Continuation of feeling torn between two choices.
Man sah him haffi prove sumn to himself
A man feels he has to prove something to himself.
Fi run di place and dun di place nuh good fi yuh health
Running around and messing around with multiple partners is not good for your health.
Woman sah she haffi prove sumn to she self
A woman feels she has to prove something to herself.
Love is more than material and wealth
Love should be more important than material possessions and wealth.
One mi wah self yuh buckle up yuh love belt
Buckle your love belt and get ready for a deep relationship.
Moving too fast cut dung some a di heat yah
Moving too fast can lead to some negative consequences.
Calm dung pon yuh love speed a meter
Slow down and take it easy with your love.
Hey yoo and mi go so
Hey you, let's do it this way.
Hi Woman sah she cah trust man no more
A woman doesn't trust men anymore.
Man nuh trust woman a same thing
Men don't trust women either.
Queen mi a tell yuh stick to yuh king
Queen is telling you to stick with your partner.
Listen to di song Anthony B a sing
Listen to the song that Anthony B is singing.
Good love good joy good vibes weh mi bring
I bring good love, joy, and positive vibes.
Some man go run di place
Some men go around and mess with multiple partners.
And AIDS dem win hey
This risky behavior can result in contracting AIDS.
Memba fight too high mi haffi clip dem wing
Don't fight too high or else I'll have to clip your wings.
Nuh live yuh life like nuh rubbish bin
Don't live your life like a trash bin.
Lyrics © O/B/O APRA AMCOS
Written by: Keith Blair

Lyrics Licensed & Provided by LyricFind
To comment on or correct specific content,
highlight it
Genre not found
Artist not found
Album not found
Search results not found
Song not found