Who Shoot First
Anthony B Lyrics
Jump to: Overall Meaning | Line by Line Meaning
Yo yo you you
Haile the Iley one of Iration
This is I livication
To dupe to don, to group to gang
No bad man live long
Listen to the bobo song
It's Armageddon or revolution, but we got to find the solution
You nuh hear the bobo tell you say
A who shoot first a no who draw
Caan escape from the long arms of the law
Who shoot first a no who draw
Say you living fi yu life too raw
Who shoot first a no who draw
You a murder whey live a bruk law
Who shoot first a no who draw
Me tell you Haile Selassie I you say you nah
Bob Marley shot the sheriff and mi go shot the deputy
Every bad man mi say you life in a jeopardy
Gunman no live long look out fi di cemetery
Fi di new millennium the twenty first century
If you blood thirsty mi have love fi quench it
Put dem up front row, a back bench mi bench it
Waan free waterway, so no bother trench it
Hey, belly empty so how gun so plenty
You no hear the Bobo youth chant daily
A who shoot first a no who draw
Stop tell me say you a outlaw
Who shoot first a no who draw
You living fi yu life too raw
Who shoot first a no who draw
Mama say leggo badness you can't
Who shoot first a no who draw
Me tell yu Haile Selassie I you say you nah
Well the woman you rape last night a smaddy mother
The man you shot last night a smaddy father
Dem things deh it caan right we chant fi better
Me know you a no maker so how you come a taker
We a di role model whey di youth dem a follow
Me no waan dem think a pure killer come from the gutter
A who shoot first a no who draw
Caan escape from the long arms of the law
Who shoot first a no who draw
Say you living fi yu life too raw
Who shoot first a no who draw
You a murder whey live a bruk law
Who shoot first a no who draw
Me tell you Haile Selassie I you say you nah
A sake a you mama deh walk and beg
Hear say you wanted live or dead
Can't fi get the baby pain although you running the place red
People witness when you tek man out a dem bed
Blow blow and lick shot in a head
Never know informer would a mek news spread
Caan escape now you surrounded by Feds
Hang up badness mama did tell you say
Rastafari you fi praaise instead
A who shoot first a no who draw
Caan escape from the long arms of the law
Who shoot first a no who draw
Say you living fi yu life too raw
Who shoot first a no who draw
You a murder whey live a bruk law
Who shoot first a no who draw
Me tell you Haile Selassie I you say you nah
A who shoot first a no who draw
Caan escape from the long arms of the law
Who shoot first a no who draw
Say you living fi yu life too raw
Who shoot first a no who draw
You a murder whey live a bruk law
Who shoot first a no who draw
Me tell you Haile Selassie I you say you nah
Overall Meaning
Anthony B's song "Who Shoot First" is a livication (dedication) to the principles of the Rastafarian movement. The lyrics touch upon the notions of lawlessness, violence, and murder, and how they cause negative consequences to the perpetrators. The song challenges the idea that being a bad man is commendable or something to be proud of, and that everyone must strive to find a solution that upholds the sanctity of life. In the song, Anthony B references the Bobo Shanti tradition, which is a subset of the Rastafarian movement that emphasizes the importance of community and peaceful coexistence.
The chorus of the song, "A who shoot first a no who draw, can't escape from the long arms of the law," emphasizes the idea that engaging in conflicts is futile and will eventually lead to one's demise. Anthony B points out how a person who lives a life of violence and murder cannot expect to live a long life. The lyric "you living fi yu life too raw" further emphasizes this point and suggests that there is no honor in being someone who takes others' lives. The song also references the consequences of murder, including imprisonment, the loss of freedom, and the impact it may have on the families of the victims.
The song's verses touch upon a variety of issues, including gun violence, the importance of being a good role model for the younger generation, and the impact of violence on communities. The lyrics explicitly challenge some of the popular beliefs in some reggae circles, including the glorification of violence and committing murder to prove one's toughness. Anthony B's song stresses that violence is not the answer to any problem and that instead, one should strive for peace and harmony.

Line by Line Meaning
Yo yo you you
Greeting to the listener
Haile the Iley one of Iration
Praise to Haile Selassie, king of Rastafarianism
This is I livication
This is my dedication
To dupe to don, to group to gang
To deceive, to cheat, to form a gang
No bad man live long
Violent people have a short lifespan
Listen to the bobo song
Listen to the Rastafarian message
It's Armageddon or revolution, but we got to find the solution
The world is in crisis, and we need to find a solution
You nuh hear the bobo tell you say
You haven't been listening to the Rastafarian message
A who shoot first a no who draw
Whoever pulls the trigger first is not necessarily the aggressor
Caan escape from the long arms of the law
The law will catch up to you eventually
Say you living fi yu life too raw
You are living your life too dangerously
You a murder whey live a bruk law
You are a murderer who lives outside of the law
Me tell you Haile Selassie I you say you nah
I tell you to follow Haile Selassie, but you refuse
Bob Marley shot the sheriff and mi go shot the deputy
Bob Marley stood up against the authorities, and I will do the same
Every bad man mi say you life in a jeopardy
Violent people are putting their lives in danger
Gunman no live long look out fi di cemetery
Gunmen have a short lifespan and should be wary of the cemetery
Fi di new millennium the twenty first century
In the new millennium, in the 21st century
If you blood thirsty mi have love fi quench it
If you have a thirst for blood, I will try to satisfy it with love
Put dem up front row, a back bench mi bench it
Put violent people in the front row, while I sit at the back
Waan free waterway, so no bother trench it
We want clean and free waterways, so don't pollute them
Hey, belly empty so how gun so plenty
When people are hungry, why are there so many guns around?
Mama say leggo badness you can't
Mother advises to let go of violence, you can't continue with it
Well the woman you rape last night a smaddy mother
The woman you raped last night is someone's mother
The man you shot last night a smaddy father
The man you shot last night is someone's father
Dem things deh it caan right we chant fi better
Things like that are unacceptable, and we should chant for a better way
Me know you a no maker so how you come a taker
I know you didn't make your own life, so why are you taking others' lives?
We a di role model whey di youth dem a follow
We are the role models that the youth are following
Me no waan dem think a pure killer come from the gutter
I don't want them to think that killers come from the streets
A sake a you mama deh walk and beg
It's because of you that your mother has to beg
Hear say you wanted live or dead
I've heard that you are wanted for alive or dead
Can't fi get the baby pain although you running the place red
Your power doesn't make the pain of innocent people go away
People witness when you tek man out a dem bed
People witness when you take someone out of their bed
Blow blow and lick shot in a head
Killing people with shots to the head
Never know informer would a mek news spread
I didn't know that snitching would make the news spread
Caan escape now you surrounded by Feds
You can't escape anymore because you're surrounded by the authorities
Hang up badness mama did tell you say
Put away your evil tendencies, as your mother told you to
Rastafari you fi praaise instead
You should praise Rastafarianism instead
Lyrics © SUELION MUSIC
Written by: KEITH BLAIR, RICHARD BELL

Lyrics Licensed & Provided by LyricFind
To comment on or correct specific content,
highlight it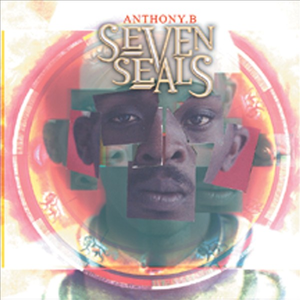 Anthony B is the stage name of Keith Blair (born March 31, 1976), a Jamaican musician.

Blair grew up in rural Clarks Town in the northwestern parish of Trelawny. His deeply religious family life (his mother was a Seventh-day Adventist and his grandmother a Revivalist) imbued him with a profound spirituality. During his youth, his favorite singers were reggae legends Bob Marley, Peter Tosh, and Bunny Wailer, musicians who strongly influenced his own style.
Read Full Bio
Anthony B is the stage name of Keith Blair (born March 31, 1976), a Jamaican musician.

Blair grew up in rural Clarks Town in the northwestern parish of Trelawny. His deeply religious family life (his mother was a Seventh-day Adventist and his grandmother a Revivalist) imbued him with a profound spirituality. During his youth, his favorite singers were reggae legends Bob Marley, Peter Tosh, and Bunny Wailer, musicians who strongly influenced his own style. Peter Tosh's influence can definitely be heard in Anthony B's vocal delivery and revolutionary stance.

Anthony B adopted Rastafarian beliefs as a teenager, a decision which was not well-received by his family. The stubborn and determined Anthony B refused to give up his new religion and his dreadlocks and moved to the home of his aunt and uncle in the Kingston suburb, Portmore.

While attending high school, Anthony B debuted as a deejay for the local sound system, Shaggy Hi-Power. In 1988, he befriended reggae artists such as Determine, Mega Banton, Ricky General and Terror Fabulous.

At this point in the reggae industry, singing "slack" songs about women was the popular thing to do. Anthony B did not believe in degrading women and chose to pen politically-slanted songs rather than so-called "gyal chunes." He hooked up with Little Devon the Half Pint sound-a-like singer he made his debut single "The Living is Hard" on the Wizard label in 1993. Anthony B tried many different producers but found that none of them fit his style of music. Finally, Anthony B teamed up with Richard "Bello" Bell, creating hits such as Fire Pon Rome, Raid Di Barn, Rumour, and Repentance Time. Anthony B's 1996 debut album Real Revolutionary was highly acclaimed in the reggae community. In late 1997, Anthony B released Universal Struggle which showed that Anthony B had a consistent, high-calibre talent. Anthony B has released a large number of albums since that time including 1999's Seven Seals and 2004's Untouchable which featured collaborations with artists including Wyclef Jean.

Anthony B tours extensively in Europe and North America and is known for his fiery, high-energy performances.

Anthony B is a member of the Bobo Ashanti branch of the Rastafarian movement. "Bobo Dreads", as they are known, are recognizable by their long robes and turbans. The strong Afrocentric pride and the other Rastafarian beliefs (or "overstandings" as Rastafarians prefer to call them) which Anthony B holds are reflected in his songs.

Discography

* Predator & Prey (1996, Alpha Enterprises)
* Real Revolutionary / So Many Things (1996, Greensleeves)
* Universal Struggle (1997, VP Records)
* Seven Seals (1999, VP Records)
* That's Life (2001, VP Records)
* More Love (2001, AO ! Records)
* Live On The Battlefield (2002, Jahmin' Records)
* Reggae Max (2002, Jet Star)
* Street Knowledge (2003, Nocturne)
* Judgment Time (2003, 2B1 Records)
* Smoke Free (2003, Bogalusa Records)
* Voice Of Jamaica vol. 2 (2003, Nocturne)
* Wise Man Chant (2004, Black Scorpio)
* Justice Fight (2004, Nocturne)
* Untouchable (2004, Togetherness Records)
* Power Of Creation (2004, Nocturne)
* Black Star (2005, Greensleeves)
* My Hope (2005, AL.TA.FA.AN. / Minor 7 Flat 5)
Genre not found
Artist not found
Album not found
Search results not found
Song not found