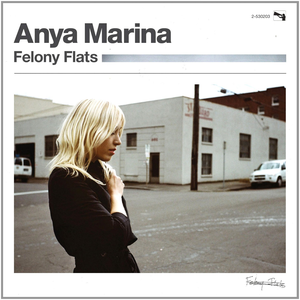 You're Gonna Lose That Girl - Demo
Anya Marina is a singer-songwriter and radio disc jockey based in San Diego, Calif. Her music has been featured on the ABC television drama Grey's Anatomy (and its second soundtrack) and on shows such as MTV's The Real World. She is also track 6 on New Moon soundtrack. Anya is a former deejay on KBZT (FM94/9) in San Diego.

Anya was born in Ann Arbor, Mich., and grew up in the Silicon Valley area of California as a capricious child with Russian-Agnostic/Irish-Catholic
Read Full Bio
Anya Marina is a singer-songwriter and radio disc jockey based in San Diego, Calif. Her music has been featured on the ABC television drama Grey's Anatomy (and its second soundtrack) and on shows such as MTV's The Real World. She is also track 6 on New Moon soundtrack. Anya is a former deejay on KBZT (FM94/9) in San Diego.

Anya was born in Ann Arbor, Mich., and grew up in the Silicon Valley area of California as a capricious child with Russian-Agnostic/Irish-Catholic professor parents (psychology and russian literature/math) and a younger sister. After finishing high school, Anya moved to Los Angeles as an aspiring actress. With stints in the British American Drama Academy (taught by Richard Dreyfuss, Marsha Mason, Anne Jackson and Eli Wallach) and the American Academy of Dramatic Arts in Pasadena, Anya has also acted in television and film (in 2001, she starred in the feature film, 100 Girls). She eventually moved back home to earn a college degree in English and writing at Santa Clara University. She continued to struggle as an artist -- working in acting, musical theatre, music, improv and comedy -- but eventually found a job as a radio DJ on KSCU, Santa Clara University's college station.

After graduating, Anya took a radio station job in San Diego with Mike Halloran at XHRM-FM (92.5). After the station was bought out by another corporation, Halloran hired Anya at Y107 in Los Angeles before they both moved to Premium Radio 92/1 in San Diego's North County. After leaving that station, both disc jockeys landed at FM94/9.

It was in San Diego that Anya played her first open mic night and began to write her own songs. She quickly developed a live stage act using what she learned as an actress, comic and impressionist. Her recorded debut was a five-song EP called Exercises in Racketeering, which eventually led to a full-length album, Miss Halfway, which was released in early 2005. Anya subsequently opened for such artists as Jason Mraz and Rhett Miller. She was named one of the "Best Unsigned" acts by San Diego CityBeat.

The songs on Miss Halfway talk about her upbringing, ex-boyfriends and all the after-effects. Anya's album was also produced by Scott Russo, the frontman for rockers Unwritten Law, along with Peter King from The Surfers. The record eventually earned a San Diego Music Award for Best Recording. The title track also landed on Grey's Anatomy and was featured as the fifth song on the second Grey's Anatomy (soundtrack) disc along with The Fray, KT Tunstall, Gomez and Snow Patrol.

The internet radio station KGRL featured her as their Flower-Powered Artist for March of 2007. The feature includes an exclusive interview, CD Review of Miss Halfway, and an on-demand audio stream of an unreleased Anya Marina track titled "Try It And Like It."
Genre not found
Artist not found
Album not found
Search results not found
Song not found
You're Gonna Lose That Girl
Anya Marina Lyrics
We have lyrics for 'You're Gonna Lose That Girl' by these artists:



Beatles You're going to lose that girl, You're going to lose that…
The Beatles You're going to lose that girl You're going to lose that…
the beatles＀ You're going to lose that girl, You're going to lose that…
The Cryan' Shames Lennon-McCartney You're gonna lose that girl (yes yes yo…



We have lyrics for these tracks by Anya Marina:



Afterparty At Jimmy's So I saw you at the fair, right? With your art…
All the Same to Me I won't run When the sky turns to flame And I sure…
Believe Me I Believe There's nothing I can do There's nothing I can do To chang…
Body Knows Best The mind won't rest Puts you to the test Body knows better…
Clean & Sober Darling you know I loved you something like a drug Darling…
Clean Sober Darling you know I loved you something like a drug Darling…
Come Back to Bed Morning's a peach Night is a pitbull Either way, I can't a…
Cowboy There was a dive bar and a cowboy Well, not a…
Cut it out Cut it out You better cut it out You gotta work it…
Drop Dead Blues Shakin' off all those blues Comin' down off that noose…
Fantasy You only come out late at night Just like an animal…
Felony Flats Southeast of the tracks Left alone Bars on the windows and…
Flinty It doesn't go away when you're trying not to stay It…
Heart Stops I fell in love I fell in love with everything The stars,…
High On The Ceiling I read all of your mail I searched all your clothes And…
Hot Button There ain't no debating There's a cold front blizzard in th…
If It Feels Right If it feels right, you should make a movie starring…
Krikor's Waltz Redux Little did I know today, Making wishes from light years awa…
Lovesick A laundry list a mile long I've got so much to…
Lullaby for a Realist Sometimes I'm hard to 'voke As I breathe And sometimes I d…
Miss Halfway You oughtta hear the mirror in my house You oughtta fear…
Move You Bending spoons with my mind, Manifesting men of all kinds …
Not a Through Street I don't remember much of anything Of those years, Kind of …
Nothing To Go On Someday I'll wake up on the sidewalks of the moon With…
Notice Me These are the days like a long summer haze We're in…
Rommy's Pants Jean Pierre was a fashion designer And Jean Pierre couldn't…
Satellite Heart So pretty, so smart Such a waste of a young heart Whatta…
Sattelite Heart So pretty so smart Such a waste of a young heart! What…
Sociopath I'm not much for dope or drink And that's thanks to…
Someday Well, you don't ask about my birthday Or my band-aid (Talk…
Someday My Prince Will Come Somewhere waiting for me There is someone I'm longing to se…
Space Monkey I've been on the ground, feet slowly draggin' I've been on…
two left feet You retreat, I advance You cry on graves, while I dance Yo…
Vertigo The song you sing is Sentimental The song you sing is Makin…
Waters of March É pau, é pedra, é o fim do caminho É um resto…
Whatever You Like Stacks on deck, Patrón on ice We can pop bottles all…
You Are Invisible I got something I can never tell It's not evil, but…

The lyrics can frequently be found in the comments below, by filtering for lyric videos or browsing the comments in the different videos below.