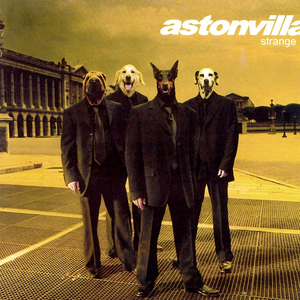 Astonvilla are a French rock musical group, called "Aston Villa" until 2002 and their album Strange.
Genre not found
Artist not found
Album not found
Search results not found
Song not found
We have lyrics for 'Le Chien' by these artists:



Aston Villa On est seul on aime ça On aime soi-même et son…
Bénabar Le chien s'est redressé, comme fou, quand l'homme a enfilé…
Benabar Qu'est-ce qu'il a, ce petit chien À provoquer ce gros chien…
Dan Bigras Bien sûr la vie, ça ne vaut rien Bien sûr que…
Georges Chelon Dans le froid, la boue et le vent Il a franchi…
La Rue Kétanou Je n'ai pas bien compris Le sens de ton geste Veux-tu que…
Léo Ferré A mes oiseaux piaillant debout Chinés sous les becs de la…
Les Wriggles Le chien de la grand mère du copain de mon…
Taipan Je suis né en 1982 J'arrive l'année du chien Je partirai com…



We have lyrics for these tracks by Astonvilla:



Croiser le fer Mélodies acides en faction, qui Rongent le silence autour d…
Italy Elle dit qu'elle veut se pendre Moi je lui dis d'attendre …
Ma Blonde C'est décidé après Noël j'arrête Dans le mois qui va suivre…
Raisonne Je suis tellement jeune et belle, Avec les cheveux longs T…
Regarde-Moi Tous les matins j'suis le même J'ai une sale tête au…
Rockmusic Harvest Revolver If you want blood you've got it Grace O…
Tête de lune Je suis un homme à tête de lune Ca fait des…
Un Homme Bien Pour quelle Barbie, tu risques? Est-ce la femme de ta vie? …

The lyrics can frequently be found in the comments below, by filtering for lyric videos or browsing the comments in the different videos below.