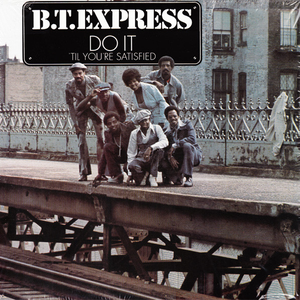 B.T. Express (originally named Brooklyn Transit Express) was an American funk/disco group, that had a number of successful songs during the 1970s.

The group was part of the "Brooklyn sound" of the early 1970s, formed from three players of the group King Davis House Rockers. The House Rockers were a local dance band who had released a couple of obscure singles (1967's "We All Make Mistakes Sometimes" on Verve Records, 1972's "Rum Punch") The three players (guitarist Richard Thompson
Read Full Bio
B.T. Express (originally named Brooklyn Transit Express) was an American funk/disco group, that had a number of successful songs during the 1970s.

The group was part of the "Brooklyn sound" of the early 1970s, formed from three players of the group King Davis House Rockers. The House Rockers were a local dance band who had released a couple of obscure singles (1967's "We All Make Mistakes Sometimes" on Verve Records, 1972's "Rum Punch") The three players (guitarist Richard Thompson, tenor sax player Bill Risbrook, and alto sax player Carlos Ward) formed Madison Street Express along with bassist Louis Risbrook (later Muslim-monickered Jamal Rasool), percussionist Dennis Rowe, drummer Terrell Wood, and vocalist Barbara Wood. They along with producer Jeff Lane signed with production company Roadshow Records to record writer Billy Nichols "Do It ('Til You're Satisfied)." The record was shopped around to major labels until it was accepted at Scepter Records. Scepter suggested the group change its name from Madison Street Express, hence the Brooklyn Transit Express. The single was released in August 1974, and reached the top 10. Lane took the group back into the studios at that point to record a second single and pitch a full album to the label. Scepter agreed to the LP and to Roadshow Records having its own label within Scepter Records.

The first two singles were hits, both number 1 R&B releases and both Top 5 pop singles in the US. The album hit number 1 on the R&B album chart and number 5 on the Pop album chart of the US. These recordings were also hits in the spreading disco culture, "Do It" peaking on club playlists before Billboard started a separate disco chart, but the follow-up single sat for five weeks at number 1. They were certified gold releases.

BT Express released an album per year through 1978. With the third album, Leslie Ming was brought in as drummer and keyboardist Michael Jones was added as keyboardist. Jamal, who had converted to the Muslim faith, gave Jones the name Kashif Saleem, which he used after departing the group, in 1979, to pursue producing ("Mighty M Productions" with Morrie Brown and Paul Laurence Jones) and solo recording ventures. That year songwriter Billy Nichols and drummer Leslie Ming also departed the group. In 1976 Scepter records was experiencing business difficulties that soon ended the company, and BT Express was given a distribution deal with Columbia Records, which, though it gave them greater exposure, resulted in less attention being paid to their production, since they had so many acts to concentrate on. The group did not achieve the level of radio or sales success on Columbia that they had on the more nurturing but by-then defunct Scepter. They stayed with Columbia for five years, with Lane producing through 1978, then Nichols producing their fifth album before he departed for solo work, and Morrie Brown producing the sixth LP and several follow-up tracks. The group switched labels to Coast To Coast Records for the 1982 LP, to Earthtone Records for a later 1982 single, and to manager King Davis' own label in 1985.
Genre not found
Artist not found
Album not found
Search results not found
Song not found
We have lyrics for these tracks by B.T. Express:



Can't Stop Groovin' Now Wanna Do It Some More Can't stop groovin' right now Wanna do it some more Can't st…
Close to You Why do birds suddenly appear? Every time you are near Just l…
Closer 그래 모든 날 all days[00:24.08]너만 생각해 always[00:27.06]I wanna be …
Do it Ooh Go on and do it Do it, do it 'til you're…
Do It ('Til Your Satisfied) Ooh, go on and do it, do it, Do it 'til…
Do you like it Ooh Go on and do it Do it, do it 'til you're…
Does It Feel Good Something's not right Don't wanna fight Text your phone like…
Everything Go to You Man f'real I love bein' from the Dirty South man It…
Eyes 未来是个圆圈 在你无名指间 载着我的承诺 来为这爱情加冕 在你眉目之间 我看到了无限 把从前都沉淀 永恒就在这一瞬间 H…
Funky Music Hey, do it now Yeah, hey Hey, Once I was a boogie…
Give It What You Got Give it what you got Give it what you got Give it…
Give up the Funk Cardi Josh X I see the pain in your eyes And truth is,…
Happiness Give me happiness over temptation any day Oh, give me happin…
Have Some Fun You could call me baby Run it up I hope that you…
I Want You With Me I want you to want me. I need you to need…
It's Got to Be You Insufferable Why you wanna be argumental? Unmatchable, yeah …
Just Can't Stop Dancin' I can't just stop loving you You make me sick of…
Keep It Up She on top she gone take her time Think I just…
Let Yourself Go Let's go... Let's go to the beach Ocean breeze Palm trees Gi…
Now That We Now that we found found love What are we gonna do…
Now That We've Found Love Now that we found found love What are we gonna do…
Once You Get It Once you get it, ooh Once you get it, hold on,…
Peace Pipe Put it in your peace pipe (Yeah) smoke it on up…
Put It In Put it in my face (Yeah) Put it in my face…
Shake It Off I done fucked bitches in this world you would die…
Shout It Out Another day in this hell hole We gotta make it…
Sunshine I used to think maybe you loved me now baby…
The Door to My Mind Who's that knocking on your front door Can you say your…
What You Do in the Dark The roads run red with the blood of a man…
You Got It Ooh Go on and do it Do it, do it 'til you're…
You Got It I Want It Happy Birthday to my nigga wale man Wrote this shit August…
You Got Something Something you got, baby Makes me work all day Something you …

The lyrics can frequently be found in the comments below, by filtering for lyric videos or browsing the comments in the different videos below.