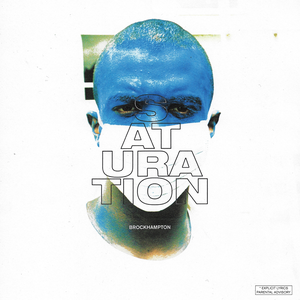 BROCKHAMPTON were an American musical group formed in San Marcos, Texas, in 2010…
Read Full Bio ↴
BROCKHAMPTON were an American musical group formed in San Marcos, Texas, in 2010 and based in California. Led by Kevin Abstract, BROCKHAMPTON formed partially through the online forum "KanyeToThe", and describes themselves as a boy band. The group consisted of vocalists Kevin Abstract, Matt Champion, Merlyn Wood, Dom McLennon, Joba, Bearface , and Jabari Manwa. (the latter three also work as producers), and producers Romil Hemnani and Kiko Merley (of which Jabari and Kiko also function as the duo Q3), as well as graphic designer Henock "HK" Sileshi, photographer Ashlan Grey, web designer Roberto Ontenient (who also features prominently in voice skits), and manager Jon Nunes.

The group released their first mixtape All-American Trash in 2016. Their debut album SATURATION was released on June 9, 2017, followed by SATURATION II on August 25 and SATURATION III on December 15, 2017. On March 30, 2018, BROCKHAMPTON announced that they had signed a record deal under RCA Records.

In the summer of 2018, the group parted ways with vocalist Ameer Vann over accusations of sexual misconduct. Their album which was set for release, titled Puppy, was thrown out after the incident. Three tracks from the album were reworked and released over subsequent weeks throughout the summer, including "1999 Wildfire", "1998 Truman" and "1997 Diana"

On September 21, 2018, the boyband released their fourth studio album, Iridescence, recorded in London's iconic Abbey Road Studios over ten days. It was their major-label debut, as well as their first album since Ameer Vann's departure following sexual misconduct allegations.

The album marked BROCKHAMPTON's first number-one album, as the album debuted at #1 on the Billboard 200 Chart. The album sold 101,000 copies in its first week and was released just weeks before the band embarked on their first tour without ex-member Ameer.

BROCKHAMPTON returned in 2019 which a string of singles, "I Been Born Again", "If You Pray Right", "Boy Bye", and "No Halo". GINGER is the fifth studio album by American hip-hop collective Brockhampton. It was released on August 23, 2019, through the band's label Question Everything and RCA. It features slowthai, Deb Never, and the band's members.

2020 was the first year since 2016 that they did not officially release a project; instead, Brockhampton began streaming weekly on Twitch and Instagram to DJ and premiere new songs, which would also be posted to and deleted from their YouTube channel regularly. However, none of these songs were officially released on streaming services due to challenges with sample clearance. This era was dubbed "TECHNICAL DIFFICULTIES".

In 2021, BROCKHAMPTON returned with their sixth album, Roadrunner: New Light, New Machine, released on April 9th. The singles for the album included "Buzzcut" and "Count On Me". The album included features from Danny Brown, JPEGMAFIA, A$AP Rocky, A$AP Ferg, SoGone SoFlexy, Charlie Wilson and Baird.

On January 14, 2022, the band announced that they would no longer be performing as a group and would go on indefinite hiatus after their 2022 Coachella performances. On April 16, 2022, during the first of said Coachella performances, BROCKHAMPTON announced a final album that would arrive the same year. The title of this album, The Family, was revealed in late October, and the album was released on November 17, 2022. However, the band announced another surprise follow-up album TM that would release the following day, November 18, 2022.
Jump to: Overall Meaning ↴ Interesting Facts ↴ Line by Line Meaning ↴
Anyway, I ain't much for the cold
In your car, I felt lost
Cut her legs covered in scars
And erase my doubts for long
But I couldn't lie, you swear and you cry
Your teeth rotting while they fall onto mine
Pouring bleach on the white
Won't bring them to life
Pliers twist to the right, pull out your mind
Say you've lost your way and come
To ask the way out soon you always knew
Please don't stay far, I wish for more
With you
Overall Meaning
The lyrics to BROCKHAMPTON's song GEMINI depict a complicated relationship between two individuals. The singer expresses their discomfort in the cold and their sense of being lost when they're in the car with their partner. The partner in question seems to have some physical and emotional scars that make the singer hesitant. However, there is an underlying desire to erase doubts and move forward with the relationship.
The second verse goes on to describe the partner's behavior which includes swearing, crying, and having rotting teeth. The singer seems to be in awe of these behaviors and not in a good way. The line "pull out your mind" is particularly jarring and may suggest that the relationship has become toxic.
The chorus, on the other hand, is a plea for the partner to stay and not leave. It suggests that despite all the complications, the singer still wishes to be with their partner. The lyrics give a sense of uncertainty and complexity to the relationship, leaving the listener with a lot of questions to ponder.
Interesting facts about the song GEMINI:
Interesting Facts
Note: This section uses generative AI, which can be inaccurate.


Line by Line Meaning
Anyway, I ain't much for the cold
I don't like being in cold weather.
In your car, I felt lost
When we were in your car, I felt like I didn't know where I was going.
Cut her legs covered in scars
Her legs had cuts and scars on them.
And erase my doubts for long
Being with her made me forget my doubts for a while.
But I couldn't lie, you swear and you cry
I couldn't keep lying to you and making you cry.
Your teeth rotting while they fall onto mine
Your decaying teeth were falling onto mine while we were kissing.
Pouring bleach on the white
Trying to make things pure and white by using bleach.
Won't bring them to life
Using bleach won't bring things back to life.
Pliers twist to the right, pull out your mind
Twisting pliers to the right and pulling out your mind, leaving you feeling empty.
Say you've lost your way and come
You admit that you're lost and asking for help.
To ask the way out soon you always knew
To find the way out of the situation that you always knew was there.
Please don't stay far, I wish for more
Please don't stay away, I want more of what we have.
With you
I want to be with you.
Lyrics © O/B/O APRA AMCOS

Lyrics Licensed & Provided by LyricFind
To comment on or correct specific content,
highlight it
Genre not found
Artist not found
Album not found
Search results not found
Song not found