Keep a gold chain on my neck
Fly as a jet
Boy, better treat me with respect
Keep a gold chain on my neck
Fly as a jet
Boy, better treat me with respect
Keep a gold chain on my neck (keep up the chain)
Fly as a jet
Boy, better treat me with respect
Keep a gold chain on my neck (keep up the chain)
Fly as a jet
Boy, better treat me with respect
Rock the boat like a one-eyed pirate
Rick James, I get glitter on my eyelids
2 A.M., eighty-five on the highway
Whole world get a little misguided
Where the spotlight? Put me in the spotlight
Trust no one that put you in the wrong light
I scream when I hit her with the long pipe
Mmm, ice cream when I hit her with the sweet thang
Do my thing, no, I do not do speaking
Get my shot, point it out like whoop, bang
I'ma win a bitch and I got a mood swing
I'm the realest, bitch, now I got a mood swing
I got bipolar confidence
Wake up like "shit" then I feel like a shit
So I guess I'm the shit
Yeah, guess I'm the shit
Keep a gold chain on my neck
Fly as a jet
Boy, better treat me with respect
Keep a gold chain on my neck
Fly as a jet
Boy, better treat me with respect
Keep a gold chain on my neck (keep up the chain)
Fly as a jet
Boy, better treat me with respect
Keep a gold chain on my neck (keep up the chain)
Fly as a jet
Boy, better treat me with respect
Grab life by the horns when I whip the Lambo
Black on red like I work the sambo
Clip's so long it'll make you mumble
Watch you tangle, dutty wine
She grind on my dick like a hundred times
Shawty love me long when I grip your sides
You slip inside like a slip and slide
My electric eel, your electric slide but
I just wanna feel up the booty
All on me, all on me, all on me
We can slow clap like wooty
All on me, all on me, all on me
I just wanna feel on your booty
Grab the camcorder, we can make it a movie
Bring a friend with you if you like how I do it
Gold chain swingin', and she like how I shoot it
Keep a gold chain on my neck
Fly as a jet
Boy, better treat me with respect
Keep a gold chain on my neck
Fly as a jet
Boy, better treat me with respect
Keep a gold chain on my neck (keep up the chain)
Fly as a jet
Boy, better treat me with respect
Keep a gold chain on my neck (keep up the chain)
Fly as a jet
Boy, better treat me with respect
Damn
Damn, I'm frosty
Blood diamond, I'm flossing
Navy camel, I'm drowning
But you don't see what it cost me
Turn 'em on like the Saudis
Hand-me-downs never fit me
Party never fit me, punani never fit me
Damn, time travelin', Honda swervin', that's so Merlyn
That's so Merlyn
That's so Merlyn
That's so Merlyn
Damn, time travelin', Honda swervin', book learnin'
That's so Merlyn
That's so Merlyn
That's so Merlyn
Swan dived on the 405
Land at the bottom of Arturo High
With the precision of a cut from a Zorro knife
The boy spit like he made out of 409
So that's clean, bitch
You can't play with my team, bitch
We rock pink, no more Wednesdays
Wringler's good with your envy
Mix with white 'cause you salty
But this stainless
I'm like platinum and it's painless
I just skip on the beat like I'm Pee-Wee Herman
Hands off of all my sermons
My wheel's turnin', now I'm more efficient than ever
I feel like Ratatouille when I'm whipping that Chevy
You see, you better fucking get some sweaters 'cause this ice
Might fuck around and change your whole life
'Cause we about to take flight
Keep a gold chain on my neck
Fly as a jet
Boy, better treat me with respect
Keep a gold chain on my neck
Fly as a jet
Boy, better treat me with respect
Keep a gold chain on my neck (keep up the chain)
Fly as a jet
Boy, better treat me with respect
Keep a gold chain on my neck (keep up the chain)
Fly as a jet
Boy, better treat me with respect
Keep a gold chain (wax, wax it)
I keep a gold chain (wax, wax it)
Keep a gold chain
(I said I keep a gold chain)
Keep a gold chain
(I keep a gold chain)
Keep a gold chain
'Cause then I keep a
(I keep a gold chain) a gold chain, keep a gold chain
(Keep a gold chain) I said I keep a, I keep a
(Keep a gold chain) (wax, wax it)
Lyrics © CONCORD MUSIC PUBLISHING LLC, Warner Chappell Music, Inc.
Written by: Dom McLennon, Matthew Champion, Merlyn Wood, Ameer Vann, Russell Boring, Dominique Simpson, Ian Simpson

Lyrics Licensed & Provided by LyricFind
To comment on specific lyrics,
highlight them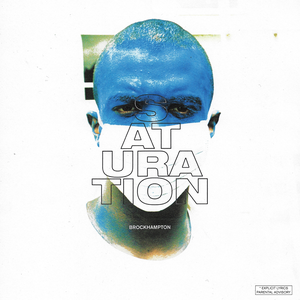 "GOLD" is the third single of BROCKHAMPTON's debut studio album SATURATION. The end of the music video briefly shows a piece of text dedicating the song (and potentially the video) to M.I.A.'s "Bad Girls" featuring the famous line:

My chain hits my chest when I'm banging on the dashboard

BROCKHAMPTON originally teased the track on Twitter, but said tweet has now been deleted.
Genre not found
Artist not found
Album not found
Search results not found
Song not found