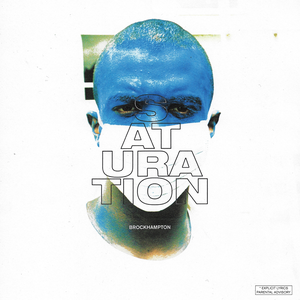 BROCKHAMPTON were an American musical group formed in San Marcos, Texas, in 2010…
Read Full Bio ↴
BROCKHAMPTON were an American musical group formed in San Marcos, Texas, in 2010 and based in California. Led by Kevin Abstract, BROCKHAMPTON formed partially through the online forum "KanyeToThe", and describes themselves as a boy band. The group consisted of vocalists Kevin Abstract, Matt Champion, Merlyn Wood, Dom McLennon, Joba, Bearface , and Jabari Manwa. (the latter three also work as producers), and producers Romil Hemnani and Kiko Merley (of which Jabari and Kiko also function as the duo Q3), as well as graphic designer Henock "HK" Sileshi, photographer Ashlan Grey, web designer Roberto Ontenient (who also features prominently in voice skits), and manager Jon Nunes.

The group released their first mixtape All-American Trash in 2016. Their debut album SATURATION was released on June 9, 2017, followed by SATURATION II on August 25 and SATURATION III on December 15, 2017. On March 30, 2018, BROCKHAMPTON announced that they had signed a record deal under RCA Records.

In the summer of 2018, the group parted ways with vocalist Ameer Vann over accusations of sexual misconduct. Their album which was set for release, titled Puppy, was thrown out after the incident. Three tracks from the album were reworked and released over subsequent weeks throughout the summer, including "1999 Wildfire", "1998 Truman" and "1997 Diana"

On September 21, 2018, the boyband released their fourth studio album, Iridescence, recorded in London's iconic Abbey Road Studios over ten days. It was their major-label debut, as well as their first album since Ameer Vann's departure following sexual misconduct allegations.

The album marked BROCKHAMPTON's first number-one album, as the album debuted at #1 on the Billboard 200 Chart. The album sold 101,000 copies in its first week and was released just weeks before the band embarked on their first tour without ex-member Ameer.

BROCKHAMPTON returned in 2019 which a string of singles, "I Been Born Again", "If You Pray Right", "Boy Bye", and "No Halo". GINGER is the fifth studio album by American hip-hop collective Brockhampton. It was released on August 23, 2019, through the band's label Question Everything and RCA. It features slowthai, Deb Never, and the band's members.

2020 was the first year since 2016 that they did not officially release a project; instead, Brockhampton began streaming weekly on Twitch and Instagram to DJ and premiere new songs, which would also be posted to and deleted from their YouTube channel regularly. However, none of these songs were officially released on streaming services due to challenges with sample clearance. This era was dubbed "TECHNICAL DIFFICULTIES".

In 2021, BROCKHAMPTON returned with their sixth album, Roadrunner: New Light, New Machine, released on April 9th. The singles for the album included "Buzzcut" and "Count On Me". The album included features from Danny Brown, JPEGMAFIA, A$AP Rocky, A$AP Ferg, SoGone SoFlexy, Charlie Wilson and Baird.

On January 14, 2022, the band announced that they would no longer be performing as a group and would go on indefinite hiatus after their 2022 Coachella performances. On April 16, 2022, during the first of said Coachella performances, BROCKHAMPTON announced a final album that would arrive the same year. The title of this album, The Family, was revealed in late October, and the album was released on November 17, 2022. However, the band announced another surprise follow-up album TM that would release the following day, November 18, 2022.
Jump to: Overall Meaning ↴ Line by Line Meaning ↴
Ooh, ooh ah, ooh aah ah
I done been in trouble, 'bout as long as I remember
My momma tried to help me, but I hardly ever listened
So she sent me to them white schools, I learned that I was different
They told me I'm a nigga, well now I know I am
I got my finger on the trigger, I'm a project baby
A free lunch felon, and I'm hungry every minute
Empty stomach, weed smoke can't fill it
If you don't listen to me, I set fire to the building
Need to listen to the children and the weapons they concealing
Hear the voices of a million when I sell my first million
I am bound to go diamond, ain't no luck or surprises
I am tanning on an island
I can feel the pressure but I see my new horizons
Me and all my niggas getting stars down on Sunset Boulevard
But niggas from the Southside with Xan bars and gun play
Niggas on that "someday"
If you shooting for the stars, you only headed one way
Ooh, ooh ah, ooh aah ah
Overall Meaning
In BROCKHAMPTON's song "TEETH," the lyrics describe the struggles faced by the singer, who has been in trouble for as long as he can remember. Despite his mother's attempts to help him, he did not listen, and as a result, was sent to white schools where he learned that he was different, and was referred to with a racial slur. The singer asserts his identity, stating that he is a "nigga," and describes his experiences as a "project baby" and a "free lunch felon." He is constantly hungry, with weed smoke unable to satisfy his empty stomach. The frustration and anger felt by the singer is evident in his threat to set fire to a building if he is not heard, indicating a desire to be listened to, especially in regards to the weapons concealed by children. Despite the hardships he has faced, the singer remains determined to succeed, envisioning the sale of a million records and earning a diamond certification. He is now able to see new horizons and a brighter future, guiding himself and his friends towards stardom on Sunset Boulevard.
The song "TEETH" portrays a number of themes and struggles, which resonate with BROCKHAMPTON's usual themes of identity, struggle, and perseverance. The lyrics reflect the difficulties often faced by black Americans in America, who are subjected to racial slurs, labeled as criminals, and forced to attend schools where they are made to feel different. The song highlights the challenges of the working class, who are often unable to meet basic needs despite their hard work. The lyrics also emphasize the need to listen to children and take action to address the issue of weapons and gun violence.

Line by Line Meaning
Ooh, ooh ah, ooh aah ah
Introductory noises
I done been in trouble, 'bout as long as I remember
I have a history of being in trouble from my earliest memories
My momma tried to help me, but I hardly ever listened
Although my mom tried to help me, I never listened to her advice
So she sent me to them white schools, I learned that I was different
My mom sent me to predominantly white schools where I realized I was different from others
They told me I'm a nigga, well now I know I am
I was called racial slurs like 'nigga' and now I have accepted that I am black
I got my finger on the trigger, I'm a project baby
I am from a housing project and carry a gun
A free lunch felon, and I'm hungry every minute
I grew up poor, receiving free school lunch, and am always hungry
Empty stomach, weed smoke can't fill it
Smoking weed does not alleviate my hunger
If you don't listen to me, I set fire to the building
I will retaliate if you ignore me by burning the building down
Need to listen to the children and the weapons they concealing
It is important to pay attention to what children are hiding, especially if it's a weapon
Hear the voices of a million when I sell my first million
When I sell a million copies of my music, I will feel heard by the masses
I am bound to go diamond, ain't no luck or surprises
I am sure I will sell over 10 million copies of my album, without any luck or unexpected events
I am tanning on an island
I am relaxing on a tropical island
I can feel the pressure but I see my new horizons
Although there is pressure on me, I can see my future success and opportunities
Me and all my niggas getting stars down on Sunset Boulevard
My friends and I are achieving fame and recognition in Hollywood
But niggas from the Southside with Xan bars and gun play
However, there are people from the Southern part of the city who abuse prescription drugs and engage in violent behavior
Niggas on that "someday"
Those people hope to achieve success someday, but are caught up in their destructive behavior
If you shooting for the stars, you only headed one way
If you aim for greatness, you will only succeed in one direction
Lyrics © CONCORD MUSIC PUBLISHING LLC, Warner Chappell Music, Inc.
Written by: Ameer Vann, Romil Hemnani

Lyrics Licensed & Provided by LyricFind
To comment on or correct specific content,
highlight it
Genre not found
Artist not found
Album not found
Search results not found
Song not found