Follow the bleeder, undamned you decry
Consummate spirits ne'er follow the lie
Open your heart towards that your mind feels
Death is to conquer all that is surreal
Fortune's enlightenment, hopeful rays of light
Dramatic abundance, shattering the night
Grow biting conflict, halted to an end
The future is certain, the hope we defend
Magnificat
Up holding the righteous, onward march begun
Deftly remoulding a darkened vision
Strength within unity, mind linking mind
Enveloping beauty, the next humankind
The filth that we all have to climb through
The filth we have to take
Suffering it evermore
Irenicon the wake
"My soul doth magnify...
...my spirit has rejoiced
...remembrance of... mercy...
To his seed forever..."
Yet they lead us to the slaughter
Like they lead a horse to water
They can't force us to drink
But we do
Magnificat... Throned
Persevere
So teach us to number our days that we may
Push hearts towards wisdom and fade out the grey
Interventions looming on our dawning world
Hope springs eternal, a hope now unfurled
Persevere.
Lyrics © O/B/O APRA AMCOS

Lyrics Licensed & Provided by LyricFind
To comment on specific lyrics,
highlight them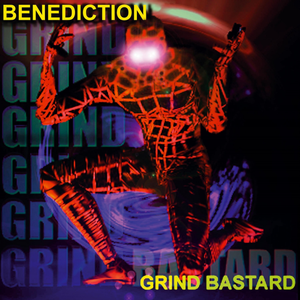 Two Bands go by the name Benediction:

1) The Birmingham-based death metal band Benediction were formed back in February 1989 around the line-up of Paul Adams (bass), Peter Rew (guitars), Darren Brookes (guitars) and Mark "Barney" Greenway (vocals). With the demo The Dreams You Dread, released in the same year, they drew the interest of Nuclear Blast Records resulting in a record deal. Their first album, Subconscious Terror was released in 1990, followed by the departure of Barney, who joined Napalm Death.
Read Full Bio
Two Bands go by the name Benediction:

1) The Birmingham-based death metal band Benediction were formed back in February 1989 around the line-up of Paul Adams (bass), Peter Rew (guitars), Darren Brookes (guitars) and Mark "Barney" Greenway (vocals). With the demo The Dreams You Dread, released in the same year, they drew the interest of Nuclear Blast Records resulting in a record deal. Their first album, Subconscious Terror was released in 1990, followed by the departure of Barney, who joined Napalm Death. The debut was received well and a new vocalist, Dave Ingram was found soon. An extensive touring schedule 1991 saw the band back out with Bolt Thrower and Nocturnus.

After which they completed work on their second album, The Grand Leveller and the difference in the writing was a revelation, attracting international acclaim. Having already completed one European tour with Massacra during the year between the recording and the mixing of the album, the band now took to the road again with Dismember. After that tour Paul Adams departed, fed up with the road, work, the band. The band was back in studio in December 1991 with Darren playing bass and guitar on a new EP, titled Dark Is The Season, which included a cover of the old Anvil stalwart "Forged In Fire", and January 1992 saw the band back in Europe again with Asphyx and Bolt Thrower.

Later that year they found their new bassist, Frank Healy, at that time the guitarist of Cerebral Fix and formerly of Napalm Death. Healy joined as a full time member just as they whisked off to Israel and a heaving Tel Aviv was his initiation.

In 1993, Benediction released their third opus, Transcend The Rubicon. The album's release was followed by the extensive "World Violation" tour with Cemetery and Atheist throughout Europe, USA, Canada and again Israel. After that tour, Ian Treacy left the band because of personal differences. After The Grotesque - Ashen Epitaph EP, which featured two brand new songs and three live tracks Neil Hutton, an 18-year-old drummer, replaced him on a permanent basis. He had his initiation on the eleven dates of the Nuclear Blast New Year Festivals, which took place in January 1995 and saw Benediction's live performances on German, Dutch, Austrian, Swiss and Czech stages. Meanwhile the band has already put the finishing touches to their fourth full length album titled The Dreams You Dread.

Benediction formed a close relationship with Death, touring extensively with them at Chuck Schuldiner's request, the sadly missed Death legend being just one of many musicians who have infinite respect for Benediction's 'no-shit' approach and dedication to their genre.

Their next album Grind Bastard was launched with a raging tour seeing the band break new territories in the former Eastern Block countries. They were taken on board by TCI agency in New York who now books all of their live work and touring.

This led to yet more touring, including another European tour with Death, which was sadly to be Schuldiner's last. This tour coincided with the departure of vocalist Dave Ingram and the introduction of new vocalist Dave Hunt. What could have been a difficult period for the band was settled in Benediction's usual "not a problem" style and within a couple of shows, the band were getting to know one another and building back up to full Benediciton power. Having settled in with Dave on the road with Death, the band went on to play a heap of shows including touring with the black metal band Immortal.

"Organised Chaos" was released through Nuclear Blast in October 2001, and was again produced by Andy Sneap. The album saw a welcome return to recording for them and of course, was launched with more live appearances throughout Europe. The highlights must include 2002's devastating and often sold out tour with Bolt Thrower and an appearance in front of literally thousands of chanting metallers at the Gods of Metal festival in Milan, Italy - sharing a bill with the likes of Motörhead, W.A.S.P., Megadeth and Judas Priest.

In 2008 they released "Killing Music".

Also see the other British death metal bands: Spearhead, Desecration, Diamanthian, Bolt Thrower, Throne of Nails, Necrosanct etc.

With sales of their albums in the hundreds of thousands and having played just about everywhere in the world BENEDICTION are still as popular today as they have ever been. They are proud to have been around since the start of what became the "Death Metal" scene and can still give one of the best energetic live shows around today. Originally formed back in February 1989 around the line-up of PAUL ADAMS(bass),IAN TREACY(drums)DARREN BROOKES & PETER REW(guitars)and MARK(BARNEY)GREENWAY(vox), Birmingham based BENEDICTION drew the attention of Nuclear Blast records with their first demo"THE DREAMS YOU DREAD". Their first album "SUBCONSCIOUS TERROR" was released in 1990, this was followed by the departure of BARNEY who went on to be the vocalist for NAPALM DEATH. He was replaced by DAVE INGRAM and the band went out on tour to promote the well received debut album throughout Europe. 1991 saw the release of "THE GRAND LEVELLER" which gained international acclaim throughout the death metal market,they
toured on this release with BOLT THROWER, NOCTURNUS, MASSACRA and DISMEMBER. Most of this year was spent touring and the reaction to BENEDICTION live was outstanding. After the last tour PAUL ADAMS departed, fed up with the band's non stop touring schedules. This was a bit of a kick in the teeth as they were about to go into the studio to record their next release,the "DARK IS THE SEASON" E.P. DARREN stepped in on the recording of the bass for this session, which included a punishing cover of the ANVIL classic "FORGED IN FIRE". The band went back out on tour with BOLT THROWER again and ASPHYX. The reputation of BENEDICTION live was bringing in ever larger crowds and most of their shows were sold out. Upon their return the needed to find a permanent replacement for PAUL on bass (they used a temporary bassist for the last tour). The man for the job was FRANK HEALY who was at the time in CEREBRAL FIX but fitted in so well with the rest of the band that he joined full time in 1992 just as they flew out to Israel to play 2 sold out shows. In 1993 they released "TRANSCEND THE RUBICON" which was given top marks worldwide upon its release. This album kick started the "WORLD VIOLATION" tour with ATHEIST and CEMETARY as guests. This tour was their biggest yet and took in Europe, the USA,and Canada. At the end of this tour IAN TREACY left the band due to the famous "musical and personal differences" !. They had collected and recorded some good quality live shows over the last few tours plus the had a few new tunes ready for recording. A new drummer was found, PAUL BROOKES who recorded the two new tracks, this became "THE GROTESQUE/ASHEN EPITAPH" E.P. The band went back into Europe and then onto the USA with BOLT THROWER. After this tour PAUL departed and another new drummer had to be found, they were getting through as many drummers as SPINAL TAP !!! They found one by the name of NEIL HUTTON, an 18 year old drumming genius, and they went back into the studio and came out with "THE DREAMS YOU DREAD". The band then went out on the road again headlining the NUCLEAR BLAST FESTIVALS, which saw them selling out every date on these shows. They spent nearly 2 years solidly touring. At this time they formed a close relationship with the band DEATH. They'd toured with them once and when CHUCK SHULDINER was asked who he'd like out with DEATH he said he could think of no better band to tour with than BENEDICTION and that was the only band he'd have out with him! Another tour over, another album to do! This was "GRIND BASTARD", a brutal slab of death metal which yet again was well received worldwide, another tour followed which saw them playing most the territories of the former eastern block countries. After this tour DAVE INGRAM called it a day, he eventually became BOLT THROWER's vocalist for a while until KARL WILLETTS returned and the "proper" BOLT THROWER returned! The new vocalist was DAVE HUNT who more than delivered the goods, he was asked to learn the lyrics and sort his passport out one week before going on a major European tour!!! Piece of piss! Studio time again! DAVE'S first release with the band, "ORGANISED CHAOS". On this release the band went out on the road with IMMORTAL, followed by yet another tour with BOLT THROWER! These 2 bands have a bond and an honesty that has stayed strong throughout their respective careers, "if it ain't broke don't try and fix it!" These 2 will tour again together. They took on a shit load of festivals, including the legendary GODS OF METAL festival in Milan which saw them sharing the bill with MOTORHEAD, W.A.S.P, MEGADETH and JUDAS PRIEST. NEIL left to join STAMPIN' GROUND so another drummer was needed !!! NICK BARKER the drumming genius got behind the kit but got the chance to go out drumming for TESTAMENT so with the bands blessing went out with them.a few gigs turned into a lot of gigs and benediction needed to get started on the new album.NEIL HUTTON came in to help out and eventually rejoined the band !.the new album "KILLING MUSIC" will be out this august (2008). THE PAST(and in some cases present)OF THE BAND MEMBERS. DAVE HUNT (FROG, MISTRESS, ANAAL NATHRAKH) FRANK HEALY (NAPALM DEATH, SACRILEGE(UK), CEREBRAL FIX, ANAAL NATHRAKH) NEIL HUTTON (FROG,STAMPIN' GROUND) DARREN BROOKES and PETER REW live and breathe BENEDICTION and have done fuck all else. COVER VERSIONS THAT BENEDICTION HAVE RECORDED AND ARE AVAILABLE ON VARIOUS RELEASES. "RETURN TO THE EVE" CELTIC FROST. "FORGED IN FIRE" ANVIL. "WRONG SIDE OF THE GRAVE" THE ACCUSED. "RIDERS ON THE STORM" THE DOORS. "WE ARE THE LEAGUE" THE ANTI NOWHERE LEAGUE. "NECROPHILIAC" SLAYER. "THE HELLION/ELECTRIC EYE" JUDAS PRIEST. "DESTROYER" TWISTED SISTER." "SEEING THROUGH MY EYES" BROKEN BONES. "LARGACTYL" AMEBIX.

2) Gothic rock band from the UK. "Originally formed by Marc Helliwell (Keys/Sequences/Samples), and Rob Ascough (Guitars)in 1987 after they split away from their previous band "The Abyss" and moved closer to London in the search of Fame and Fortune. Initially Mike "Count" Klimsak the vocalist from "The Abyss" fronted the outfit, however this was short lived as he wasn't willing to move from the Devon Cider Country to the Bright Lights of the City. So in 1988 the Band was joined by ex-Four Came Home Singer, Sharon Lane. Benediction have played many gigs throughout the UK, which have included tour support dates with the Claytown Troupe, Altered States, Shark Taboo, Primal Scream, Felt and a few others." http://www.myspace.com/benedictiontheband
Genre not found
Artist not found
Album not found
Search results not found
Song not found