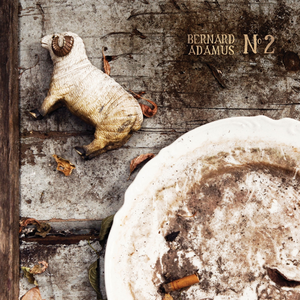 From Montréal, Bernard Adamus was noticed by his presence at the Festival en ch…
Read Full Bio ↴
From Montréal, Bernard Adamus was noticed by his presence at the Festival en chanson de Petite-Vallée in 2009 where he won 6 awards.

His atypical group, mixing Delta blues and the "Main" also includes Benoit Paradis with the trombone, Éric Villeneuve at the drums, Taï Nguyen with the banjo and guitar. They are sometimes joined by Sylvain Delisle with the contra-bass.

Bernard Adamus is inspired by old American blues, Montréal daily life, gospel music, love, country music and Quebecer lyricism.

Launched Mai 4th, 2009 at Cheval Blanc in Montréal his first album, Brun, is well received.

In 2010, he participated in Francouverte and won first prize.
Y'a du monde qui donnent
Pis d'aut' qui en reçoivent
Y'a du monde qui t'volent
Pis d'aut' t'en doivent
Y'a du monde c'est d'même
Courent après leurs cennes
Pis d'autres « eh ben » la peine qu'y cernent
J'ai pour mon dire
Qu'les poches ben pleines
Quand t'es r'gardes pas
Y vident les tiennes
Y'a du monde dans l'trouble
Pis d'aut' dans l'ch'min
Y'en a un qui a toute
Un autre qui s'plaint
2, 3 becs plates
Avant d'y aller
Pis ben du courage
Pendant l'souper
À toutes les soirs y'est 22 heures
Pis y'a du monde que'que part
Ça' l'air ailleurs
Des gars ben croches
Qui roulent la patente
Pis du monde ben drette
Ça coupe des planches
Entre le 9 à 5, pis l'gars qui s'crinque
M'as t'dire
Eh que ça suce quand tu t'crosses rienque
Fait a'ec c'que t'as quand tu n'as pas...
On est gros!
Pis on est là!
Pis on mange ben du Gadoua!
Moi j'préfère la Mont-Royal
Checker les babes
Ça ça m'parle
Surtout quand y fait beau
Avec le Gyps pis Robicheau
Du monde qui ont toute
Rien à manger
Eh qu'ch'tanné
D'dire chus tanné
Y'a du bœuf dins chars
Du bum dins parcs
Pis du monde dins rue en tabarnak
Des gars ben fiers
Ça t'pointe du doigt
Sont là, « R'garde ça
Checkes-y l'allure »
Mais y n'a tout l'temps un qui l'pointe sur toé
Pis là guess what?
Ben tu fais dur
Si tu m'demandes
Comment ça t'coûte
Manger des toasts
Finir tes croûtes
Ça dépend d'toi
De c'qui t'excite
Oùsse tu vas pis qu'est-ce tu fais icitte
Check la passe
Pis l'buffet
Maint'nant c't'icitte
Pis t'à l'heure c't'après
Check avec toi-même pour la soif d'l'espoir
Parc' la pinte est bonne
Pis on veut toute l'avoir
Tu fais a'ec c'que t'as quand tu n'as pas...
On est gros!
Pis on est là!
Pis on mange ben du Gadoua!
Lyrics © Dare To Care (Les éditions)




Written by: Bernard Adamus

Lyrics Licensed & Provided by LyricFind
To comment on or correct specific content,
highlight it
Genre not found
Artist not found
Album not found
Search results not found
Song not found