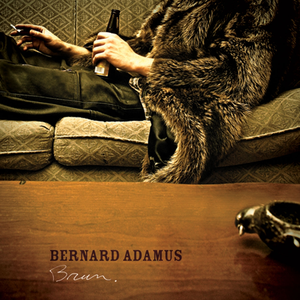 From Montréal, Bernard Adamus was noticed by his presence at the Festival en ch…
Read Full Bio ↴
From Montréal, Bernard Adamus was noticed by his presence at the Festival en chanson de Petite-Vallée in 2009 where he won 6 awards.

His atypical group, mixing Delta blues and the "Main" also includes Benoit Paradis with the trombone, Éric Villeneuve at the drums, Taï Nguyen with the banjo and guitar. They are sometimes joined by Sylvain Delisle with the contra-bass.

Bernard Adamus is inspired by old American blues, Montréal daily life, gospel music, love, country music and Quebecer lyricism.

Launched Mai 4th, 2009 at Cheval Blanc in Montréal his first album, Brun, is well received.

In 2010, he participated in Francouverte and won first prize.
Jump to: Overall Meaning ↴ Line by Line Meaning ↴
J'courais dans' rue après Jésus
Y s'vire de bord, y m'tire dessus
J'ouvre les yeux pis j'vois saint Pierre
Y m'dit : « Pogne-toi deux bières. Sont dans glacière. »
Pis y m'dit : « Hey là, viens-t'en mon p'tit gars ça s'passe par là. »
Y'a trop d'lumière j'vois rien icitte
Mais j'entends Jésus qui m'invite
Assis à une table a'ec Ben Laden
Pis l'PDG de CNN
J'me dis : « Hey là, y vont-tu m'dire tout haut c'qui pensent tout bas ? »
Faque j'm'assois
Pa'ce que j'ai une faim loup
La waitress me fait les yeux doux
Mais j'check comme faut pis j'comprends pas
Elle a la face à Mandela
Pis j'me dis : « Hey là, y s'passe queq'chose icitte pis on me l'dit pas. »
Ben Laden mangeait des frites
Y'étanchait sa soif à l'eau bénite
Pendant qu'Ti-Jésus s'taillait les veines
Mandela suçait sa graine
Pis j'me dis : « Hey là, y s'passe queq'chose icitte moi j'm'en vas d'là. »
Soudainement ma peau noircit
On me dit : « Ta yeule ! T'as rien compris. »
À grand coup de fouette quelqu'un m'agresse
J'entends Jim Crow qui chante la messe
J'me dis : « Hey là, y s'passe queq'chose icitte on s'entend pas. »
J'vois des Anglais au coin de la rue
Michèle Lalonde leur pitche des bombes
En '74 après les ordres, ça prend l'Black Block pour faire un monde
Pis j'me dis : « Hey là, y vont pogner des guns, shooter dans l'tas. »
J'aboutis ch't'au Quai des brumes,
Où l'bleuet y m'sert pas d'la tarte
En haut du bar j'vois une pancarte :
« Vide la place avant qu'tu partes. »
Overall Meaning
The song Cauchemar de Course by Bernard Adamus depicts a dream where the singer is pursued by Jesus, who shoots him in the street, and then encounters Saint Peter, who urges him to come along. He finds himself at a table, seated with Jesus, Ben Laden, and the CEO of CNN, unsure if they will vocalize their private beliefs. The singer sits down at the waitress's invitation, but her face changes into that of Mandela's, and he questions what is happening. The scene at the table becomes more bizarre as the various figures begin to eat and drink, even as Ti-Jesus cuts his veins and Mandela performs a sexual act. As the scene becomes more nightmarish, the singer sees English people in the street and images of violence, leading to the conclusion where he ends up at the Quai des brumes, where he is pushed out by the staff.
The song's lyrics describe a complex journey through a dream world that appears to be a distorted reflection of reality. The singer's encounter with figures from history and religion evoke an atmosphere of surrealism, but also a sense of foreboding. The characters at the table do not reveal their intentions, and the violence around the singer hints at the instability and uncertainty of the era. The waitress's ambiguous identity as both herself and Mandela implies a sense of confusion and identity distortion.

Line by Line Meaning
J'courais dans' rue après Jésus
I was running through the street after Jesus
Y s'vire de bord, y m'tire dessus
He turns around and shoots at me
J'ouvre les yeux pis j'vois saint Pierre
I open my eyes and see Saint Peter
Y m'dit : « Pogne-toi deux bières. Sont dans glacière. »
He tells me to get myself two beers from the cooler
Pis y m'dit : « Hey là, viens-t'en mon p'tit gars ça s'passe par là. »
And he says to me: 'Hey, come on, little buddy, it's happening over there.'
Y'a trop d'lumière j'vois rien icitte
There's too much light, I can't see anything here
Mais j'entends Jésus qui m'invite
But I hear Jesus inviting me
Assis à une table a'ec Ben Laden
Sitting at a table with Ben Laden
Pis l'PDG de CNN
And the CEO of CNN
J'me dis : « Hey là, y vont-tu m'dire tout haut c'qui pensent tout bas ? »
I say to myself: 'Hey, are they going to tell me what they really think?'
Faque j'm'assois
So I sit down
Pa'ce que j'ai une faim loup
Because I'm starving
La waitress me fait les yeux doux
The waitress is giving me a flirtatious look
Mais j'check comme faut pis j'comprends pas
But I look closely and I don't understand
Elle a la face à Mandela
She has Nelson Mandela's face
Pis j'me dis : « Hey là, y s'passe queq'chose icitte pis on me l'dit pas. »
And I say to myself: 'Hey, something's going on here and no one's telling me.'
Ben Laden mangeait des frites
Ben Laden was eating fries
Y'étanchait sa soif à l'eau bénite
He was quenching his thirst with holy water
Pendant qu'Ti-Jésus s'taillait les veines
While Little Jesus was cutting his veins
Mandela suçait sa graine
Mandela was sucking his seed
Pis j'me dis : « Hey là, y s'passe queq'chose icitte moi j'm'en vas d'là. »
And I say to myself: 'Hey, something's going on here and I'm getting out.'
Soudainement ma peau noircit
Suddenly my skin turns black
On me dit : « Ta yeule ! T'as rien compris. »
They tell me: 'Shut up! You don't understand.'
À grand coup de fouette quelqu'un m'agresse
Someone attacks me with a whip
J'entends Jim Crow qui chante la messe
I hear Jim Crow singing the mass
J'me dis : « Hey là, y s'passe queq'chose icitte on s'entend pas. »
And I say to myself: 'Hey, something's going on here and we're not communicating.'
J'vois des Anglais au coin de la rue
I see some English people at the corner of the street
Michèle Lalonde leur pitche des bombes
Michèle Lalonde throws bombs at them
En '74 après les ordres, ça prend l'Black Block pour faire un monde
In '74, after the orders, it takes the Black Bloc to make a world
Pis j'me dis : « Hey là, y vont pogner des guns, shooter dans l'tas. »
And I say to myself: 'Hey, they're going to grab guns, shoot us down.'
J'aboutis ch't'au Quai des brumes,
I end up at Quai des Brumes
Où l'bleuet y m'sert pas d'la tarte
Where the blueberry doesn't treat me kindly
En haut du bar j'vois une pancarte : « Vide la place avant qu'tu partes. »
On top of the bar I see a sign that says: 'Empty the place before you leave.'
Lyrics © Dare To Care (Les éditions)
Written by: Bernard Adamus

Lyrics Licensed & Provided by LyricFind
To comment on or correct specific content,
highlight it
Genre not found
Artist not found
Album not found
Search results not found
Song not found