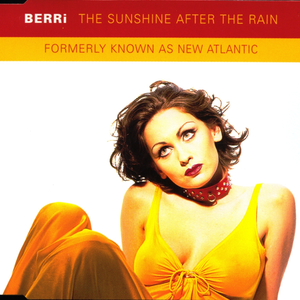 The Sunshine After the Rain (Two Cowboys club mix)
Berri (real name Rebecca Sleight) is most famous for the UK Top 10 hit "The Sunshine After The Rain" from 1995, and the follow up "Shine Like A Star". For its first release, the song was credited to New Atlantic.

Rebecca Sleight went on to become a member of Degrassi.
Genre not found
Artist not found
Album not found
Search results not found
Song not found
The Sunshine After the Rain
Berri Lyrics
Everywhere I go
I see a face we used to know
I pass a place we used to go
when you were mine
since you went away
my heart's not free
it keeps raining down on me
will there be a day
when the sun will shine
I want to see the sunshine after the rain
I want to see bluebirds flying over the mountains again
sunshine after the rain
oh where is the silver lining shining at the rainbow's end
when I hear your name
I start to cry, each day's the same since your goodbye
it's like a game, forgetting you
every night I pray
tomorrow brings a sunny day and happy things
just like the way it used to be for you and me
I want to see the sunshine after the rain
I want to see bluebirds flying over the mountains again
sunshine after the rain
oh where is the silver lining shining at the rainbow's end
everywhere I go
I see a face we used to know
I pass a place we used to go
when you were mine
since you went away
since you went away
my heart's not free
it keeps raining down on me
will there be a day when the sun will shine
I want to see the sunshine after the rain
I want to see bluebirds flying over the mountains again
sunshine after the rain
oh where is the silver lining shining at the rainbow's end
I want to see the sunshine after the rain
I want to see bluebirds flying over the mountains again
sunshine after the rain
oh where is the silver lining shining at the rainbow's end

Lyrics © Sony/ATV Music Publishing LLC
Written by: ELLIE GREENWICH

Lyrics Licensed & Provided by LyricFind
To comment on specific lyrics,
highlight them