Ready to break the scales
Haha!
Got that fire
Bring it back real quick, Huh!
HUH
HA HA HAHAHA!
Back with the fury
Power in the air
Found yourself in a dungeon lair
Ain't no way to be prepared
So shake that scary derrière
Goin hard on the Mushroom tiiip
Goin large with my turtle grip
Spin around in your shell get flipped
Mess around and you will get
Back it up! Back it up
Right here, and get that tail in gear!
I whope that Buckanear
Somone better get a new career AH!
I'll put you in the trance
My game is so advanced
This world dont stand a chance
When I unleash this dance!
Claws up, Knees Bent, Tail straight
Bill spent, Eyes wide, Shell on lock
THATS THE WAY WE ROOOCK!
Contributed by Tyler I. Suggest a correction in the comments below.
To comment on specific lyrics,
highlight them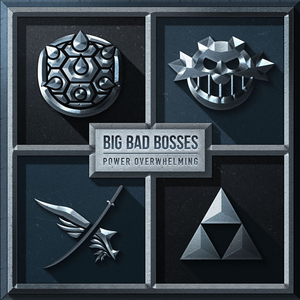 Big Bad Bosses (B3) is a video game villain boy band featuring the most evil villains in the gaming universe. The band features the compositions and lyrics of Jake Kaufman, and the performances of Jirard Khalil as Big Bow (Bowser, Super Mario Bros), Alex Faciane as Ronik (Robotnik/Dr. Eggman, Sonic the Hedgehog), Nate Sharp as Sephy (Sephiroth, Final Fantasy), and Satchell Drakes as G-Ca$h (Ganondorf, Legend of Zelda).
Genre not found
Artist not found
Album not found
Search results not found
Song not found