Start the day!
Drink...
Oh! A bottle of wine down.
Mid-day!
Drink...
Oh! A bottle of whiskey down.
It makes no sense,
You be telling us lies.
You be telling us lies.
You told us you're going straight.
Now on the concrete with a busted face.
Todd, please put down that whiskey bottle.
Todd, put the lousy bottle down.
Yes!
Too many nights, crashing your car.
Your face looks like it's thirty-five.
Rise up from the bug infested couch.
You lose your girlfriend while you're killing yourself.
You start fights that you can't win.
You have a new developed sense of sin.
I tell you, man, you have got to stop.
All of your friends have left you now to rot.
Don't be telling us lies. (No!)
I think he's telling you lies. (Nuh-uh!)
See, wait, no, I saw him just last week.
He left the city on his own to get clean.
Todd, he's out back, he's breaking bottles.
Todd's tossing lousy bottles down.
Todd's finally breaking the bottle.
Dirt, glass, and whiskey on the ground.
Yes!
He's my friend!
Contributed by Tyler M. Suggest a correction in the comments below.
To comment on specific lyrics,
highlight them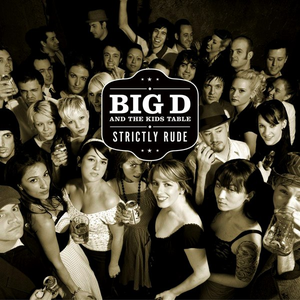 Big D and the Kids Table is a third-wave ska/punk band formed in October 1995 in Allston Village, Boston, Massachusetts signed to Springman Records. Members of Big D ... also run the Boston, Massachusetts area record label, Fork In Hand Records, which has released numerous albums from Big D ... and other local Boston artists. Their music often reflects member's personal lives, especially the financial difficulties that many members have faced in the past.
Read Full Bio
Big D and the Kids Table is a third-wave ska/punk band formed in October 1995 in Allston Village, Boston, Massachusetts signed to Springman Records. Members of Big D ... also run the Boston, Massachusetts area record label, Fork In Hand Records, which has released numerous albums from Big D ... and other local Boston artists. Their music often reflects member's personal lives, especially the financial difficulties that many members have faced in the past. In 1999, they won Boston Music Awards distinction of "Outstanding Ska Band." Big D has put on an annual Halloween Show at the Avalon in Boston, which is decidedly the most anticipated show by both band members and fans. They have been a part of both the Warped Tour and Ska is Dead tour, sharing the stage with some of both Punk and Ska's elite underground bands. Their latest Album "Strictly Rude" has been released as well as an electro mashup album done by Bostons award winning DJ BC Called "strictly mixed and mashed" and upcoming anticipated releases include a DVD "we're built up from nothing".
The band got their name from a suggestion given by a friend, because whenever that friend had dinner at Dave's house he would sit at the kid's table.

Current members
David McWane - Lead vocals, melodica
Ben Basile - Bass
Derek Davis - Drums
Ryan O'Connor - Tenor sax
Alex Stern - Guitar
Genre not found
Artist not found
Album not found
Search results not found
Song not found