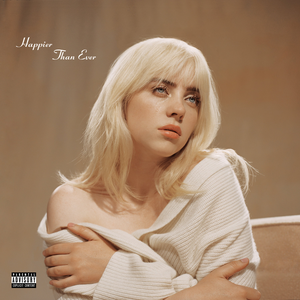 "NDA" is a song by Billie Eilish, recorded for her second studio album Happier T…
Read Full Bio ↴
"NDA" is a song by Billie Eilish, recorded for her second studio album Happier Than Ever. It was written by Eilish and her brother Finneas O'Connell, who also produced it. The song was released through Darkroom and Interscope Records on July 9th, 2021, as the album's fifth single.
Jump to: Overall Meaning ↴ Line by Line Meaning ↴
Did you think I'd show up in a limousine? No
Had to save my money for security
Got a stalker walkin' up and down the street
Says he's Satan and he'd like to meet
I bought a secret house when I was seventeen
Haven't had a party since I got the keys
Had a pretty boy over but he couldn't stay
On his way out, made him sign an NDA
Yeah, I made him sign an NDA
Once was good enough
'Cause I don't want him having shit to say
Oh-oh-oh
You couldn't save me but you can't let me go
I can crave you but you don't need to know
Oh, oh-oh-oh
Thirty under thirty for another year
I can barely go outside, I think I hate it here
Maybe I should think about a new career
Somewhere in Kauai where I can disappear
I've been having fun getting older now
Didn't change my number, made him shut his mouth
At least I gave him something he can cry about
I thought about my future but I want it now
Oh-oh-oh
Want it now
Oh-oh-oh
(You can't give me up)
You couldn't save me but you can't let me go
I can crave you but you don't need to know
Did I take it too far?
Now I know what you are
You hit me so hard
I saw stars
Think I took it too far
When I sold you my heart
How'd it get so dark?
I saw stars
Stars
Overall Meaning
In Billie Eilish's song NDA, the singer sings about her experiences with fame and the measures she has taken to protect herself from unwanted attention. She mentions that she didn't arrive in a limousine, instead having saved money for security, indicating her caution about safety. She is followed by a stalker who claims to be Satan, thereby highlighting the absurdity of the situation while also conveying the seriousness of the threat. We learn that the singer owns a secret house which she bought at the age of seventeen and hasn't thrown a party since. This could mean she does not want her location to become public knowledge, lest she attract unwanted attention. She mentions letting a boy visit her once, but made him sign an NDA (non-disclosure agreement) on his way out, so he couldn't say anything about the visit. The chorus includes the singer stating that she cannot be saved, but she can't be let go either, implying that she is in a situation that she can't seem to escape. The second verse mentions the singer's achievement of being on the "thirty under thirty" list, which is a list of successful people under the age of thirty. Despite this, she finds it hard to go outside and considers relocating somewhere more secluded, like Kauai. She also reveals that she didn't change her phone number but made the boy she had over shut his mouth after signing the NDA. The song reflects the isolating and paranoid nature of fame and the lengths that some people have to go to in order to protect themselves.
Line by Line Meaning
Did you think I'd show up in a limousine? No
I didn't want to show off my wealth by arriving in a limousine
Had to save my money for security
I had to save money to hire security due to having a stalker
Got a stalker walkin' up and down the street Says he's Satan and he'd like to meet
I have a stalker who claims to be Satan and wants to meet me; it's frightening
I bought a secret house when I was seventeen Haven't had a party since I got the keys Had a pretty boy over but he couldn't stay On his way out, made him sign an NDA
I purchased a secret house at a young age and I haven't hosted any parties since then, but when I had someone over, I made him sign a non-disclosure agreement before he left
Yeah, I made him sign an NDA Once was good enough 'Cause I don't want him having s*** to say Oh-oh-oh
I only needed him to sign the agreement once since I didn't want him talking about me or our encounter
You couldn't save me but you can't let me go I can crave you but you don't need to know Oh, oh-oh-oh
You couldn't rescue me from my stalker, but you also can't abandon me; I still have feelings for you, but they're not important for you to know about
Thirty under thirty for another year I can barely go outside, I think I hate it here Maybe I should think about a new career Somewhere in Kauai where I can disappear
I've earned a spot on Forbes' 30 under 30 list again, but I hate being in the public eye and I'm considering a new career path that would allow me to disappear in a place like Kauai
I've been having fun getting older now Didn't change my number, made him shut his mouth At least I gave him something he can cry about I thought about my future but I want it now Oh-oh-oh Want it now Oh-oh-oh (You can't give me up)
I'm enjoying growing older, and instead of changing my number, I convinced the person who signed the NDA to keep quiet; but at least I gave him something to lament, even if it's not the future I want, which I want now and can't let go of
Did I take it too far? Now I know what you are You hit me so hard I saw stars Think I took it too far When I sold you my heart How'd it get so dark? I saw stars Stars
I might have gone too far in my relationship with someone, and now I know their true colors; they hurt me so much that it felt like I saw stars, and now I'm second-guessing whether I should have been so open with them and how it got to such a low point
Lyrics © Universal Music Publishing Group, Kobalt Music Publishing Ltd.
Written by: Billie O'Connell, Finneas O'Connell

Lyrics Licensed & Provided by LyricFind
To comment on or correct specific content,
highlight it
Genre not found
Artist not found
Album not found
Search results not found
Song not found