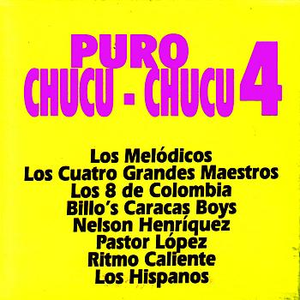 Billo Frómeta (November 15, 1915 - May 5, 1988) was a Dominican orchestra condu…
Read Full Bio ↴
Billo Frómeta (November 15, 1915 - May 5, 1988) was a Dominican orchestra conductor, arranger and composer who lived and worked most of his life in Venezuela, where he is remembered.

Luis María Frómeta Pereira was born in Pimentel, Duarte Province, Dominican Republic, on November 15, 1915. He would move with his family to San Francisco de Macorís some years later. The school he attended there had compulsory music lessons, so he learned much of his musical training there.

In 1930, at the age of 15, he founded and was the resident conductor of the Banda del Cuerpo de Bomberos de Ciudad Trujillo (Ciudad Trujillo's Fire Brigade's Band). He also founded the Orquesta Sinfónica de Santo Domingo during this time.

In 1933, he moved back to Santo Domingo. During these years, he would meet and work with some of his closest friends and associates: Freddy Coronado, Ernesto Chapuseaux and Simó Damirón, whom he already knew from school . The Conjunto Tropical and the Santo Domingo Jazz Band were formed then, as well.

Frómeta then began studying Pre-Medicine in the Universidad de Santo Domingo and had to abandon all musical activity during this time. However, he eventually dropped out on his third year to dedicate himself fully to music.

Frómeta and his orchestra arrived in Venezuela in December 1937 with his orchestra to play regularly in a dance club in a Caracas, the Roof Garden. The Santo Domingo Jazz Band did well, but the club owners didn't think the name would stick- so they had Frómeta change it to something more marketeable. Frómeta went along, which got him barred from ever returning to his native Dominican Republic as Trujillo considered the change- "Billo's Caracas Boys"- an insult. Billo, Grandes Éxitos, a compilation album of the most famous songs of the Billo's Caracas Boys, was released in 1996.

Frómeta continued to play in Venezuela until the fall of Marcos Pérez Jiménez in 1958. Accused of being a supporter of the regime, he was barred by the Asociación Musical del D.F y Estado Miranda from ever playing in Venezuela again.

Following this, he moved to Cuba to play with a Cuban band there.

In 1960, a special session of the National Assembly was convened in Caracas. The purpose was to lift the ban passed on Billo in 1958, which was by then considered to have been unfair. That very same year, Frómeta returned to Venezuela.

On April 27, 1988, he suffered a stroke while rehearsing with the Venezuela Symphony Orchestra for a concert-tribute in his honour that would occur the very next day: just after he finished conducting the practice run for "Un Cubano en Caracas", he collapsed on the ground as the orchestra was applauding his performance. Frómeta died the following week on May 5, 1988 in Caracas.
Jump to: Overall Meaning ↴ Interesting Facts ↴ Line by Line Meaning ↴
A mí me dijo una negra
Te tienen velas prendidas
Unos las prenden de noche
Otros las apagan de día
Apágame la vela (María)
Pero que apágame la vela (María)
Apágame la vela (María)
Apágame la vela (María)
A mí me dijo una negra
Te tienen velas prendidas
Unos las prenden de noche
Otros las apagan de día
Apágame la vela (María)
Apágame la vela (María)
Ay apágame la vela (María)
Apágame la vela (María)
Pa' terminar la porfía
Me voy a meter a la guardia
Unos cogen la pistola
Otros cogen la polaina
Apágame la vela (María)
La vela la vela (María)
María (María)
Apágame la vela (María)
Apágala (María)
Apágame la velita María no me ilumines más
Overall Meaning
The song Apágame La Vela by Billo's Caracas Boys tells the story of a conversation between the singer and a black woman, who informs the singer that there are people who constantly light candles day and night. The singer then asks the woman to help them stop lighting the candles by asking her to put out the candle. The repetition of the phrase "Apágame la vela" (Put out the candle) throughout the song emphasizes the urgency of the situation and the singer's desire for an end to this practice.
The lyrics describe the contrast between those who light candles during the night and those who put them out during the day. The use of candlelight in this context is often associated with religious and cultural practices, particularly in Latin America, where candles are often lit in honor of saints and other figures of religious significance. The singer's plea to put out the candle may be interpreted as a criticism of these practices, or perhaps a request to put an end to superstition and reliance on the supernatural.
The final lines of the song suggest that the singer may be willing to take action himself to put an end to the practice, expressing his intention to enter the guard and take up arms. This may suggest a frustration with the lack of action on the part of others, and a willingness to take matters into his own hands.
Some interesting facts about the song include:
Interesting Facts
Note: This section uses generative AI, which can be inaccurate.


Line by Line Meaning
A mí me dijo una negra
I was told by a black woman
Te tienen velas prendidas
They have candles lit for you
Unos las prenden de noche
Some light them at night
Otros las apagan de día
Others put them out during the day
Apágame la vela (María)
Put out my candle (Maria)
Pero que apágame la vela (María)
But put out my candle (Maria)
Ay apágame la vela (María)
Oh put out my candle (Maria)
Pa' terminar la porfía
To end the argument
Me voy a meter a la guardia
I'm going to join the guard
Unos cogen la pistola
Some grab the gun
Otros cogen la polaina
Others grab the belt
La vela la vela (María)
The candle, the candle (Maria)
Apágala (María)
Put it out (Maria)
Apágame la velita María no me ilumines más
Put out my little candle Maria, don't light me up anymore
Lyrics © O/B/O APRA AMCOS
Written by: Luis Maria Frometa Pereira

Lyrics Licensed & Provided by LyricFind
To comment on or correct specific content,
highlight it
Genre not found
Artist not found
Album not found
Search results not found
Song not found