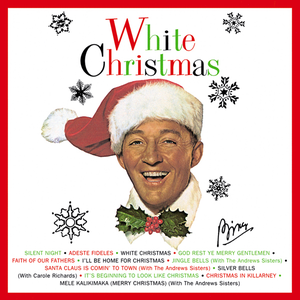 According to the Silent Night Songfacts, Bing Crosby's version of this carol was…
Read Full Bio ↴
According to the Silent Night Songfacts, Bing Crosby's version of this carol was his best-selling recording of the 1930s.
Jump to: Overall Meaning ↴ Line by Line Meaning ↴
Silent night, holy night
All is calm and all is bright
'Round yon Virgin Mother and Child
Holy Infant, so tender and mild
Sleep in heavenly peace
Sleep in heavenly peace
Silent night, holy night
Shepherds quake at the sight
Glories stream from Heaven afar
Heavenly Hosts sing Alleluia
Christ, the Savior, is born
Christ, the Savior, is born
Silent night, holy night
Child of heaven, oh how bright
Thou didst smile when thou wast born
Blessed be that happy morn
Full of heavenly joy
Full of heavenly joy
Overall Meaning
Bing Crosby's "Silent Night" is a timeless classic that captures the essence of Christmas Eve. The first thing that strikes you about the lyrics is its simplicity. The opening use of "Silent night, holy night" sets the stage for a peaceful, serene, and sacred atmosphere. The allusion to the Virgin Mary holding Baby Jesus in her arms, highlights the tender and soft nature of the moment.
The second verse grants us with vivid imagery. The shepherds were the first audience of this blessed moment that occurred in Bethlehem. They saw the heavens open up, and angels sang to celebrate the moment of Christ's arrival. The Shepherds were astounded by this miraculous occurrence and could hardly contain their emotions. The lyrics emphasize the joy brought into the world through the Savior's birth.
The final verse of the song showcases Baby Jesus's beauty as he lies in the manger, smiling at the world he came to save. The lyrics highlight the divine joy and happiness his birth brings to the world. Thus, Bing's interpretation captures the essence of the Holy Night and transports the listener to Bethlehem over two thousand years ago.

Line by Line Meaning
Silent night, holy night
The night is peaceful and sacred
All is calm and all is bright
Everything is tranquil and illuminated
'Round yon Virgin Mother and Child
Nearby is a virgin mother and her child
Holy Infant, so tender and mild
The baby is pure and gentle
Sleep in heavenly peace
Rest in a peaceful and divine slumber
Shepherds quake at the sight
The shepherds tremble with awe
Glories stream from Heaven afar
Radiance emanates from a far-off Heaven
Heavenly Hosts sing Alleluia
Angelic beings sing joyful Hallelujahs
Christ, the Savior, is born
The Messiah, the Savior, has been born
Child of heaven, oh how bright
The baby is a divine child, shining brightly
Thou didst smile when thou wast born
You smiled when you were born
Blessed be that happy morn
That joyful morning is blessed
Full of heavenly joy
Filled with divine joy
Lyrics © Warner Chappell Music, Inc.
Written by: Franz Xaver Gruber, Joseph Mohr

Lyrics Licensed & Provided by LyricFind
To comment on or correct specific content,
highlight it
Genre not found
Artist not found
Album not found
Search results not found
Song not found