Weird Zay: You see why you can′t trust em now huh?
Papi: Nah me no fuck you(No I didn't fuck you over)...you calling me for the other guy fucked you(some other guy played you)...
(Gunshot)Weird Zay: Huh?
Papi: But nah... you ain′t gone hit me with the girlfriend... that he told...
Early in the morning
Young nigga had that dust
In a alley with my niggas
Plus some straps we couldn't trust shit
Collecting dirty dollars from the zombies who discussing
Cops on ass but we slanging like fuck em
We...
Mind, Spirit, Body+8...
Drugs in the cabinet
Money in a shoebox
Gun under the mattress
Pray nobody gets shot
I just want this money
Want this money?
Want alot
I be killing clouds
With my angels in the skies
We...
Mind, Spirit, Body+8...
Writer(s): Nicolas Vadon, Thomas Parent, Mickael Dalmoro, Denis Lebouvier

Contributed by Ava N. Suggest a correction in the comments below.
To comment on specific lyrics,
highlight them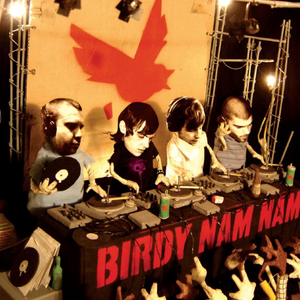 Four DJs who play live, Birdy Nam Nam are a DJ crew from Paris, France whose members are Crazy B, DJ Pone, DJ Need and Little Mike. Birdy Nam Nam have won several prizes throughout their career, including the DMC Technics 2002 World TEAM Championships.

Birdy Nam Nam's goal is to use the turntable player as an actual musical instrument. Their self-titled debut album was released in 2006 on Uncivilized World Records, and, in March of that year, they performed at the internationally renowned music conference South By Southwest (SXSW)
Read Full Bio
Four DJs who play live, Birdy Nam Nam are a DJ crew from Paris, France whose members are Crazy B, DJ Pone, DJ Need and Little Mike. Birdy Nam Nam have won several prizes throughout their career, including the DMC Technics 2002 World TEAM Championships.

Birdy Nam Nam's goal is to use the turntable player as an actual musical instrument. Their self-titled debut album was released in 2006 on Uncivilized World Records, and, in March of that year, they performed at the internationally renowned music conference South By Southwest (SXSW), in Austin, Texas.

The group's name is taken from a line in the 1968 Peter Sellers film The Party, directed by Blake Edwards.

In 2016 DJ Pone left the band, now making Birdy Nam Nam a trio
Genre not found
Artist not found
Album not found
Search results not found
Song not found