Fly away
From the twilight to the dawn
All my dreams
Drag me to another world
Feels like I'm in heaven
From my head down to my toes
Right out the shadows
Waking my deepest reflections
Clear as a photograph
An age-old yellow house
In the days
Trough the nights
I cannot let this picture out of my mind
Recalling the moments that drowned
In the ocean of my dreams
wiping the dust off the drawers inside my memories
In the days, trough the nights
I can't let go these feelings I have inside
In this Neverland I roam
In this Neverland I roam
Beams of sunlight landing on the green
Are the angels falling in disguise
Hiding and seeking the toys in the attic anside my soul
Struck in between the nightmares and dreams
And I still cannot let it go
In this Neverland I roam
In this Neverland I roam
But I know that I will come no more through that door
Ah! Daydream! Nightfly!
No time to waste!
Hush now, dear boy, quiet!
No time to waste!
Rush now, poor boy, hurry before
There is no other way out through that closing door
Over, over
Over this place I go to hide
Over, over
Now the sun is down, ad your time is up
Hurry! You'll nerver walk away.
When I'm lost in this Neverland I roam
In this Neverland I roam
Now I know I won't go through that door
'Cause I know there is no way out for me anymore
Fly away through the night
Where my spirit resides
Where suns shine in your eyes
Where dimensions collide
And the night flies, far away
To a sunny day
Some day.
Contributed by Caleb W. Suggest a correction in the comments below.
To comment on specific lyrics,
highlight them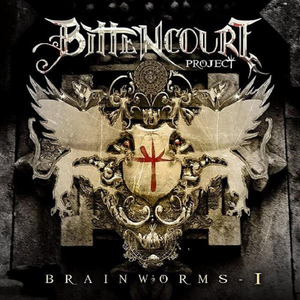 The BITTENCOURT PROJECT is the name of Rafael Bittencourt's most recent side project. He is the founder guitar player of the band Angra, that has conquered fame in many countries with a very singular style that blends Heavy-Metal, Brazilian and classic music.

BRAINWORMS I is the first album from this group/project fully idealized by Rafael Bittencourt who has a discography of over 16 titles, gold records (in Brazil and Japan), over one million records sold and wrote some of the modern melodic-metal hymns such as ANGELS CRY
Read Full Bio
The BITTENCOURT PROJECT is the name of Rafael Bittencourt's most recent side project. He is the founder guitar player of the band Angra, that has conquered fame in many countries with a very singular style that blends Heavy-Metal, Brazilian and classic music.

BRAINWORMS I is the first album from this group/project fully idealized by Rafael Bittencourt who has a discography of over 16 titles, gold records (in Brazil and Japan), over one million records sold and wrote some of the modern melodic-metal hymns such as ANGELS CRY, TIME, STAND AWAY, Z.I.T.O., MAKE BELIEVE, METAL ICARUS, REBIRTH, ACID RAIN, THE SHADOW HUNTER, THE VOICE COMMANDING YOU among many other songs that for years inspire an assorted audience and motivate many hopeful musicians to improve themselves on their instruments.

Brainworms is a term created by Oliver Sacks, a famous American Neuron-scientist, to name certain types of melodies that eventually "stick" into our memory and we feel hard to get it off. Curiosly, Rafael had the melodies for the songs trapped in his mind right when he was reading Oliver Sacks's book "Musicophilia: Tales of Music and the Brain". Inspired by this concept, he wrote the 11 songs of the album.

Accurate musicianship, talent, originality, a pioneer instinct, technique and feeling are just a few of the adjectives used to qualify this musician, owner of an unique sensibility, known as one of the most important of his style. And those are the same qualities found in the upcoming CD BRAINWORMS I from his recently born group: the BITTENCOURT PROJECT

The release of BRAINWORMS I is expected for October 2008, same month as ANGRA's 17th anniversary. This album comes as a gift for the fans that have been supporting this musician's career all over the world.

The BITTENCOURT PROJECT is been released simultaneously in Japan (JVC VICTOR) and Brazil (VOICE MUSIC). A tour might happen in Japan early 2009. And it is planned to be released in USA and Europe on late 2008.

homepage
http://www.rafaelbittencourt.com
Genre not found
Artist not found
Album not found
Search results not found
Song not found