Live or die
You now have to decide
Choices are about to end
I hope you'd understand
That's the Torment Of Fate
In an age when no one cares
We don't live we just survive
Will a single soul outlast this cruel future we have?
Tomorrow could be too late!
When every one is asleep I need you awake
We know the facts
The when and how!
Protect our children.
Teach them how to do their part now!
Cease our own existence
Species calling out
Rotten ecosystems and our options running out
Tomorrow could be the end!
Your future depends on what you decide today
Our fate has to be changed
Live or die
You now have to decide
I hope it's not too late
When black clouds shade the day
That's the Torment Of Fate!
You've got to decide
Your choices are about to end
I hope you understand
That's the torment!
That's the Torment Of Fate!
Contributed by Jordan F. Suggest a correction in the comments below.
To comment on specific lyrics,
highlight them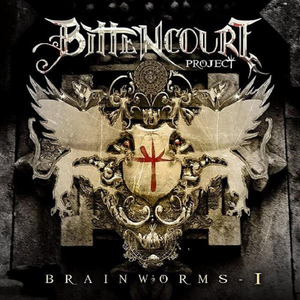 The BITTENCOURT PROJECT is the name of Rafael Bittencourt's most recent side project. He is the founder guitar player of the band Angra, that has conquered fame in many countries with a very singular style that blends Heavy-Metal, Brazilian and classic music.

BRAINWORMS I is the first album from this group/project fully idealized by Rafael Bittencourt who has a discography of over 16 titles, gold records (in Brazil and Japan), over one million records sold and wrote some of the modern melodic-metal hymns such as ANGELS CRY
Read Full Bio
The BITTENCOURT PROJECT is the name of Rafael Bittencourt's most recent side project. He is the founder guitar player of the band Angra, that has conquered fame in many countries with a very singular style that blends Heavy-Metal, Brazilian and classic music.

BRAINWORMS I is the first album from this group/project fully idealized by Rafael Bittencourt who has a discography of over 16 titles, gold records (in Brazil and Japan), over one million records sold and wrote some of the modern melodic-metal hymns such as ANGELS CRY, TIME, STAND AWAY, Z.I.T.O., MAKE BELIEVE, METAL ICARUS, REBIRTH, ACID RAIN, THE SHADOW HUNTER, THE VOICE COMMANDING YOU among many other songs that for years inspire an assorted audience and motivate many hopeful musicians to improve themselves on their instruments.

Brainworms is a term created by Oliver Sacks, a famous American Neuron-scientist, to name certain types of melodies that eventually "stick" into our memory and we feel hard to get it off. Curiosly, Rafael had the melodies for the songs trapped in his mind right when he was reading Oliver Sacks's book "Musicophilia: Tales of Music and the Brain". Inspired by this concept, he wrote the 11 songs of the album.

Accurate musicianship, talent, originality, a pioneer instinct, technique and feeling are just a few of the adjectives used to qualify this musician, owner of an unique sensibility, known as one of the most important of his style. And those are the same qualities found in the upcoming CD BRAINWORMS I from his recently born group: the BITTENCOURT PROJECT

The release of BRAINWORMS I is expected for October 2008, same month as ANGRA's 17th anniversary. This album comes as a gift for the fans that have been supporting this musician's career all over the world.

The BITTENCOURT PROJECT is been released simultaneously in Japan (JVC VICTOR) and Brazil (VOICE MUSIC). A tour might happen in Japan early 2009. And it is planned to be released in USA and Europe on late 2008.

homepage
http://www.rafaelbittencourt.com
Genre not found
Artist not found
Album not found
Search results not found
Song not found