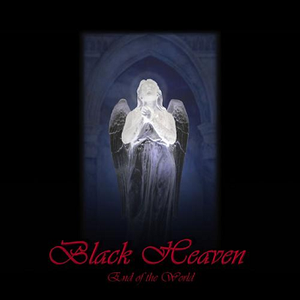 1.) Black Heaven is a German darkwave/dark electro project by mastermind Martin …
Read Full Bio ↴
1.) Black Heaven is a German darkwave/dark electro project by mastermind Martin Schindler (also: Mantus & Sepia). He's responsible for production, vocals and lyrics. Mainly on the first three albums and the EP he's also supported by his sister Tina a.k.a. Thalia on songs with female vocals. The fourth and fifth album "Kunstwerk" (in Engl.: "Artwork") and "Negativ" feature almost only male vocals by Martin.
In 2009 they released the first Best of-compilation of Black Heaven: "History".

Discography:
* 2001: Chapter One
* 2002: Obscurity
* 2003: End of the World -EP-
* 2004: Trugbild (ltd. edition with a special 2nd CD "Black heaven feat. Mantus")
* 2007: Kunstwerk (ltd. first edition with 7 track-bonus CD)
* 2008: Negativ (ltd. first edition with 3 multimedia bonus tracks)
* 2009: History (2 CD-compilation; 1st: "Best Of", 2nd: "Remakes, Remixes and New Stuff")

There is also a new remixed version of the song "Babylon" available on the official website done by Rudi Ratzinger (:wumpscut:) - this track also appears on "History".

2.) Black Heaven is also the name of a Philippine band with heavy/progressive metal and rock leanings fused with that distinctive Filipino style. A little more information about this Baguio quintet can be found at their Friendster page.

3.) Black heaven the fictional band from the anime "black heaven : hardrock save the space"

4.) Black heaven was also czech doom metal band. They released two demos, Heaven in Black in 1993 and Fantasy in 1996, had songs on two czech compilations and then disappeared

5.) Black Heaven, a mexican metal band
Jump to: Overall Meaning ↴ Line by Line Meaning ↴
Ich spreche heilig was man für die Sünde hält
Ich bin die Nachtgestalt in einer falschen Welt
Die Seele malträtiert am Kreuz der Sklaverei
Ich weiß das Blut ist schwach, doch der Geist ist frei
Ich höre seine Stimme
Ich schau in sein Gesicht
Er ist am Kreuz gestorben
Doch starb er nicht für mich
Er tanzt auf meiner Seele
Will mir Erlöser sein
Gott, lass mich bloß in Ruhe
Gott, lass mich bloß allein
Er spricht von Lust und Liebe wie von ew'gen Leid
Der Sinn des Seins verborgen ruht im Himmelreich
Er teilt die Nacht vom Tag der Gut und Böse trennt
Doch nur die Dunkelheit hat Flügel mir geschenkt
Overall Meaning
In the lyrics of the song Sakrileg by Black Heaven, the singer describes themselves as speaking holy of what is considered sinful, while being the presence of night in a false world. They express that their soul is tormented on the cross of slavery, but they know that blood is weak and the spirit is free. The singer hears the voice of someone, and looks upon their face, acknowledging that they died on the cross, but not for them. This person dances upon the singer's soul and wants to be their savior, but the singer desires to be left alone by God. This person speaks of love and pleasure, but the true meaning of existence is hidden in the kingdom of heaven. They divide night from day and separate good from evil, but only the darkness has granted the singer wings.
The lyrics of Sakrileg highlight the struggle of a person who has been subjected to the doctrines of religion and society but seeks liberation and individuality. They seem to have encountered someone or something that is trying to guide them towards enlightenment and salvation, but the singer is skeptical and resistant to it as they feel abandoned by God. The reference to the night and darkness suggest a sense of freedom and rebellion against traditionally held beliefs. The lyrics also refer to the struggle between good and evil, which often creates a dichotomy in the minds of people adhering to religious dogma.

Line by Line Meaning
Ich spreche heilig was man für die Sünde hält
I speak of holy things that may be perceived as sinful by others
Ich bin die Nachtgestalt in einer falschen Welt
I am the embodiment of the night in a world that is untrue
Die Seele malträtiert am Kreuz der Sklaverei
The soul is tormented on the cross of slavery
Ich weiß das Blut ist schwach, doch der Geist ist frei
I know that the body is weak, but the spirit is free
Ich höre seine Stimme
I hear his voice
Ich schau in sein Gesicht
I look into his face
Er ist am Kreuz gestorben
He died on the cross
Doch starb er nicht für mich
But he did not die for me
Er tanzt auf meiner Seele
He dances on my soul
Will mir Erlöser sein
Wants to be my savior
Gott, lass mich bloß in Ruhe
God, please leave me alone
Gott, lass mich bloß allein
God, just let me be alone
Er spricht von Lust und Liebe wie von ew'gen Leid
He speaks of pleasure and love as if they are eternal pain
Der Sinn des Seins verborgen ruht im Himmelreich
The meaning of existence is hidden in the kingdom of heaven
Er teilt die Nacht vom Tag der Gut und Böse trennt
He separates night from day and good from evil
Doch nur die Dunkelheit hat Flügel mir geschenkt
But only the darkness has gifted me with wings
Contributed by Jayce A. Suggest a correction in the comments below.
To comment on or correct specific content,
highlight it
Genre not found
Artist not found
Album not found
Search results not found
Song not found