I fell in love with a little Indian girl
And she stole my heart away
She took me to a pow-wow way out on the plains
And runs with bears, danced and brought the rains
I listened to the stories all through the night
Through the haze of that peace pipe
The night grew long so I found a tee pee
And you can bet I brought that squall girl with me
Could be Cherokee, Inuit, Etowah, Navajo,
Sioux, Creek, Apache, Seminole bravo
Tomahawk, arrow, any way the wind blow
It's just fine with me
Buffalo, wolfpack, rawhide knapsack
Arrowhead, mohawk, other tribe to attack
Take my wife back to that land with me
All I gotta do is take that love to the floor
After all, I liked the way you were before
Lyrics © ROUGH TRADE PUBLISHING

Lyrics Licensed & Provided by LyricFind
To comment on specific lyrics,
highlight them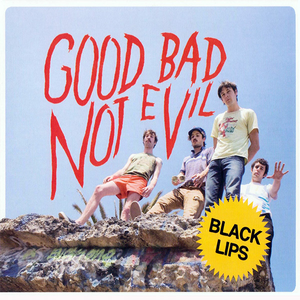 The Black Lips is a self-described "flower punk" band which formed in Atlanta, Georgia, United States in 2000.

While still teenagers, they formed after guitarist Cole Alexander and bassist Jared Swilley left the Renegades, and guitarist Ben Eberbaugh left the Reruns. Drummer Joe Bradley joined a few months later. They released their first 7" in late 2001/early 2002 on their own Die Slaughterhaus label.

Just days before a tour was to begin in December 2002, Ben Eberbaugh was killed in a car accident after his car was hit by a drunk driver.
Read Full Bio
The Black Lips is a self-described "flower punk" band which formed in Atlanta, Georgia, United States in 2000.

While still teenagers, they formed after guitarist Cole Alexander and bassist Jared Swilley left the Renegades, and guitarist Ben Eberbaugh left the Reruns. Drummer Joe Bradley joined a few months later. They released their first 7" in late 2001/early 2002 on their own Die Slaughterhaus label.

Just days before a tour was to begin in December 2002, Ben Eberbaugh was killed in a car accident after his car was hit by a drunk driver. The band carried on believing that Eberbaugh would want them to continue.

The band's debut full length album was released on Bomp! Records in 2003. Eberbaugh was replaced by Jack Hines, a friend of the band members, but he too was eventually replaced by current guitarist, and former Renegades member, Ian St. Pe , in 2004.

The Black Lips have a reputation for crazy live shows that have included vomiting, urinating, nudity, band members kissing, fireworks, and a chicken. They have slowly built a fanbase that appreciates their energy and style that is a rough mishmash of blues, rock, doo-wop, country, and punk.

They gained national attention in 2006 with features in Spin and Rolling Stone magazines. The band got exposure in the New York Times for being the hardest working band during the 2007 South by Southwest music festival in Austin, Texas, in which they played a dozen shows over a three-day period.

In September 2007 their most recent album entitled Good Bad Not Evil was released. The Black Lips made their American national television debut in October 2007 on Late Night with Conan O'Brien and played O Katrina.

The band also has songs from previous recording sessions, and they will eventually be released by In The Red Records.

The Black Lips are going to star in a film called Let It Be. They will play musicians in a fictitious '1980s era DIY band called The Renegades. The movie is set for production in 2008.

Cole, Jared and Joe also play in a band called The Spooks, along with members of Deerhunter and The Kiwis. The Spooks have recorded an album which should be released in 2007 or 2008 on the Die Slaughterhaus label. Ian also plays in a blasphemous garage punk band called The Original Three. There is a full length record out on Empty records and a single out on SYA records (Italy). The Original Three will have a new single coming out in December 2007 on Savage records (Sweden). Jared plays in a band called The Gaye Blades. Rob's House Records has released one 7" by The Gaye Blades, and another one should be released before the end of 2007. Cole has also released solo material under the name Old King Cole Younger. There is one split 10" release of his material on Rob's House Records that features Bradford Cox of Deerhunter, under the name of Atlas Sound, on the other side.

In 2009, the band released their fifth album, "200 Million Thousand", on Vice Records.

Band Members

* Cole Alexander (Old King Cole Younger) - Vocals, Guitar (2000 - present)
* Jared Swilley - Vocals, Bass Guitar (2000 - present)
* Joe Bradley - Vocals, Drums (2000 - present)
* Ian St. Pe - Guitar (2005 - 2014)
* Jack Hines - former Guitar (2002 - 2005, 2014 - present)
* Ben Eberbaugh - Guitarz(2000 - 2002) - deceased
Genre not found
Artist not found
Album not found
Search results not found
Song not found