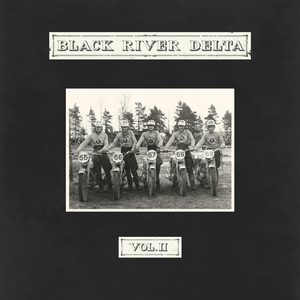 Black River Delta is a bluesrock band originating from Bollnäs, Sweden. The gro…
Read Full Bio ↴
Black River Delta is a bluesrock band originating from Bollnäs, Sweden. The group consists of Erik Jacobs (vocal, guitar), Pontus Ohlsson (guitar, harmonica), and Erik Nilsson (vocal, drums).

They have released one studio album: Devil on the Loose (2016).

The band formed in 2014 when Erik N and Pontus were living in Malmö. They invited Erik J, who was living in Stockholm, to come visit them in Malmö for some jam sessions. Soon after, the trio borrowed some microphones, went back to their hometown and spent the summer in a wooden cabin, writing and recording what would be their debut album, Devil on the Loose.

The bands raw blues rock sound draws from classic blues legends like Robert Johnson, the raw style of R. L. Burnside and modern artists as The Black Keys, Gary Clark Jr. and BRMC
Jump to: Overall Meaning ↴ Line by Line Meaning ↴
Velvet clouds are rolling in
Well, I see them passing on the highway
While tides are coming from the south side
I bet they will collide son, they will collide
Yeah they will collide
And I hear my father when the storm comes
He said "always be prepared son, always be prepared son"
It comes around through different towns
It won't be long now, it won't be long
No, it won't be long
Overall Meaning
"Velvet Clouds" is a song by Black River Delta that showcases the band's skillful ability to craft evocative lyrics with soulful bluesy musings. The singer of the song observes the rolling velvet clouds as he passes by them on the highway, and notes the tides coming in from the south side. The inevitable collision of these two natural phenomena is imminent, and the singer marvels at the power of the storm that's about to hit. The storm brings to mind the words of the singer's father, who always warned him to be prepared for anything that might come his way. The storm is a metaphor for the unpredictable twists and turns of life, and the singer heeds his father's advice, waiting on the storm with a sense of trepidation but also a readiness to face whatever comes his way.
The lyrics of "Velvet Clouds" are open to interpretation, but one reading is that the singer is confronting the challenges and uncertainties of life head-on. The storm represents the many obstacles and difficulties that we face, as well as the power of nature and the unpredictable forces of the world around us. The importance of being prepared is a key theme, and the singer's father's advice is a timeless piece of wisdom that can be applied to all aspects of life, from weathering literal storms to facing personal struggles.

Line by Line Meaning
Velvet clouds are rolling in
Soft and smooth clouds are moving in the sky
Well, I see them passing on the highway
I am observing the clouds passing by on the road
While tides are coming from the south side
The strong waves are approaching from the southern direction
I bet they will collide son, they will collide
I am confident that the clouds and tides will meet and create a powerful impact
Yeah they will collide
I am certain about the collision between the clouds and tides
And I hear my father when the storm comes
During the rough weather, I recall my father's advice
He said "always be prepared son, always be prepared son"
My father advised me to be ready for any situation and to stay alert
It comes around through different towns
The storm passes by various cities
It won't be long now, it won't be long
The storm will arrive shortly
Writer(s): Pontus Ohlsson, Erik Jacobs, Erik Nilsson

Contributed by Liliana B. Suggest a correction in the comments below.
To comment on or correct specific content,
highlight it
Genre not found
Artist not found
Album not found
Search results not found
Song not found