Finished with my woman 'cause
She couldn't help me with my mind
People think I'm insane because
I am frowning all the time
All day long I think of things
But nothing seems to satisfy
Think I'll lose my mind
If I don't find something to pacify
Can you help me
Occupy my brain?
Oh yeah
I need someone to show me
The things in life that I can't find
I can't see the things that make
True happiness, I must be blind
Make a joke and I will sigh
And you will laugh and I will cry
Happiness I cannot feel
And love to me is so unreal
And so as you hear these words
Telling you now of my state
I tell you to enjoy life
I wish I could but it's too late
Lyrics © Universal Music Publishing Group
Written by: Michael Butler, Ozzy Osbourne, Tony Iommi, William Ward

Lyrics Licensed & Provided by LyricFind
To comment on specific lyrics,
highlight them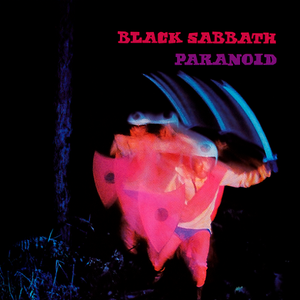 Paranoid is a song by Black Sabbath that appears on the band's second album Paranoid. Supposedly, the members of Black Sabbath put together this song in 15 minutes based on a solo by Tony Iommi. This song was only meant to be a "filler", but became one of Black Sabbath's most well known songs: the band members were sent back to the studio to record one more song because the record company deemed the album was too short, and planned to quickly record a filler song, but eventually wrote and recorded "Paranoid".
Read Full Bio
Paranoid is a song by Black Sabbath that appears on the band's second album Paranoid. Supposedly, the members of Black Sabbath put together this song in 15 minutes based on a solo by Tony Iommi. This song was only meant to be a "filler", but became one of Black Sabbath's most well known songs: the band members were sent back to the studio to record one more song because the record company deemed the album was too short, and planned to quickly record a filler song, but eventually wrote and recorded "Paranoid". The record company changed the album's name from War Pigs, as it was originally intended, to Paranoid out of fear of a backlash from supporters of the Vietnam War.

"Paranoid" was released as a single and received regular airplay on mainstream radio. The single, with "The Wizard" on the B-side, was released in the UK in July 1970 and it reached the number 4.

Lead singer Ozzy Osbourne continued to play this song in concert during his career as a solo artist.

"Paranoid" was ranked #34 on VH1's 40 Greatest Metal Songs. In March 2005, Q magazine placed it at number 11 in its list of the 100 Greatest Guitar Tracks. Rolling Stone ranked it #250 on their list of the 500 Greatest Songs of All Time. It is #1 in the book The Top 500 Heavy Metal Songs of All Time
Genre not found
Artist not found
Album not found
Search results not found
Song not found