Holding in my hand
Last flowers got from you
I'm never thinking about
Broken hearts and prayers in the night
Why I have to learn, never asking why
Knowing what you said
Just got me feeling blue
I'm never thinking about
Living like a ghost in my mind
Guess I have to learn, never asking why
Don't want to go back in time
Don't want to lose my mind
I just want to be on my own
I just want to be on my own
I can't forget that we had so much together
Don't you remember those Saturday nights
When we were sitting just right next to each other
Smoking, drinking, telling beautiful lies
But it's over now, and I'm moving on alone
Holding in my hand
Last flowers got from you
I'm never thinking about
Broken hearts and prayers in the night
Why I have to learn, never asking why
Knowing what you said
Just got me feeling blue
I'm never thinking about
Living like a ghost in my mind
Guess I have to learn, never asking why
Don't want to go back in time
Don't want to lose my mind
I just want to be on my own
I just want to be on my own
I can't forget that we had so much together
Don't you remember those Saturday nights
When we were sitting just right next to each other
Smoking, drinking, telling beautiful lies
But it's over now
You make a mistake, and it's
Not like I'm falling in love
I just want to be on my own
I just want to be on my own
I can't forget that we had so much together
Don't you remember those Saturday nights
When we were sitting just right next to each other
Smoking, drinking, telling beautiful lies
Smoking, drinking, telling beautiful lies
But it's over now, and I'm moving on alone?
Writer(s): Juhász Ádám, Mózner László, Jancsó Gábor, Szajkó András, Schoblocher Barbara

Contributed by Jordan N. Suggest a correction in the comments below.
To comment on specific lyrics,
highlight them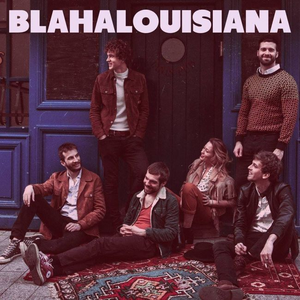 A székesfehérvári Blahalouisiana zenekar tavaly alakult a 2010-ben feloszlott Jacked tagjaiból, - kivéve az azóta a Bermudában éneklő Mórocz Tamást - kiegészülve Schoblocher Barbara énekesnővel. A zenekar egy év elteltével már saját koncertprogrammal rendelkezik, és rövidesen megjelenik első albuma is. A saját hangzásukat beat-rockként jellemző együttes már számos helyen aratott zajos sikert, klipjeik rajongók százait szerezték nekik.
Read Full Bio
A székesfehérvári Blahalouisiana zenekar tavaly alakult a 2010-ben feloszlott Jacked tagjaiból, - kivéve az azóta a Bermudában éneklő Mórocz Tamást - kiegészülve Schoblocher Barbara énekesnővel. A zenekar egy év elteltével már saját koncertprogrammal rendelkezik, és rövidesen megjelenik első albuma is. A saját hangzásukat beat-rockként jellemző együttes már számos helyen aratott zajos sikert, klipjeik rajongók százait szerezték nekik.


Felállás:
Schoblocher Barbara - ének
Juhász Ádám - dob
Jancsó Gábor - basszusgitár
Mózner László - gitár
Szajkó András – gitár
Genre not found
Artist not found
Album not found
Search results not found
Song not found