Get in my backseat, honeypie
And I'll wear your sadness like it's mine
Because it's just good to feel what's been missing
Yeah, it's bad when it's good to always be missing
But a girl like you
Could rip me out of my head
Black tears on your cheek
I want them in my bed
I'll take you out of the city
Honey, right into the shadow
'Cause I wanna find tomorrow
Yeah, I wanna find tomorrow
With a girl like you
My Chinatown lady
Sittin' on the front stoop
Cryin' out the crazy
I'll take you out of the city
Honey, right into the shadow
'Cause, I wanna find tomorrow
Yeah, I wanna find tomorrow
With you, baby
Gimme, gimme, gimme, gimme that big red light
And take the sadness out of Saturday night
'Cause that's just good
To have what was missing
We were bad to be bad
So always remember that
But a girl like you
Could rip me out of my head
Black tears on your cheek
I want them in my bed
I'll take you out of the city
Honey, right into the shadow
'Cause I wanna find tomorrow
Yeah, I wanna find tomorrow
With a girl like you
My Chinatown baby
Sittin' on your front stoop
Cryin' out the crazy
I'll take you out of the city
Honey, right into the shadow
'Cause I wanna find tomorrow
Yeah, I wanna find tomorrow with you, baby
I wanna run
I wanna run
I love to chase every feeling
I wanna run
I wanna run
I wanna run
'Cause I wanna find tomorrow with you, baby
Oh, oh, yeah, yeah, yeah, yeah, oh yeah, oh
Yeah, yeah, yeah, yeah, yeah
Lyrics © Sony/ATV Music Publishing LLC
Written by: Jack Antonoff, Evan Smith

Lyrics Licensed & Provided by LyricFind
To comment on specific lyrics,
highlight them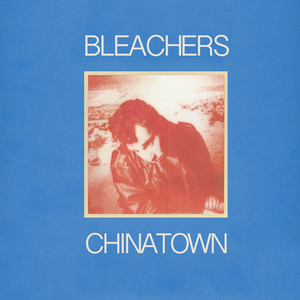 chinatown (feat. Bruce Springsteen)
"Chinatown" is a song by American indie pop act Bleachers featuring American singer-songwriter Bruce Springsteen. The song was released alongside "45" on November 16, 2020, as the dual lead singles from Bleachers' third studio album Take the Sadness Out of Saturday Night, which was released on July 30, 2021.
Genre not found
Artist not found
Album not found
Search results not found
Song not found