With God on Our Side
Bob Dylan Lyrics
Oh my name it ain't nothin'
My age it means less
The country I come from
Is called the Midwest
I was taught and brought up there
The laws to abide
And that land that I live in
Has God on its side
Oh, the history books tell it
They tell it so well
The cavalries charged
The Indians fell
The cavalries charged
The Indians died
Oh, the country was young
With God on its side
The Spanish-American
War had its day
And the Civil War, too
Was soon laid away
And the names of the heroes
I was made to memorize
With guns in their hands
And God on their side
The First World War, boys
It came and it went
The reason for fighting
I never did get
But I learned to accept it
Accept it with pride
For you don't count the dead
When God's on your side
The Second World War
Came to an end
We forgave the Germans
And then we were friends
Though they murdered six million
In the ovens they fried
The Germans now, too
Have God on their side
I've learned to hate the Russians
All through my whole life
If another war comes
It's them we must fight
To hate them and fear them
To run and to hide
And accept it all bravely
With God on my side
But now we got weapons
Of chemical dust
If fire them, we're forced to
Then fire, them we must
One push of the button
And a shot the world wide
And you never ask questions
When God's on your side
Through many a dark hour
I've been thinkin' about this
That Jesus Christ was
Betrayed by a kiss
But I can't think for you
You'll have to decide
Whether Judas Iscariot
Had God on his side.
So now as I'm leavin'
I'm weary as Hell
The confusion I'm feelin'
Ain't no tongue can tell
The words fill my head
And fall to the floor
That if God's on our side
He'll stop the next war
Lyrics © Sony/ATV Music Publishing LLC
Written by: BOB DYLAN

Lyrics Licensed & Provided by LyricFind
To comment on specific lyrics,
highlight them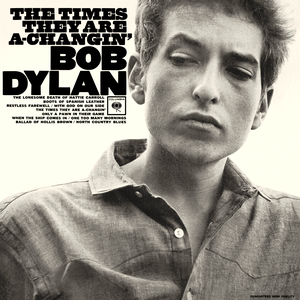 Bob Dylan (born Robert Allen Zimmerman on May 24, 1941 in Duluth, Minnesota, United States) is an American musician, poet and artist whose position in popular culture is unique.

Dylan started his musical odyssey in 1959 when he began playing in Dinkytown, Minneapolis while attending the University of Minnesota. Shortly after starting to play he changed his stage name to Bob Dylan, after being influenced by the poetry of Dylan Thomas before legally changing his name in 1962.
Read Full Bio
Bob Dylan (born Robert Allen Zimmerman on May 24, 1941 in Duluth, Minnesota, United States) is an American musician, poet and artist whose position in popular culture is unique.

Dylan started his musical odyssey in 1959 when he began playing in Dinkytown, Minneapolis while attending the University of Minnesota. Shortly after starting to play he changed his stage name to Bob Dylan, after being influenced by the poetry of Dylan Thomas before legally changing his name in 1962.

Much of his best known work is from the 1960s, when he became an informal documentarian and reluctant figurehead of American unrest, promoted by Joan Baez. Some of his songs, such as "Blowin' in the Wind" and "The Times They Are A-Changin'", became anthems of the anti-war and civil rights movements, with Joan Baez and Dylan singing together at the March on Washington in 1963. However he later became disenchanted with the civil liberty protest scene, feeling that he had been used by them.

His album Bringing It All Back Home marked a move away from the folk scene and a move towards rock and roll and Dylan began to consciously distance himself from his early association with civil rights. He also started to become irritated when being interviewed, often given facetious or irreverent answers to questions. Bringing It All Back Home was a controversial album as it the first on which he played electric guitar. This was seen by some of his fans as a betrayal of this folk roots, with some saying that it obscured his meaningful and poetic lyrics.

The second half of the 1960s was marked by a string of well received releases, with his song "Like a Rolling Stone", released in July of 1965, later being named "The Greatest Song of All Time" by Rolling Stone magazine in 2004, placing #1 in a list of 500 titles. It also marked the formation of Dylan's backing band The Hawks (who would later call themselves simply The Band). Dylan embarked on a world tour of Australia and Europe in 1966, during which he seemed to be under a lot of strain and pressure by both his fans, the music press and his own promoters. Dylan himself admitted that he began taking drugs seriously whilst on this tour, and found it immensely hard work. On returning to New York he crashed his motorbike, sustaining serious injuries in the process, and went into a period of withdrawal while he recuperated. During the late 1960s, Dylan again changed stylistic tradition, moving away from the psychedelic culture of the time. It was then that he recorded All Along the Watchtower, perhaps more famously recorded by Jimi Hendrix.

The 1970s were a period during which Dylan was more sporadic in his output, releasing some poorly received LPs. He rarely appeared in person until 1973, when he began touring again with his backing band The Band. He also wrote one of his most extensively covered songs, Knockin' On Heaven's Door, as well as what is now recognised as one of his best albums Blood On The Tracks. Towards the end of the 1970s, Dylan discovered God, and released some albums of gospel music. He started to talk to the crowd about his faith during his performances, and wouldn't play any of his early work, which alienated some of his previous fans.

Dylan today still remains an influential and popular artist; despite a period of little note between 1970-2000, his 2006 album Modern Times reached the US chart at #1, as did his 2009 album Together Through Life, in the US, Britain, France and several other countries. His 2012 album Tempest was also critically acclaimed. Since 1988, Dylan has been on the so-called Never Ending Tour, during which his performances have provoked controversy, with some critics claiming that his lyrics have become incomprehensible, an experience which is not helped by his tendency to change his set-list and vocals almost every performance.

Bob Dylan's strong influence over the past few years is becoming even more prominent amongst a growing group of younger emerging artists such as George Ellias and Devendra Banhart. Dylan's early lyrics incorporated politics, social commentary, philosophy and literary influences, defying existing pop music conventions and appealing widely to the counterculture of the time. While expanding and personalizing musical styles, Dylan has shown steadfast devotion to traditions of American song, from folk and country/blues to rock and roll and rockabilly, to Gaelic balladry, even jazz, swing and Broadway.

Dylan performs with the guitar, keyboard and harmonica. Backed by a changing lineup of musicians, he has toured steadily since the late 1980s. He has also recently performed alongside other iconic artists, such as Paul Simon, Joni Mitchell, Tom Petty and Eric Clapton. Although his contributions as a performer and recording artist have been central to his career, his songwriting is generally held as his highest accomplishment.

Nobel Prize for Literature (2016) - On October 13, 2016, Dylan was awarded the Nobel Prize for Literature for "for having created new poetic expressions within the great American song tradition". The prestigious award has been given annually since 1901 and previous Nobel Laureates for Literature include Harold Pinter and Samuel Beckett. Here is the speech written by Dylan, although unable to attend:
http://www.nytimes.com/2016/12/10/arts/bob-dylan-nobel-prize-acceptance-speech.html?_r=0
Genre not found
Artist not found
Album not found
Search results not found
Song not found