Amen
Last night I had a dream
The dream I had was true
I fell through the stars
Went walking on the moon
Burned like a thousand candles in her arms
The skin under my finger tips
Honeysuckle on her lips
Sweeter than a man deserves to taste
Mercy, mercy, what else can I say?
But amen, amen, amen
Last night we were born together
It was like we'd always been
She'll be with me forever
If I don't see her again
We poured the wine until our cup ran over
Unfolding like the mystery
Inside of her like poetry
A thousand horses running through my veins
Mercy, mercy what else can I say
Amen, amen, amen
I laid down in her garden
Naked on her floor
Windows up, the curtains blowing
She don't lock the door
Amen, amen
At the banquet table
A beggar at a feast
I felt her tongue between her lips
And I forgot to breath
We stayed there 'til the candles burned the carpet
Last night I had a dream
The dream I had was true
Mercy, mercy, what else can I say
Mercy, mercy, I laid down and prayed
Amen, amen
Amen, amen
Lyrics © Universal Music Publishing Group, OLE MEDIA MANAGEMENT LP, Kobalt Music Publishing Ltd.
Written by: BILLY FALCON, JON BON JOVI

Lyrics Licensed & Provided by LyricFind
To comment on specific lyrics,
highlight them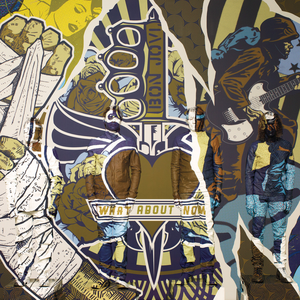 Bon Jovi is a hard rock band from Sayreville, New Jersey. Fronted by lead singer and namesake Jon Bon Jovi (born John Francis Bongiovi, Jr.), the group originally achieved large-scale success in the 80s. Over the past 25 years, the band has sold over 120 million albums worldwide, 34 million of those sales being in the U.S. alone, making them one of the most successful modern groups of all time. They continue to have widely popular tours.

Bon Jovi formed in 1983.
Read Full Bio
Bon Jovi is a hard rock band from Sayreville, New Jersey. Fronted by lead singer and namesake Jon Bon Jovi (born John Francis Bongiovi, Jr.), the group originally achieved large-scale success in the 80s. Over the past 25 years, the band has sold over 120 million albums worldwide, 34 million of those sales being in the U.S. alone, making them one of the most successful modern groups of all time. They continue to have widely popular tours.

Bon Jovi formed in 1983. Lead singer Jon Bon Jovi teamed up with guitarist Richie Sambora, keyboardist David Bryan, bassist Alec John Such, and drummer Tico Torres. Alec John Such departed the band in 1994 and Richie Sambora in 2013. in 2016 long-time touring bass player Hugh McDonald and guitarist Phil X, who had been touring with the band since Sambora's departure, were confirmed as official members of the band, making Bon Jovi a quintet again for the first time in over 20 years.

The group took influence from contemporary arena-ready hard rock bands such as Aerosmith and Deep Purple among others while also seeking a catchy, pop-oriented vibe focused on slick guitar and keyboard riffs, with Bon Jovi becoming a key part in what was to become 'pop metal' music. After releasing two moderately successful albums in 1984 and 1985, which resulted in the production of some popular singles such as "Runaway" (the band's first Top 40 hit in the U.S.), the band scored big with 'Slippery When Wet' (1986) and 'New Jersey' (1988). Those two albums sold a combined 19 million copies in the U.S. alone, charted eight Top Ten hits, and launched the band into global super-stardom.

After what was just about non-stop touring, the band went on hiatus after the 'New Jersey Tour' in 1990, during which time Jon Bon Jovi and Richie Sambora both released successful solo albums. The rise of alternative rock groups such as Nirvana caused many music industry skeptics to question the staying power of bands labeled as 'glam metal' and 'pop metal' such as Bon Jovi. Yet, in 1992, the group returned with the double-platinum release 'Keep the Faith', proving the doubters wrong, and Bon Jovi has since created a string of RIAA platinum albums throughout the 90s and 00s.

They've been also expanding their musical horizons, combining their usual hard rock with such genres as confessional adult contemporary music and reflective country music. The band has also been credited with inspiring the 'MTV Unplugged' series with their famous sit-down acoustic performance at the 1989 MTV Video Music Awards. Many critics have praised frontman Jon Bon Jovi's vocal versatility, going from style to style as well as from acoustic to live electric work yet still exciting fans.

In 2006, the band won a Grammy for 'Best Country Collaboration' for "Who Says You Can't Go Home" with Jennifer Nettles of Sugarland, and they also became the first rock band to reach #1 on the Hot Country Songs chart with the same song. They have additionally been nominated for Grammy Awards twice for the smash hit "It's My Life" (from 2000's 'Crush') and for two songs from the album 'Bounce': "Misunderstood" and "Everyday".

Throughout their career, the band has released ten studio albums, of which nine have gone platinum. In addition, the band has charted 19 singles to the Top 40 of the Billboard Hot 100, four of which reached #1 ("You Give Love a Bad Name", "Livin' On A Prayer", "Bad Medicine", and "I'll Be There for You"). The band also holds the record for the most weeks for a hard rock album at #1 on the Billboard 200 with Slippery When Wet, as well as the most Top 10 singles from a hard rock album, with New Jersey, which charted five such singles.

In 2007, the Rock and Roll Hall of Fame included Bon Jovi's 'Slippery When Wet' in the 'Definitive 200 Albums' list, putting it at the #44 slot. On August 17, 2009, the band released the single "We Weren't Born To Follow". That hard rockin' track picked up a major fan response and was nominated for a Grammy for 'Best Pop Performance by a Duo or Group with Vocal'.

In May 2010, Bon Jovi released their 11th studio album, named 'The Circle', which included said single. The album debuted at number one in several countries, including the U.S. It sold 163,000 copies in its first week after debuting at number one on the Billboard 200 top albums chart. Since its release, Bon Jovi has underwent more successful tours.

Website: www.bonjovi.com
Genre not found
Artist not found
Album not found
Search results not found
Song not found