Z kopyta kulig rwie
Brathanki Lyrics
Ciągną, ciągną sanie, góralskie koniki
Hej, jadą w saniach panny, przy nich janosiki
Coraz który krzyknie nie wiadomo na co
Hej, echo odpowiada, bo mu za to płacą
Spod kopyt lecą skry, hej lecą skry
Zmarznięta ziemia drży, hej ziemia drży
Dziewczyna tuli się, hej tuli się
Z kopyta kulig rwie, hej kulig rwie
Patrz gwiazdy świecą w domach, nisko na dnie
Z kopyta kulig rwie...
Pędzi, pędzi kulig niczym błyskawica
Hej, porwali te panny prosto od Kmicica
Zbójnik od Kmicica, zbójnik szarooki
Hej, z wierzchu baranica, a pod spodem smoking
Contributed by Hannah G. Suggest a correction in the comments below.
To comment on specific lyrics,
highlight them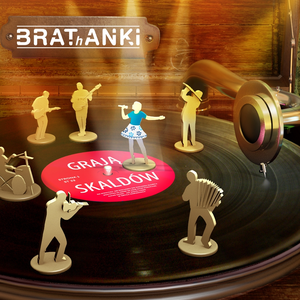 BRAThANKI is a popular Polish folk-rock group. They combine Polish, Hungarian and Czech folk elements with rock music.
Genre not found
Artist not found
Album not found
Search results not found
Song not found