Mangeur de lune
Bratsch Lyrics
Ty makhaïsh roukami, mitchtaïa a kryhakh
V timnatié, tvoï oum brodit, mitchtaïa a niébié
V timnatïé, tvoï oum brodit, a mitchty v nibissakh
V tlmnatlé, tvoï oum brodit. no litish
La nuit tombe
Et tes rêves rejoignent le ciel
Les yeux fermés
L'esprit vole
Et tu rêves d'ailes
Et du noir de la nuit
S'accrochent des ailes à ton rêve
Tu t'envoles
Et deviens
Mangeur de Lune
Ty makhaïsh roukami, mitchtaïa a kryliakh
Prakliniaïa soudbou, chto na zimliou brassaït
V timnatié tvoï oum brodit, a mitchty v nibissakh
V timnatié tvoï oum brodit, no litish
Contributed by Scarlett B. Suggest a correction in the comments below.
To comment on specific lyrics,
highlight them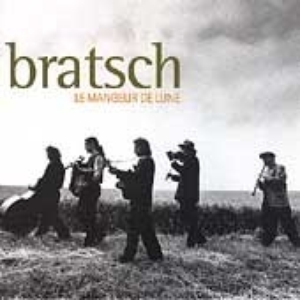 The gypsy music of Central Europe is combined with bebop, post-bop, and free jazz influences by France-based acoustic band Bratsch. While their name is derived from a type of viola used to accompany Tsigane vocalists, the trio re-creates the traditional sounds of cymbaloms and percussion on guitar, accordion, and clarinet.

Bratsch was formed in 1975 by guitarist Dan Gharibian and violinist Bruno Girard. Gharibian, who was raised in an Armenian home, was inspired by the Armenian, Russian, Greek and Oriental music favored by his grandparents.
Read Full Bio
The gypsy music of Central Europe is combined with bebop, post-bop, and free jazz influences by France-based acoustic band Bratsch. While their name is derived from a type of viola used to accompany Tsigane vocalists, the trio re-creates the traditional sounds of cymbaloms and percussion on guitar, accordion, and clarinet.

Bratsch was formed in 1975 by guitarist Dan Gharibian and violinist Bruno Girard. Gharibian, who was raised in an Armenian home, was inspired by the Armenian, Russian, Greek and Oriental music favored by his grandparents. Although he played with teen-aged rock bands, he became fascinated with the music of Django Reinhardt at the age of 14. Girard, who studied violin at the age of nine, refused to read music, preferring to play by memory. After receiving a degree in biology, he spent a decade working in science while playing music part-time. Although they initially mixed a global range of musical styles including Arabic and South African music, Bratsch soon shifted their focus to gypsy jazz. The group also features accordion player François Castiello and clarinet player Nano Peylet.

Bratsch have taken the music of the European Gypsies and turned it into something all their very own, bringing it to life with masterly skill in their atmospheric and compact concerts. Their music brings new vitality to both the traditions of Eastern Europe and the roots of "Tsigane Jazz", as made world famous by Django Reinhardt and Stephane Grapelli. With great emotion, poignant melodies and subtle arrangements, they create a unique acoustic music, which, for years, has been enthralling both the French audiences and the press in equal measure. Their first live album is a rare document, recording their very first German concert.

"These vagabonds carry the nostalgia of Eastern Europe in their bundles, the vibrancy of the Mediterranean, the dexterity of the Gypsies and the irony of the Jews. Music without frontiers." (Le Monde)

"A wondrous journey from West to East with a band of joyously abandoned nomads, who poke fun at all restraints. Whether the tunes they play are Gypsy, Russian, Armenian, or Yiddish, or their own original songs, they have the audience on its feet, shouting for more." (L'Express)

"The music of Bratsch is vital, lyrical, raw and romantic, but never sentimental and certainly never saccharine." (plärrer)
Genre not found
Artist not found
Album not found
Search results not found
Song not found