[Repeat: 2X]
Heat it up when this shit drop
Bubba Sparxxx, Collipark
[Chorus: ]
Heat it up when this shit drop
In them big spots
Where the players let them bottles pop
See the steam on her back when her hips pop
She get it real hot, so heat it up girl
Heat it up, get it up, keep it up there [Repeat: 4X]
What it is, how are things
My phone was on silent for a minute now it rings
If you too cool, then I'm too cool
Let's not boo-who, let's just do what we do
Movin' on, new song, new loan
Sometimes you can move right and still do wrong
Ain't nothin' fancy, just line up and run it
By the time you've finished talkin' bout it, I'll be done done it
Collipark, Bubba Sparxxx
Do the Ying-Yang thang or anythang, I'm just a star
Ms. New Booty, thank you ma'am
Bottom broad brought me back, dawg this money changing hands
A lot this way, a little thattaway
Earn Sunday through Friday, spend on Saturday
Yeah that's the play, get it up and keep it up there
Heat it up slow, let him quickly beat it up, yeah
[Chorus: ]
What it is, tell me the good news
I got a tool in my draws that you should use
Give that thang a good bruise, beat it on up
Girl you've been misused, heat it on up
I'm gone show you, what it was made for
Actin' like you scared and unprepared, but you ain't though
Grab your ankles, yeah that's the angle
I'm gone make a stank hoe of daddy's little angel
I'm at the condo, with General Patton
Losers make excuses, winners make it happen
We can pull the rides out, give you somethin' to cry about
Give you somethin' to lie about, inspiration while you pout
We can pull the broads out, in a straight line
Yours ain't fine fuck it, here, take mine
Dude you way behind, get on Bubba K. time
I'm lightyears ahead, have a light beer instead, yeah
[Chorus: Repeat 2X ]
Lyrics © Universal Music Publishing Group, Sony/ATV Music Publishing LLC
Written by: SOLOMON ANDERSON, MICHAEL ANTOINE CROOMS, WARREN MATHIS, WARREN ANDERSON MATHIS

Lyrics Licensed & Provided by LyricFind
To comment on specific lyrics,
highlight them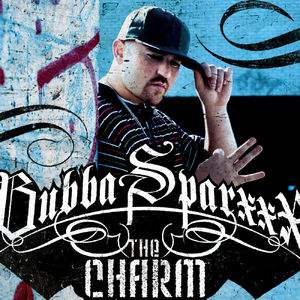 Bubba Sparxxx (born Warren Anderson Mathis on March 6, 1977, in LaGrange, Georgia) is an American rapper. Sparxxx is most notable for his hit singles "Ms. New Booty", "Ugly" and "Deliverance", and for being one of the few white rappers to find mainstream commercial success in hip hop.

A native of LaGrange, Georgia, a young Andy Mathis was introduced to hip hop music by a neighbor (his closest at a half mile away) who received mixed tapes mailed from New York City.
Read Full Bio
Bubba Sparxxx (born Warren Anderson Mathis on March 6, 1977, in LaGrange, Georgia) is an American rapper. Sparxxx is most notable for his hit singles "Ms. New Booty", "Ugly" and "Deliverance", and for being one of the few white rappers to find mainstream commercial success in hip hop.

A native of LaGrange, Georgia, a young Andy Mathis was introduced to hip hop music by a neighbor (his closest at a half mile away) who received mixed tapes mailed from New York City. He began recording with Lil Devil in a group called One Card Shi in 1996, but the partnership did not last. A subsequent release saw some success in Georgia, and the album Dark Days, Bright Nights caught the attention of Jimmy Iovine of Interscope Records. He signed to Interscope after a bidding war and began working with record producers Timbaland and Organized Noize. The major-label version of Dark Days, Bright Nights, which now included five collaborations with Timbaland and two with Organized Noize, debuted at #3 on the Billboard Music Charts. In late 2003, he returned with his sophomore album, Deliverance.

He is currently signed to OutKast's Purple Ribbon Label, distributed through Virgin Records.

Bubba is also related to Haystak.

Albums
Dark Days, Bright Nights (2001) [Gold]
Deliverance (2003) [Gold]
The Charm (2006)
Genre not found
Artist not found
Album not found
Search results not found
Song not found