I can't forget the bumps on the road to Heartsville
Andy's scared to fly but surely Bubba Sparxxx will
Shit and I ain't slept, in a month of Sundays
Still I'm wide awake as we coast out on the runway
And now the captain says I'm number one for take off
But Timmy I'm too weak all this starvin' led to weight loss
Fear turns to adrenaline as life accelerates
I'm headed to my destiny, how long you guess it takes, to get there?
The in flight movie today is "Gladiator"
But I can't afford the headphones, it's cool, I'll catch it later
I'm cramped between two dudes, one from each coast
Yet we all agree a safe flight is what we need most
Hey stewardess, I can't handle all this turbulence
The ride's gettin' bumpy and that shit don't help my nervousness
Now they fin' to serve the meal, I think I'll go with steak
Every fuckin' choice is crucial and we all know the breaks, in this game
I barely even noticed but we covered every state
Plus I'm slowly turnin' from feather to heavyweight, it's about time
I need to take a piss but I'm still scared to get up
Please Lord protect those up in this air with us
The captain just started our approach into the sunset
I've flown a million miles but the shit still ain't fun yet
When this journey is complete, you'll know by my reaction
Tears of jubilation as I'm landin' back in Athens, thank you Lord
Lyrics © Sony/ATV Music Publishing LLC, Warner/Chappell Music, Inc.
Written by: WARREN ANDERSON MATHIS, TIMOTHY Z MOSLEY

Lyrics Licensed & Provided by LyricFind
To comment on specific lyrics,
highlight them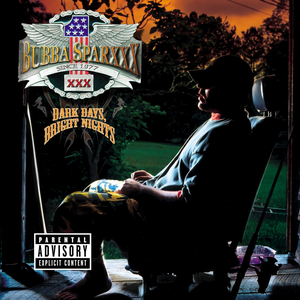 Bubba Sparxxx (born Warren Anderson Mathis on March 6, 1977, in LaGrange, Georgia) is an American rapper. Sparxxx is most notable for his hit singles "Ms. New Booty", "Ugly" and "Deliverance", and for being one of the few white rappers to find mainstream commercial success in hip hop.

A native of LaGrange, Georgia, a young Andy Mathis was introduced to hip hop music by a neighbor (his closest at a half mile away) who received mixed tapes mailed from New York City.
Read Full Bio
Bubba Sparxxx (born Warren Anderson Mathis on March 6, 1977, in LaGrange, Georgia) is an American rapper. Sparxxx is most notable for his hit singles "Ms. New Booty", "Ugly" and "Deliverance", and for being one of the few white rappers to find mainstream commercial success in hip hop.

A native of LaGrange, Georgia, a young Andy Mathis was introduced to hip hop music by a neighbor (his closest at a half mile away) who received mixed tapes mailed from New York City. He began recording with Lil Devil in a group called One Card Shi in 1996, but the partnership did not last. A subsequent release saw some success in Georgia, and the album Dark Days, Bright Nights caught the attention of Jimmy Iovine of Interscope Records. He signed to Interscope after a bidding war and began working with record producers Timbaland and Organized Noize. The major-label version of Dark Days, Bright Nights, which now included five collaborations with Timbaland and two with Organized Noize, debuted at #3 on the Billboard Music Charts. In late 2003, he returned with his sophomore album, Deliverance.

He is currently signed to OutKast's Purple Ribbon Label, distributed through Virgin Records.

Bubba is also related to Haystak.

Albums
Dark Days, Bright Nights (2001) [Gold]
Deliverance (2003) [Gold]
The Charm (2006)
Genre not found
Artist not found
Album not found
Search results not found
Song not found