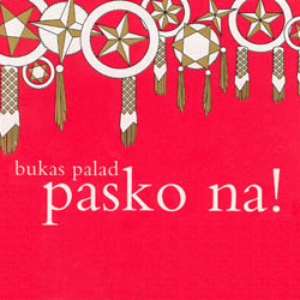 Bukas Palad is a Catholic Filipino music ministry, bound by faith in God, passion for music, and dedication to serving others. Inspired by the spirituality of St. Ignatius of Loyola, the group strives to become co-creators with God in building a world of justice, peace, hope, and love by writing, performing, and propagating original liturgical and inspirational music.
Genre not found
Artist not found
Album not found
Search results not found
Song not found
We have lyrics for these tracks by Bukas Palad:



A Christmas Praise Sing! Rejoice in gladness! A King is born in Bethlehem! A…
Aba Ginoong Maria Aba Ginoong Maria Napupuno ka ng grasya Ang Panginoon ay sum…
Aleluya Hallelujah aleluya Ikaw panginoon ang siyang daan Ang buhay …
Alleluia Alleluia, alleluia! Alleluia, alleluia! Alleluia, alleluia! …
Ama Namin Ama namin sumasalangit ka Sambahin ang ngalan mo Mapasaamin …
Anima Christi Soul of Christ Sanctify me Body of Christ save me Water from…
At Home in Our Hearts You who welcomed Christ into your home You who must have…
Awit ng Paghahandog Kunin mo o Diyos At tanggapin mo Ang aking kalayaan ang akin…
Awit ng Paghahangad O Diyos ikaw ang laging hanap Loob ko'y ikaw ang tanging…
Awit ng Pagsuyo O Diyos ikaw ang laging hanap Loob ko'y ikaw ang…
Balang Araw Balang araw ang liwanag Matatanaw ng bulag Ang kagandahan ng…
Bawat Sandali Bawat sandali dalangin ko'y binibigkas Nang masilayan kang m…
Bituin Sa isang mapayapang gabi Kuminang ang marikit na bituin At…
Breath of God Breathe on me, Breath of God, fill me with life…
Children of Easter Morn POOR OKAY GOOD GREAT AWESOME YOUR RATING: NONE AVERAGE: 4.5 …
Christify Christify the gifts we bring to You, bounty of the earth…
Earth Keeper You, you were meant to be free, as wild as…
Emanuel isang dalaga'y maglilihi batang lalaki ang sanggol tatawagin…
Empty Space Mabuti ang Panginoon KORO Mabuti ang Panginoon, pag-ibig Ni…
Far Greater Love Pagbabalik Paanong di kita ibigin Paanong di ka patawarin B…
Freedom Is At Hand We have walked all the highways Yet where have we gone We…
Give the Lord the Glory Give the Lord glory and honor! Give the Lord glory and…
Gives Thanks to the Lord Give thanks to the Lord, for he is good! His faithfulness…
Gloria Minsan sa isang taon lamang Maririnig mga tinig ng nagdiriwa…
Glory to God Glory to God in the highest, and on earth peace to…
God of Silence The God of silence beckons me To journey to my heart Where…
Great Is Our God Come let us sing to every nation: "Great is our God…
Gumising Gumising gumising mga nahihimbing Tala'y nagniningning pasko…
Himig ng Hangin Malamig, may nanginginig May 'sang tinig na may ibig ipahiwa…
Hindi Kita Malilimutan Hindi kita malilimutan Hindi kita pababayaan Nakaukit magpak…
Humayo't Ihayag Humayo't ihayag (purihin siya) At ating ibunyag (awitan siya…
Huwag Kang Mangamba Huwag kang mangamba, 'di ka nag-iisa Sasamahan kita, saan ma…
I Love the Lord [REFRAIN:] I love the Lord, He is filled with compassion. He…
I Seek You For I Thirst Refrain: Though many times I run from you in shame I lift…
I Will Sing Forever I will sing forever of Your love, O Lord I will…
If I Could Touch You If I could touch You, I'd heal Your broken palms If…
In Him Alone In Him alone is our hope In Him alone is our…
In My Heart In my heart I know my Savior lives I can hear…
Kailan Pa Man Kailanpaman 'di mawawalay Pag-ibig Ko sa inyong tapat at tun…
Kanlungan Yahweh... Alam kong ikay naririto lagi nang twina sa tabi k…
Kordero ng Diyos Kordero ng Diyos Na nag-aalis ng mga kasalanan ng sanlibutan…
Kung 'Yong Nanaisin Kung 'yong nanaisin aking aakuin At babalikatin ang krus mon…
Lamb Of God Lamb of God, You take away the sins of the world, Have…
Lord Have Mercy You were sent to heal the contrite of heart, Kyrie, eleison.…
Lord of Salvation We give you praise, O God of all creation. Our minds…
Lord To Whom Shall We Go I Lord, to whom shall we go? Lord, to whom shall we…
Lord, Have Mercy You were sent to heal the contrite of heart, Kyrie, eleison.…
Mabuti ang Panginoon Teach My Heart O Lord, my God, teach my heart where…
Magpasalamat Umawit nang sama-sama Magpasalamat tayo sa kanya Sumayaw hum…
Manatili Ka Manatili ka Kahit sandali Hihilumin ko Ang iyong hapdi Bakit…
Mariang Ina Ko Sa 'king paglalakbay sa bundok ng buhay Sa ligaya't lumbay m…
O Hesus Hilumin Mo O Hesus hilumin mo Aking sugatang puso Nang aking mahango Ka…
One More Gift One more gift Refrain: If there's one more gift I'd ask o…
Our Father OUR FATHER Our Father, who art in heaven, Hallowed be thy na…
Pag-aalaala Bayan muling magtipon Awitan ang Panginoon Sa piging sariwai…
Pagbabalik Awit ng Pagsuyo Bawat naming sambitin Bawat naming awitin A…
Paghahandog ng Sarili Kunin mo o Diyos At tanggapin mo Ang aking kalayaan ang akin…
Paglamig ng Hangin Pagalmig ng hanging hatid ng Pasko Nananariwa sa ′king gunit…
Pagsamo Kay San Jose O San Jose, ikaw ang tunay na huwaran Ng pag-ibig, katapatan…
Pamaskong Anyaya Maghintay sa pagsilang ng Kamahal-mahalan Ihanda ang sarili …
Panalangin ng Bayan Panginoon dinggin ang aming panalangin Panginoon dinggin ang…
Panalangin sa Pagiging Bukas Palad Panginoon Turuan mo akong maging bukas palad Turuan mo akong…
Pananalig Sa puso kong umiibig Walang nananaig Kun'di yaong pananalig …
Panginoon ng Aking Buhay Mahal sana'y pakinggan mo... Ang awitin kung ito Na handa ak…
Papuri Itaas na ang mga mata sa Panginoong lumikha Ng mga lupa…
Papuri sa Diyos Papuri sa Diyos Papuri sa Diyos Sa kaitaasan Papuri sa Diyos…
Pasko Na! Oh oh Kung ika'y nagtataka sa paskong kay lamig Doon pa nad…
Pasko Na! (A capella) Ako'y nagtataka sa Paskong kay lamig Doon pa nadama init ng…
Pasko ng Paglaya Panginoon, hanggang kailan kami magdurusa? Panginoon, kailan…
Pastorale I am your reed, sweet shepherd, glad to be Now if…
Pilgrim's Theme Tired of weaving dreams too loose for me to wear Tired…
Praise the Lord Who Heals Praise, praise the Lord Who heals the broken-hearted. Praise…
Prayer for Generosity Dearest Lord, teach me to be generous Teach me to serve…
Prayer of Ruper Mayer Lord, what You will let it be so Where You will…
Psalm 92 Lord, it is good to give You thanks Lord, it is…
Reyna ng Langit Reyna ng langit magsaya aleluya Anak mong dinala sa tuwa ale…
Sa 'Yo Lamang Puso ko'y binihag mo Sa tamis ng pagsuyo Tanggapin yaring al…
Sa Hapag ng Panginoon Sa hapag ng panginoon Buong bayan ngayo'y nagtitipon Upang p…
Sa Krus Mo at Pagkabuhay Sa krus mo at pagkabuhay Kami'y natubos mong tunay Poong Hes…
Sa Pamamagitan ni Kristo / Dakilang Amen Sa pamamagitan ni Kristo Kasama niya at sa kanya Ang lahat n…
Sa'yo Lamang Puso ko'y binihag Mo, sa tamis ng pagsuyo Tanggapin yaring a…
Salamat sa Diyos / Tanda ng Kaharian ng Diyos Sumainyo ang Panginoon At sumainyo rin Pagpalain kayo ng mak…
Salubong Nabuhay akong muli aleluya Ako'y laging nasa 'yo aleluya Na…
Santo Santo santo santo Panginoong Diyos Napupuno ang langit at lu…
Say the Word When we eat this bread we eat your body When we…
Sing Forever I will sing forever of Your love, O Lord I will…
Song of Creation Deep within our hearts dwells the song of our destiny Sung…
Stella Maris Kung itong aming paglalayag Inabot ng pagkabagabag Nawa'y ma…
Take and Receive Take and receive, O Lord, my liberty Take all my will,…
Tanging Yaman Ikaw ang aking tanging yaman Na di lubusang masumpungan Ang …
Teach My Heart Manatili Ka Manatili ka kahit sandali Hihilumin Ko ang iyon…
The Face of God To see the face of God is my heart's desire. To…
The Hands That First Held Mary's Child Were hard from working wood From boards they sawed and naile…
Tinapay ng Buhay Ikaw Hesus ang tinapay ng buhay binasbasan hinati inialay Bu…
Tubig ng Buhay Tubig ng buhay paglalakbay patungo sa bagong buhay O Hesukri…
You Refrain: Though many times I run from you in shame I lift…
Your Heart Today YOUR HEART TODAY WHERE THERE IS FEAR, I CAN ALLAY WHERE THER…

The lyrics can frequently be found in the comments below or by filtering for lyric videos.