(Verse 1)
I know I've become
what you have always feared I'd be
A selfish wish I've known
Will lead me far from amnesty
(Prechorus)
Still you think that I don't have the strength to find my way
Without you next to me I can honestly say
(Chorus)
You're holdin me back
From what I believe
This dream that I wish
Will finally be
Cause you're holdin me down
When I try to see my way from you
Now you know..
(Verse 2)
When I finally saw a chance I ducked out instantly
I left without a trace and pray that you by chance don't see
(Prechorus 2)
Still you think that I don't have the strength to find my way
Instead of testing me you should truthfully say
(Chorus)
(Bridge)
Away, you don't go away
You won't go away
You don't seem to realize that
My eyes behold your useless scheme
To bring me to my wounded knees
My silence is but a pause to make
Your eyes finally see
(Chorus)
Contributed by Jake D. Suggest a correction in the comments below.
To comment on specific lyrics,
highlight them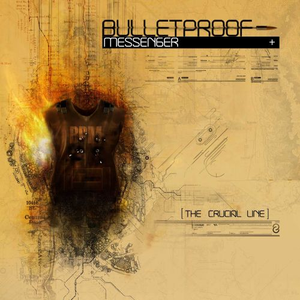 Formed in 2004, BulletProof Messenger is an electronic rock band based in NY.

The band's touring history includes slots with many national acts including major recording artists Incubus, Trapt, Collective Soul, Blindside, Adema and more, performing overseas as well as in the United States.

The group's 1st album "The Crucial Line", was released independently in October 2006 while the bands sophomore debut "Arm Yourself" was released in January 2009 through 50K of investments on Sellaband.com.
Read Full Bio
Formed in 2004, BulletProof Messenger is an electronic rock band based in NY.

The band's touring history includes slots with many national acts including major recording artists Incubus, Trapt, Collective Soul, Blindside, Adema and more, performing overseas as well as in the United States.

The group's 1st album "The Crucial Line", was released independently in October 2006 while the bands sophomore debut "Arm Yourself" was released in January 2009 through 50K of investments on Sellaband.com.

Current Members

* Marcus Klavan - Vocals
* Matt Litwin - DJ/Electronics
* Voley Martin - Guitar
* Alex Straiter - Drums
* Jesse Downing - Bass
* Scott Martin - Guitar
Genre not found
Artist not found
Album not found
Search results not found
Song not found