Once more I'll say goodbye to you
Things happen but we don't really know why
If it's supposed to be like this
Why do most of us ignore the chance to miss?
Oh, yeah
Torn apart at the seams of my dreams turn to tears
I'm not feelin' this situation
Run away try to find that safe place you can hide
It's the best place to be when you're feeling like
Me
(Me)
Yeah
(Yeah)
All these things I hate revolve around
Me
(Me)
Yeah
(Yeah)
Just back off before I snap
Once more you tell those lies to me
Why can't you just be straight up with honesty?
(Honesty)
When you say those things in my ear
Why do you always tell me what you wanna hear?
(Wanna hear)
Oh yeah
(Yeah)
Wear your heart on your sleeve, make things hard to believe
I'm not feelin' this situation
Run away try to find that safe place you can hide
It's the best place to be when you're feeling like
Me
(Me)
Yeah
(Yeah)
All these things I hate revolve around
Me
(Me)
Yeah
(Yeah)
Just back off before I snap
And you'll see
(Yeah)
Me
(Me)
All these things I hate revolve around
Me
(Me)
Yeah
(Yeah)
Just back off before I snap
Torn apart of the seams of my dreams, turn to tears
I'm not feelin' this situation
Run away try to find that safe place you can hide
It's the best place to be when you're feeling like me
(It's the best place to be when you're)
Me
(Me)
Yeah
(Yeah)
All these things I hate revolve around
Me
(Me)
Yeah
(Yeah)
Just back off before I snap
And you'll see
(Yeah)
Me
(Me)
All these things I hate revolve around
Me
(Me)
Yeah
(Yeah)
Just back off before I snap
Lyrics © BMG Rights Management
Written by: JASON JAMES, MATTHEW TUCK, MICHAEL DAVID THOMAS, MICHAEL KIERON PAGET

Lyrics Licensed & Provided by LyricFind
To comment on specific lyrics,
highlight them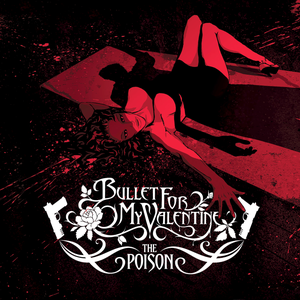 All These Things I Hate (Revolve Around Me)
Bullet for My Valentine is a metal band from Bridgend, formed in 1998. The band is composed of Matt Tuck (lead vocals, rhythm guitar), Michael Paget (lead guitar), Jamie Mathias (bass guitar, backing vocals), and Jason Bowld (drums). They were formed under the name Jeff Killed John and started their music career by covering songs by Metallica and Nirvana. Jeff Killed John recorded six songs which were not released; two of these tracks were reworked later in their career as Bullet for My Valentine
Read Full Bio
Bullet for My Valentine is a metal band from Bridgend, formed in 1998. The band is composed of Matt Tuck (lead vocals, rhythm guitar), Michael Paget (lead guitar), Jamie Mathias (bass guitar, backing vocals), and Jason Bowld (drums). They were formed under the name Jeff Killed John and started their music career by covering songs by Metallica and Nirvana. Jeff Killed John recorded six songs which were not released; two of these tracks were reworked later in their career as Bullet for My Valentine, a name change, which was followed by a change in music direction. In 2002, the band secured a five-album deal with Sony BMG. The band has stated that their music is influenced by classic heavy metal acts such as Metallica, Iron Maiden, and Slayer. The band is part of the Cardiff music scene.

Bullet for My Valentine's debut album, The Poison, was released on 3 October 2005 in the United Kingdom and on 14 February 2006 in the United States to coincide with Valentine's Day. The album entered the Billboard 200 in the US at number 128. It was certified Gold by the Recording Industry Association of America. The band made appearances at the Download Festival and Kerrang! XXV, and undertook a US tour with Rob Zombie. Bullet for My Valentine's second studio album, Scream Aim Fire, was released on 29 January 2008 and debuted at number four on the Billboard 200. The band's third album, Fever, was released on 26 April 2010 and debuted at number three on the Billboard 200. Thee band's fourth album, Temper Temper, was released on 12 February 2013 and peaked at number 13 on the Billboard 200. The band's fifth album, Venom, was released on 14 August 2015 and peaked at number three on the UK Albums Chart. The band's sixth album, Gravity, was released on 29 June 2018. The band has sold over five million albums worldwide.

Current members:
Matthew "Matt" Tuck – lead vocals, rhythm/lead guitar (1998–present)
Michael "Padge" Paget – lead guitar, backing vocals (1998–present)
Jamie Mathias – bass guitar, vocals (2015–present)
Jason Bowld – drums, percussion (2017–present; touring member 2016–2017)

Former members:
Nick Crandle – bass guitar (1998–2003)
Jason "Jay" James – bass guitar, vocals (2003–2015)[111]
Michael "Moose" Thomas – drums, percussion (1998–2016)
Genre not found
Artist not found
Album not found
Search results not found
Song not found